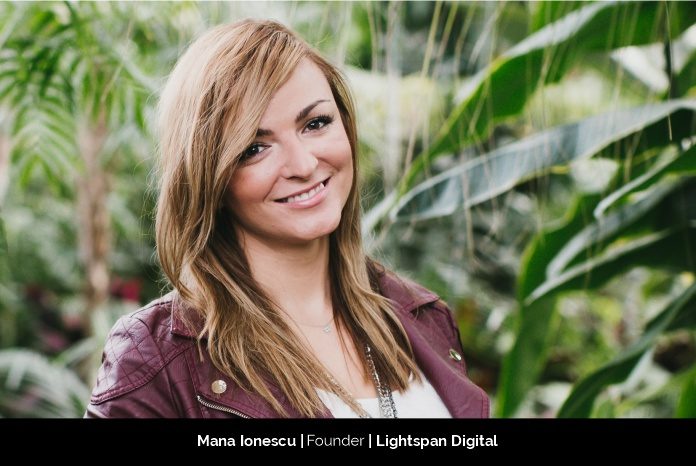 Digital marketing is empowering brands to reach customers from every nook and corner of the world in a jiffy. Thus, success in this domain comes quite easily. For Mana Ionescu, Founder, and CEO of Lightspan Digital, success comes with triple wins when the company, customers as well as communities win together. She concentrates on communities as they are the backbones that help in transforming a business into a successful brand. She is playing a pivotal role in humanizing brands with the power of social media.
With a background of double major in journalism and political science from American University in Bulgaria and MA in Communications from Brigham Young University, she has proved her mettle by delivering the best performance in her university days.
Laying the foundation of Lightspan Digital
When Mana saw an opportunity to reach out to help others with an effective method that is super easy to replicate, she plunged to take it and the rest is history. Ever since she stepped into the digital marketing space, she feels there's a need for clarity in what really works and what doesn't, and she is proud to have contributed to reveal that clarity via a perfect blend of strategic thinking and analysis.
She adds, "I developed a method, similar to a workout, that brings clarity to how, when, and why to do digital marketing. You can say there's a method to digital marketing madness. Additionally, I had people around me who believed in me and lent me a hand. I couldn't have done it without that mix of personal conviction and outside support."
Prime services of Lightspan Digital
Lightspan Digital is setting a benchmark by bringing clear and results-oriented solutions to digital marketing teams. They stay tactical and prioritize clarity and expertise, not just strategies. Mana shares, "We develop digital marketing campaigns that use today's digital channels and technologies to move the needle for our clients. In many cases, they need our digital marketing consulting services to gain clarity and make decisions faster and smarter, and our consulting services deliver that clarity and decisiveness."
With smart open communication and a no-games culture, she is happy to have fresh perspectives on the table that yields innovation. She also likes intriguing and reliable people who can come up with simple yet smarter ways to finish different projects.
She has always considered that the stories that she told herself always kept her from conquering the challenges along the way. She has witnessed this undeniable fact that we are the biggest roadblock in our success path. She further says, "When we delay difficult conversations, when we take too long to make important decisions, we can create more obstacles. So, I've learned to be decisive, and fearless in my communication. It made a world of difference."
Life before Lightspan Digital
Mana shares that she had a superb digital marketing career at a large financial institution that taught her to navigate different complex organizations and large teams to get all the work done amidst complexity.
She says, "I feel like I've had multiple careers. The desire to tap into what's new has always punctuated the new beginnings that keep me going. And to be honest, the best recognition for me has always been when an employee said I was a great boss."
Balancing Roles at home and office
Working as the CEO of Lightspan Digital, she has contributed a lot to making Lightspan a mission-driven digital marketing agency in Chicago. Over the years, she and her team have implemented innovative digital sales and several marketing strategies so as to expand the business for 200+ clients from diverse niches. Her social media 101 course series as well as the Daily Workout methodology have paved a way for different companies and individuals to witness paramount success.
She is elated to have personally mentored several employees and interns who went on to work for the world's top companies like United Airlines and McDonald's.
Some of her crucial accomplishments consist of many marvelous records. Explaining them further, she states, "My team worked hard and increased information session attendance for education client by 222% in one year. Moreover, there was increased email traffic of over 1,000% year over year for a consumer-goods client. Our work also led to a 92% increase in webinar-based revenue year over year for a B2B client. And we've reached millions of people with our social media management and outreach work."
Being a discerning leader, she gives attention to intricate details which keeps her ahead of her competitors.
She is well aware that they have to create outstanding content so that they can solve real problems for all those who require digital marketing solutions as well as advice. She even takes out time for networking and getting to know more and more people. Along with that, she always discusses growth driven analysis as well as strategies with her clients so that they can get a business boom. At last, as learning is an evergreen process, she sets aside valuable time for reading and learning new things.
Education is the key to changing the world. She expresses," I've won awards in business and marketing, but I cherish the most having helped my employees develop great fulfilling careers."
She feels by creating a culture of creativity and learning, the employees will stay motivated and pumped to achieve more. To maintain a balance in both fronts, she emphasizes that technology shouldn't control anyone and so, everyone gets their digital detox days in which employees get to spend time offline by taking time off days.
Not only this, but she also states, "We have set time to not dive into email first thing, and instead set intentions during the first hour of the day. And I make sure to dedicate time to my hobbies and encourage my employees to do so too."
Shining future of Lightspan Digital
As the digital world is taking a new leap with higher indulgence in technology and AI-driven solutions are reducing the personal touch and strategy, she is inclined towards helping businesses strive for the right balance between the two. Thus, their team at Lightspan Digital will keep focusing more on digital transformation and account-based marketing using a humans-first approach.