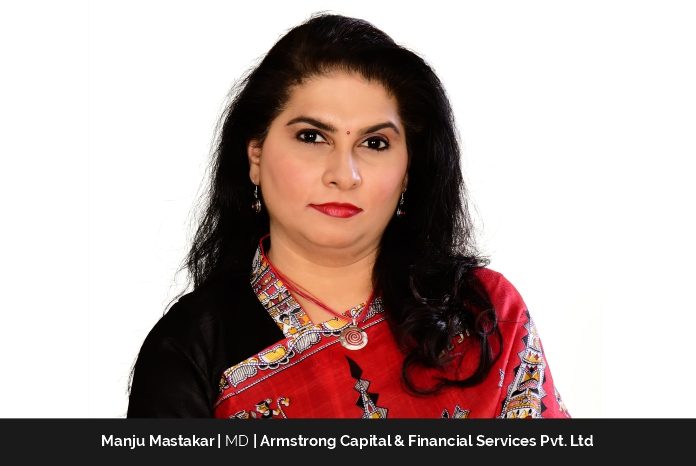 There is a perception that women are the most vulnerable, and yet so many are a great influence of power and strength empowering thousands of women across the globe. One such leader, Manju Mastakar, MD of Armstrong Capital & Financial Services Pvt. Ltd has graciously shared her success story as an inspiration for the generation.
Tell us a little bit about yourself.
I started my career very early, at the age of 19, as an intern in a CA firm. I was also studying at that time. I initially worked with a CA, who had deputed me to do the accounts of stockbrokers, which is how I was introduced to the world of finance. I worked with stockbrokers in Dalal street for some time. Gradually, I scaled up from the position of an assistant accountant to a dealer, to relationship manager, to financial advisor, to branch manager, and so on. I advised clients on Stocks, Mutual Funds, and Derivatives like currency and commodities. Later, in 2007, I moved to Bangalore and worked with wealth management firms for a brief period.
It was during the subprime crisis that I lost my job and decided to begin my entrepreneurial journey. I founded Armstrong Capital in 2010. Initially, I worked from home, and soon after, at a business center. Later, the business acquired a shared office, until, finally, it took up an office of its own and hired a few employees. Over some time, the business model moved the focus from the initial advisory service on Stocks, Commodity, Currency to more comprehensive Financial Planning, Mutual Fund, Fixed Income, and Retirement Planning.
Tell our readers about your current leadership role at the company.
I overlook all the aspects of the business, be it business development, Investment Advisory, or Financial Planning and Research. We employ freshers and groom them to become Financial Advisors. There is a lot of mentoring and time that goes into the process. Every fresher you hire is like a jigsaw puzzle – I don't like to be called a leader; I prefer the term 'mentor' for myself. Founders need to possess the perfect balance of real-world experience and strong belief in our youth. Young people have a much better chance to learn and grow as part of a startup than being employed in an already established company.
What advice would you provide to aspiring and rising female entrepreneurs?
Entrepreneurship requires overcommitment to time, but your timings are flexible. Job is firm on timings but flexible to overcommitment.
If you had the chance, what would be the one thing you would alter about your industry?
As a young teenage girl, my father would send me to the bank to update my passbook. It was my job to stand in the infamous bank queues to update the family's passbook. I remember, a teller once scolded me because I hadn't updated it in ages and the long, manual print job was holding up the queue. We've come so far since then and the pace of change is ever-faster, still. With the current pace, I believe banking and investment in India will undergo a complete transformation in this decade, promoting massive societal benefits. Innovation is changing society across all sectors and improving the lives of millions of people in the process. This is the most exciting aspect of what we do, especially in India, which is still a developing market. I'm thankful that Armstrong is playing a small part in driving this change.
How do you make decisions?
Our business of Investment Advisory is all about predicting the future and making intuitive decisions based on these predictions. past data analysis and intuitions tell us whether a stock price will dip or rise. I rely a lot on my intuitions. With all your life experiences as a knowledge repository in your mind, you can rely on the inner voice that comes from your subconscious. Data and analysis are of course a requirement of the process. But, at the end of the day, it's our intuition that gives us the conviction to make a recommendation to our customers.
What is your idea of a good mentor?
A mentor is a friend you can confide in. Only a true mentor will see the potential in you that even you overlook at times. He is a person you can rely on to listen, understand and give you the push you need in the right direction. I believe that I am not a teacher but an awakener and strive every day of my life to get better at it. I aim to mentor my employees, not lead them. believe that I can call myself a great leader if I can inspire my team to learn more and dream to achieve bigger things.
How do you bring in change?
We exist on feedback. We listen and regard the priceless opinion of our customers and strive to bring the change that could work best in their favor. Together with our customers, we also value the opinion and suggestions of our team and incorporate them into our business model to grow and rise with each passing day. We make it a rule to either change the business model entirely or evolve to a different model every 5 yrs. Instead of employing external teams to bring change, we believe in our team to think and suggest the best change for us. Most people fail to value the productivity of their people and search far and wide in vain. Your people understand your business best, and that's where you can expect the best ideas to originate from. Engage your team, ask for opinions and prove to them that you value their words. It enhances their self-esteem and productivity beyond expectations.
How do you build Integrity in the employees?
We ask our Financial Advisors to speak only the truth. Only with the truth can they deliver the best and most honest advice to our clients, and that's our goal. If they feel we made them lie or we made them speak what we want them to speak, then they can't be called advisors. Advice has to come from within. If it's enforced on the advisors, then their words are of little value to our customers. Since it's the advisors that are dealing firsthand with the clients, they are the only ones that understand their situation to the fullest. Only if they are allowed to produce advice from their knowledge, intuition, and complete comprehension of the client's unique case, can they deliver the best service to benefit the client. As the saying goes "If they steal for you, a day will come when they'll steal from you!" If you expect your employees to cheat your customers, know that they are equally capable of cheating you. Operating a business with integrity is one of the greatest things you can do for your clients, as well as for your business and team.
Another approach to build integrity is to prize our best advisors with a new idea or a challenging job. We let them tackle it completely and come up with a solution as they perceive best. Not only does it exercise their brain, but it also teaches them to believe in themselves. I strongly believe that with strong self-confidence, they can evolve into the best Financial Advisors or India. The winning entrepreneurs keep testing new ideas by letting their best people handle the challenge.
Did Covid bring in a change?
It helped us analyze which employees need a push to perform and who can do it on their self-motivation. Every employee in the organization not only does his job but also mentors others, encourages others, motivates them, and sets an example. In a work-from-home environment, all this was lost. People became self-centered and only did their part of the job. The softer part of the job, which focused on teamwork, was completely ignored. We encourage our people to come to the office and work. COVID brought in a revolutionary change in how the transactions were done. Earlier, we would collect checks and applications by hand, but the pandemic brought in a major change. The way of doing business changed forever.
What do women leaders bring to the table?
Women are caring by nature. Bringing their instincts to the table, they can connect better to both their team and their clients. Believing in their instincts, ready to prove their abilities to the world, and promoting a culture of consideration and collaboration, women can often achieve success earlier on in their entrepreneurial journey as compared to men.
Women entrepreneurs are often driven by passion, or the yearning to fulfill a dream. Sometimes, it's a path to independence. No matter what drives them, the level of determination women bring to the industry is something the world can benefit from.
How do you ensure that in a competitive world you are ahead of the competition?
Our customers' loyalty stays with us only up till the point they find a better service elsewhere. It's the hardest truth in the world and we need to accept it. The only way to survive in the corporate world is to deliver the best customer experience. Now that more and more businesses are available online, customers have even more power than ever before. Where most businesses are competitor obsessed, we strive to be customer obsessed.
There is one thing small companies can benefit from, which big companies don't have the privilege of – they have nothing to lose. It's wrong to believe that competition will decide your fate. In reality, your customers will decide the future of your company. Tell the customers the truth about what you can do. After that, let the customers decide if they want to partner with you. Hang in there and leave the rest to fate. However, as we grow bigger as a company, we have to be cautious. Growing bigger, we have something to lose.
The natural response to the change would be to become risk aversive. With that, big companies tend to become less innovative, less bold, losing the pioneering qualities they stood on. I make certain not to let the same happen to Armstrong Capital.