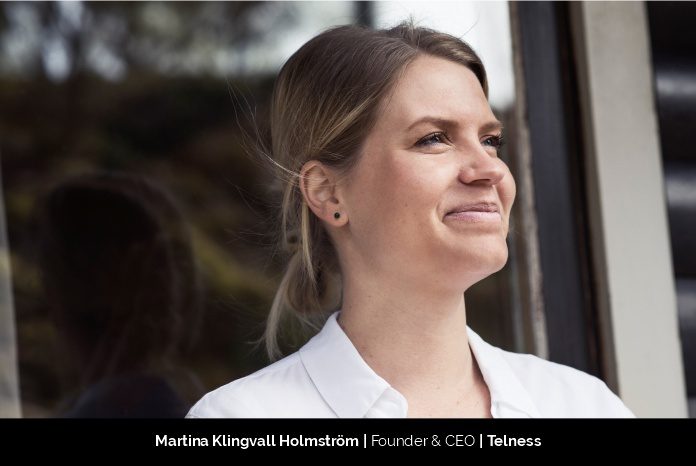 When you are passionate about doing something unique and you yearn to give it your best, you end up with an out of the box thinking making every effort count. Driven by a similar passion Martina Klingvall Holmstrom, Founder and CEO of Telness embarked upon her entrepreneurial journey to transform the telecom industry in Sweden, and she did. She started Telness, the first digital mobile operators for entrepreneurs that provide services specially developed for the new business community. With a vision to offer simple, digital and affordable services to entrepreneurs, Telness is making new standards in Sweden and is growing rapidly. We are proud of Martina's journey of success, and we are privileged to highlight a few insights from her as she shares her story with us.
The Seed of New Beginnings
It is always challenging, building something no one has done before. It means that you and your team are constantly outside your comfort zones and new challenges arise all the time, as it did for Telness when they first ventured out into the industry. However, Martina was not someone who would give up in a challenging phase. In fact, she loves challenges. Right from her early days as a kid, she has always liked to challenge herself and loved all types of games, sports and competitions. Her zealous spirit helped her in her professional career too. The reason why Telness was founded ascended of the customers' need of better customer experiences within telecom, and Martina realizing that the large and old operators had too much legacy to be able to deliver in the potentials. It was an opportunity to start a telecom tech platform and an operator from a blank paper, using new technology and competences from other industries and building something agile, digital and customer driven – setting new expectations in the market.
Through all the struggles and roadblocks, what kept Martina and her team going was their vision, focus on the company culture from start, making a clear overall strategy in why they exist and how they work together – then it becomes much easier being in a challenging surrounding and seeing setbacks as learnings towards a mutual goal instead of failures.
The Importance and Services of Telness
Mobile telecom is something that many business consumers find complicated, expensive and boring. Telness is challenging the old mobile operators in Sweden with an innovative service based on customers need and by building the world's first digital telecom platform for businesses – making it simple, hassle free and digital. Telness has succeeded in going from an idea to be an appreciated mobile operator and have set a new standard in the market – with the most satisfied customers, digital and automized workflows and fair terms. Going forward Telness is driving the global telecom innovation by also offering their tech platform as Saas for international operators, enabling them to digitalize into the future.
Telecom is not something people or businesses want to spend time and hassle on, it is something important that should just work. By digitalizing the industry, Telness enables a better and more efficient operation, saving time for both the operator and the end customers to drive value.
Leading the Way with a Definite Vision
Martina Klingvall Holmstrom is a strong-witted, resilient leader with an enduring spirit. She is a leader who prospers and ensures that her team prospers too. Martina is an engineer and has previously worked for one of the largest mobile operators in Sweden and globally, prior to starting Telness. Owing to her vast industrial experience, Martina has surely come a long way in her successful journey.
As the CEO of Telness, Martina's role is to make sure that all employees at Telness are striving towards the same goal, that they have the right people and tools in place to succeed, that they are doing the right prioritizations and to make sure they are their best selves every day and are engaged in what they are doing. "I strongly believe that a tight, focused and engaged team built on trust can achieve great things and also have fun along the way!", Martina, asserts.
Speaking about her personal and professional life balance, Martina believes that is very important to rest, be present when meeting family and friends and to be able to reflect during a professional life with a high tempo and responsibilities. "I think the key to balance is to ensure that the company´s progress, decision making, and speed are not all dependent personally on me. That is far easier to deliver on than trying to make the perfect balance, and will generate better results for both me, the team and the company.", she adds.
The Vision and Motivating Factor
Telness is driven by a simple vision to change the standards for the telecom industry, using tech to build great customer experiences. The team of Telness believes in their vision and works relentlessly to achieve it every day.
Martina and her team are inspired by two main quotes that are not just words spoken, but are inspiring thoughts that lead, guide and drive someone to success:
– "The customer can fire everybody in the company, from the chairman and down, simply by choosing someone else".
– "If you think you are too small to make a difference, try sleeping with a mosquito in your bedroom."
These inspirational quotes drive them to ensure that they are the best choice and make a difference for the end customer, which is extremely important to Martina and her team to be motivated. "Being a challenger and to make a difference in a large, old and traditional market is something that inspires me and makes me want to do small things all the time to disrupt and drive the industry forward!", Martina shares.
The Growth and Future of Telness
The industry is a competitive one, but most operators are quite similar and compete more and more around price levels. Telness offers innovation and a different customers experience, and makes operators globally able to innovate their operations and end offering through technology. For the Saas service the competition is different, since they are the first ones that have built an end-to-end digital platform. Telness is eager to present it and its possibilities. In the coming years, Telness is planning to take a significant market share for the operator business in Sweden and hold a strong position for SaaS services globally.
Telecom is a massive market, and Telness has built great tech to help it into the future. "I believe that the future telecom operators need to deliver on the customers' demands and digital customers experiences, that they compare to other industries. We can help with that!", Martina affirms.