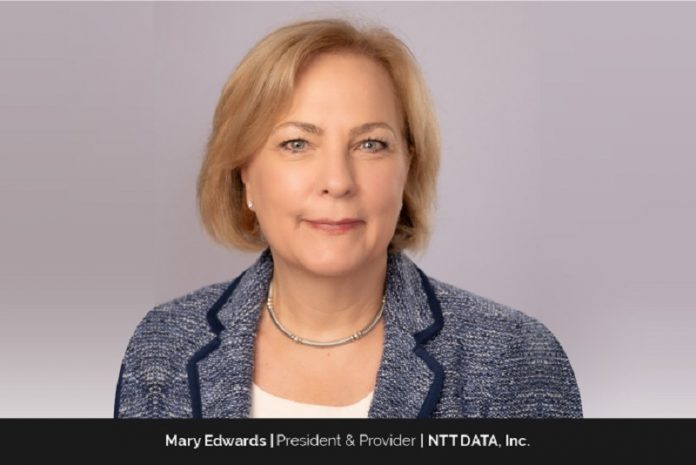 As President of NTT DATA Services' Healthcare Provider practice, Mary Edwards' desire is to make a difference. She has over 30 years of senior leadership experience in healthcare and technology, with a proven track record of business growth and transformation.
NTT DATA is a division of NTT DATA Corporation, a top 10 global IT services provider with 120,000+ employees in more than 50 countries. It assists organizations in thriving and innovating in today's rapidly changing business and regulatory environments, as well as in preparing for the future of healthcare.
An exciting time to be in healthcare
Mary graduated Magna Cum Laude with an MBA from the Weatherhead School of Management at Case Western Reserve University. She began her career with Blue Cross Blue Shield plans, where she worked in underwriting, merger integration, and strategic initiative and planning leadership.
"I started in healthcare supporting health plans and driving operations, transformation, end-to-end process integration, and company strategy. I realized early on just how much potential there was for change in the industry and moved into business development for health and public service for a global healthcare consulting company," she remarks.
Mary went on to have a 20-year consulting career with Accenture, where she held various senior leadership roles in the Health & Public Service sector, including Global Sales Leader and Federal Civilian Health Leader. She also served on the CEO Advisory Committee and as Executive Sponsor for Global Managing Director Development.
"As my roles and responsibilities grew, I am proud to say that I've led and supported large-scale client transformations with technology at its core, and been a part of projects that have improved the healthcare ecosystem for patients and providers across the country," Mary observes.
Before joining NTT DATA, she worked for HM Health Solutions, a healthcare BPaaS provider and subsidiary of Highmark, Inc., as Senior Vice President of Commercial Markets.
"I have always worked in the healthcare industry, and this is such an exciting time because of technology advancements, and the patient and clinician access and comfort with digital modes are rapidly aligning," says Mary.
She points out that there are so many ideas that have been before their time in healthcare that technology could not yet support; ideas beyond what clinical and administrative health care teams could adopt into practice.
But that is all changing, and we can now do what we couldn't do before; and patients and clinicians are ready to adopt the new models of care, types of access, and levels of automation and AI augmentation that these technologies can offer.
"I want to be part of accelerating these advances across the healthcare ecosystem – it's like I have been waiting for this moment in healthcare for the last thirty years!" declares Mary.
Putting people first & shaping the future of healthcare
NTT DATA provides IT and business expertise through one of the industry's most comprehensive service portfolios, which is designed to modernize business and technology in order to deliver the outcomes that are most important to clients.
These services include digital operations across virtually every aspect of healthcare's process, application, and infrastructure, as well as innovative and transformative offerings that assist their clients in developing the delivery models that are rapidly shaping the future of healthcare.
NTT DATA's team of industry experts collaborates with organizations to develop and implement solutions for the future, in areas such as business resilience, healthcare transformation, digital health experiences, data-driven healthcare, and healthcare technology.
The company enables organizations to provide human-centered, high-quality, accessible, and affordable healthcare services and adopt better ways of developing personalized healthcare interventions and treatments that advance health and wellbeing.
"We are redefining the very meaning of health and wellbeing by creating digital ecosystems and solutions that are human by design. This mantra of putting people first in healthcare is our guiding principle and helps us foster a culture of integrity and innovation," Mary states.
NTT DATA understands the challenges facing the healthcare system and are working to create a new digital ecosystem that benefits the patient and the provider, helping their clients get ahead by accelerating their digital transformations and interoperability challenges.
The company's main goal is to push the boundaries in cloud, data, infrastructure, applications, and business processes that power healthcare; while Mary's main responsibility is to ensure exceptional outcomes for their healthcare clients.
"I do this thanks to a high-performing team focused on the transformation of healthcare operations and enablement. Clinician and patient enablement in a rapidly changing healthcare landscape is central to everything we do," she says.
As part of NTT, a $108B global technology and business solutions powerhouse, not only does the company invest more than $3.6B in R&D annually, but they also leverage broad scale and investments to deliver end-to-end services that accelerate clients' IT Modernization and Digital Transformation to shape the future.
Mary points out that the current global health crisis has exposed many issues in our healthcare systems. NTT DATA is redefining how health and wellbeing is enabled and accessed for their clients.
"We are committed to finding new ways to make health and wellbeing more human by design and improving the healthcare system's trustworthiness by creating a digital ecosystem to support and accelerate the future of healthcare. At the heart of this is ensuring access to appropriate health services and systems for all," Mary states.
A tenacious leader who puts family first
Mary remarks that she has always defined her success as Family, Client, Firm. Everything is in her calendar – family, health, and work. When the calendar is full, it is her job to reprioritize against and within these priorities.
"First, my success is dependent on all being well with my family, and while this doesn't mean perfect, as things rarely are, it means we, as a family, are successful coping with life's demands and able to be intact as a family," she says.
Mary's second focus is on how she is adding value to clients. Her roles in healthcare have varied over the years, but the end result of her work has always been to support and create a better healthcare system. And finally, is the firm.
"Am I supporting my teams to enable them to do their best work? Am I providing the guidance and leadership to achieve our goals, and giving others the tools to be successful in their careers? I need to be able to say 'yes' to all three to feel successful," says Mary.
She admits that not every day is balanced, as there are times when family takes precedence and others when it must be work. But this is the way she keeps her commitments AND the way she keeps herself from over-committing and managing her own and other people's expectations.
Mary observes that the hardest roles in her career have also been highly formative, and that she learned the most from those leaders who truly challenged her. She remarks that those hard experiences built her leadership capability, deepened her technical and business skills, and dramatically expanded her coping skills.
"I've often thought if I had known in advance how hard something was going to be, I would never have jumped in – so thank goodness I didn't know!" she declares.
Mary's desire is just to make a difference – for the clients she serves, the teams she supports, and the world she lives in.
"I have been fortunate, even lucky, to find success in business along the way. I am so grateful for the opportunities I have had to contribute, and to grow personally and professionally through that contribution," she says.
Mary's advice to aspiring leaders is to recognize and affirm the team and their good work toward those outcomes.
"We affect lives every day – how can we not believe in that and strive to do our best? As for motivating myself and my employees to always deliver the best, I think the number one factor is a belief in your mission, vision, and everything you do. Clearly defining what good looks like from the perspective of those being served is the key," she advises.