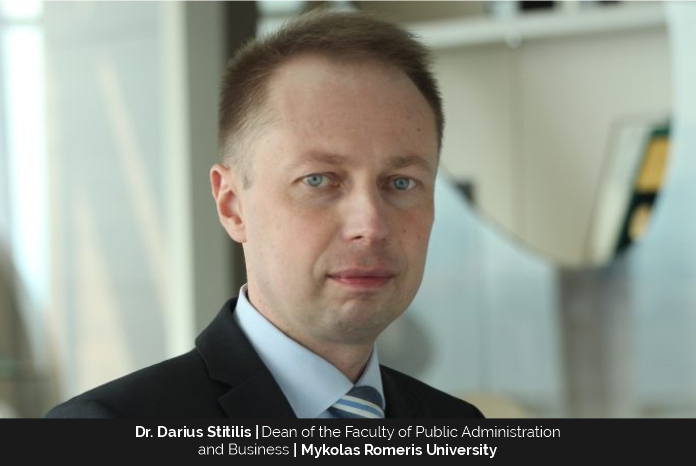 Mykolas Romeris University (MRU) is named after Professor Mykolas Romeris, the patriarch of Lithuania's Constitutional Law (1880–1945). MRU is Lithuania's largest social sciences specialty university, with law, public security, and public administration as its primary study and research fields.
The university's main educational science, economics, humanities, communication, politics, psychology, sociology, and management fields are capable and noteworthy.
MRU conducts important worldwide and national research and studies (on average about 50 projects per year). According to a European Commission-funded international study titled "Creating a Culture of Social Innovation in Higher Education", MRU is the best university to develop social innovation among several hundred universities in Central and Eastern Europe.
MRU was the first in Lithuania to begin to implement joint studies programs with France 's, Austria's, and Finland's universities and developed strong research partnership ties with South Korean and other universities in the Asian region.
Prof. Dr. Darius Stitilis
Mykolas Romeris, University Professor, Dean of the Faculty of Public Administration and Business, and Director of the Cyber Security Management Study Program He's also a co-owner of DPS Solutions, a company that specializes in personal data protection and cyber security.
Darius Stitilis has extensive expertise in the subject of IT law, having worked in both international law firms and multinational corporations.
Darius Stitilis has published almost 50 research articles in Lithuanian and international journals on the themes of IT legislation, personal data protection, and cyber security. He's also the author or co-author of a number of scientific monographs, textbooks, and instructional works. Among them are the co-authors of a research monograph on cyber-identity theft and the textbook Internet and Technology Law (2016).
Darius Stitilis is a researcher and project manager who works on a variety of projects. From 2015 to March 2017, I conducted a research effort that resulted in the creation of a Lithuanian cyber security strategy model. From 2020, he will be a member of the multinational "SPARTA" cyber security initiative (sparta.eu). From September to October 2020, took part in the European Commission's expert examination of H2020 applications in the realm of cyber security.
Contributing to the Re-Definition of the Cybersecurity Space
MRU takes an interdisciplinary approach to cybersecurity. Management, legislation, and technology are frequently linked in cyber security. Cyber security crises can only be analyzed, efficiently managed, and averted if all of these factors are understood in depth and their interrelationships are understood. As a result, the suggested cyber security research program takes into account all of these factors.
The MRU study program "Cybersecurity management" (MA level) is included in the CYBERHEAD – Cybersecurity Higher Education Database and can be found at:
https://www.enisa.europa.eu/topics/cybersecurity-education/cyberhead/#/programme/84c3c6e6aa6640d998eaf5c14a20643f?programme=Cybersecurity%20Management
In parallel to this, a slew of other cybersecurity-related activities is taking place, including scientific research, research projects (such as participation in the EU-funded Sparta project (www.sparta.eu), and other initiatives.
For example, on February 8th, 2022, Safer Internet Day, the Australian Lithuanian Cyber Research Network (ALCRN) was founded, bringing together trained cyber security specialists from RMIT (Australia) and MRU (Lithuania).
Despite Obstacles, Consistent Improvements
It was the first master's degree program in management direction in the Baltic States and nearby countries when it was created. Because it was a full novelty, that was the most difficult obstacle. Currently, the study program "Cyber Security Management" in the managerial direction remains one of the few programs that provides management, legal, and technological competence. As a result, it is an interdisciplinary program of study.
According to Darius, Mykolas Romeris University's master's degree in cyber security management provides a solid basis for professional advancement in the fields of information security and cyber security, including personal data protection, risk management, and fundamental cyber methodologies and tools.
A United Effort Will Help Combat Russian and Chinese Hybrid Attacks 
Last year, there were issues in the realm of cyber security as a result of the pandemic. The mobilization of worldwide researchers is required to overcome serious threats to cyber security and hybrid assaults. ALCRN was founded by RMIT's Center for Cyber Security Research and Innovation and Mykolas Romeris University's (MRU) Faculty of Public Governance and Business.
Prof. Matthew Warren, Director of the RMIT Centre of Cyber Security Research and Innovation (ALCRN joint director), said at the network's launch that he hopes the MRU and RMIT collaboration will help pool resources, knowledge, and provide a way to investigate hybrid threats and assess their impact on Lithuanian and Australian society and institutions. Prof. Warren is a well-known Australian scholar and practitioner in the fields of cyber security and computer ethics. His studies have appeared in a number of major cyber security journals. His expertise is sought and recognized in the fields of cyber security safety, cyber security management, and safety risk analysis, particularly when it comes to critical infrastructure and human safety, as well as cyber security innovations in these areas.
During the ceremony, MRU Public Governance and Business Faculty Dean Prof. Darius titilis (ALCRN joint director) stated that cyber security is an aspect of national security. Despite this, Lithuania is in the top ten nations in the International Telecommunication Union's (ITU) worldwide cyber safety ranking, and research and strategy development must continue. "We see a huge potential in the area of cooperation between Lithuania and Australia," Dean Prof. Stitilis added.
Prof. Inga Zaleniene, MRU Rector, made the introductory remarks at the ALCRN launching ceremony. Gabrielius Landsbergis, Lithuania's Foreign Affairs Minister, also took part in the event remotely. Vice-Minister Margiris Abukevicius of Lithuania's Ministry of National Defense was among the other Lithuanian government officials present. In addition, "Infobalt" Association Head Mindaugas Ubartas, as well as BCCS Cluster representative and "Critical Security" Head Miroslav Lucinskij, took part in the business panel discussion.
Huge Need for Specialists
According to data from the National Cyber Security Center, the number of cyber security incidents rose by 25% last year. The number of incidents involving the distribution of malware and other dangerous programs to PCs increased by 49%. Last year, there were seven hybrid assaults reported, with the largest being in December, when 24 government websites were hacked, and bogus news articles were produced. The demand for trained specialists is growing with the rise of hybrid and other threats.
This need for cyber security safety specialists, who have a higher education is evident not only in Lithuania, but also in the international sphere. MRU has been offering the Cybersecurity Safety Management Studies program for several years, which was established to meet this requirement and train highly skilled individuals. These people would be able to comprehend, design, and manage modern information technology settings and human resources, as well as assure cyber security and data protection. This master's degree program focuses on preventing cyber security breaches as well as making informed judgments about how to structure and coordinate activities. Lectures are given by academics. They have extensive expertise in this subject and are hands-on professionals in the field of cyber security in the private and public sectors.
ALCRN aims to bring together cyber security, FinTech, and other innovation experts in order to collaborate and conduct qualitative research. To stimulate the growth of study and research infrastructure, it forms collaborations and pursues cooperative projects with social partners. In addition, involvement in national and international research programs will be encouraged.
A Place of Growth and Sustainable Development
MRU fosters a society's sustainable, innovative science-based advancement, aiming to build free, creative, responsible, critical, and all-life-learning personalities, and paving the road for personal and professional achievement for every member of the community.
One of MRU's most significant tasks, to develop a culture of scientific inquiry and innovation, is also carried out successfully. Its scientists and researchers conduct basic and practical research in the social sciences and humanities across disciplinary and interdisciplinary lines. Every year, approximately 600 research papers are published, approximately 50 research projects are completed; approximately 50 contract-based services are completed, doctoral studies in six fields of science are completed, research-based expert services are provided; solutions for responsible institutions and the general public are provided.
Increased awareness, uniform staff mentorship and training, and a student-involved procedure all help to foster an academic integrity culture. MRU offers a well-received mentorship program, as well as rigorous training. Students participate in study program committees, the University Senate, and the Rectorate's activities. There are several additional forms of student participation, such as meeting with students on a regular basis, clarifying their requirements, and so on.
Interdisciplinary research, internationalization, partnerships with universities such as RMIT University in Australia, attracting well-known cyber security practitioners as lecturers, and close ties with business and the public sector, according to Darius, help MRU remain competitive in the cybersecurity field.
Including more International Academic Staff
MRU has a total of 6182 students, 434 teaching staff, and 225 administrative employees (2021 data). MRU has the best worldwide ratings of any Lithuanian higher education institution in the topic of law and has a high institutional position in the QS World University Rankings 2023. MRU has been ranked 501st in terms of academic reputation and reputation among employers, and 560th in terms of the number of international students, for the first time.
Darius states, "High competition and the pursuit of results allow you to stay motivated, and there are plans to make the degree program even more international by including an even greater number of international scientists and professors in the program." Already, world-class scholars such as Prof. Matthew Warren of RMIT University in Australia have taught the curriculum, and the university desires and aims for even greater internationality.
MRU is involved in the publishing of scientific publications in peer-reviewed journals that are included in the Scopus or Web of Science indexes, as well as worldwide collaboration and involvement in initiatives.
More information about the MRU programs can be found here: https://apply.mruni.eu/courses/course/145-master-cybersecurity-management