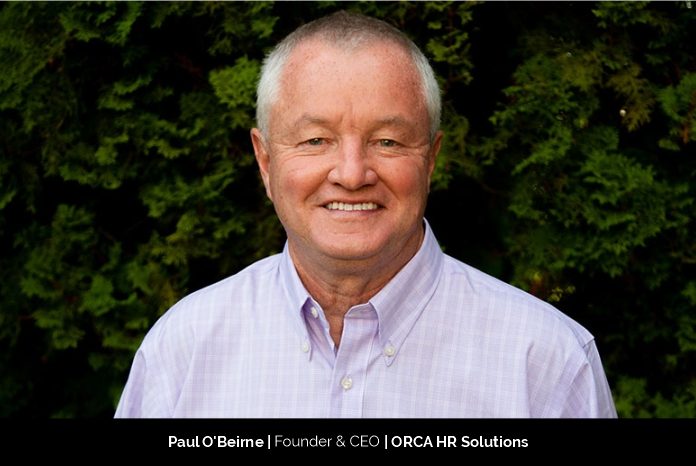 Today, many organizations are confronted with the problems of fast expansion and complicated change, yet they lack a clear strategy for coping with them. Many new executives are facing similar challenges as they deal with scaling into new positions and complexity within their roles. This exposure and experience inspired and equipped Paul O'Beirne, founder of ORCA HR Solutions, to start his company in January 2013, with the goal of assisting leaders and their teams in improving organizational performance. Paul is the leader of the leadership and organization development practice, as well as a facilitator of executive seminars and a coach. He says, "For many people and organizations, simply raising awareness of possibilities that could lay ahead for them could help them be more effective than they ever thought possible."
Prior to joining ORCA, Paul spent 25 years on Microsoft executive teams as a senior human resources leader, managing difficult organizational transformation. He helped Microsoft create businesses in Ireland, India, China, the United States, and the United Kingdom. He has worked with companies in a variety of capacities, including operations, global sales and marketing, international products, and global research and development. Paul and his teams were responsible for overall people and organization strategies, including staffing, leadership development, and organizational development, as well as mergers and acquisitions, divestitures, and worldwide integration of business operations.
Paul's primary responsibility at ORCA is to establish the organization's vision and mission, as well as a strategy to carry it out. As a business owner, he believes that the organization should concentrate on customer connections and meeting customer needs in order to create the greatest impact. He says, "Making an impact is what drives both myself and my team. Seeing our work change the lives of our clients is what drives us to keep doing what we do."  
A Tough Call to Take
Paul O'Beirne, a Senior HR Leader at Microsoft for 25 years, reached a point in his career when he felt he wasn't giving or getting his best. He realized he needed to make a change. He says, "It was the hardest decision of my life to leave a company that I loved. I had spent the biggest part of my working life working with some incredible people. It felt like I was deserting the family."
Paul chose to return to school and seek a master's degree in organizational leadership after considerable introspection and contemplation. Despite his vast experience in global HR roles, he concluded that assisting individuals, teams, and organizations "create their desired future" would be his true passion and concentration, and he was willing to leave the more administrative aspect of Human Resources behind.
That prompted him to create ORCA HR Solutions, which rekindled his enthusiasm for life, and he hasn't looked back since.
ORCA
ORCA is powered by unrivalled combined experience in leadership development within growing technology organizations as well as a distinctive Conscious Leadership philosophy and approach. It is a sort of philosophy and approach that improves a leader's internal fabric, affecting their capacity to engage, inspire, and lead teams to accomplish extraordinary organizational outcomes.
Paul's aim is to enhance leadership awareness in order to help companies become more productive and effective. He enjoys working with leaders and teams to raise awareness of the opportunities that may lie ahead for them, allowing them to be more productive than they ever imagined. "This is what motivates me to get out of bed each day," says Paul.
He asserts, "We help leaders transform their self-awareness, consciousness, and capabilities so they can create team cohesion and foster a high-performing culture, the catalysts that directly improve the results of tech organizations and the experiences of the people within them."
Wide-Ranging HR Solutions
The ORCA team assists people, teams, and emerging technology companies in achieving their goals. This is accomplished through executive coaching, leadership development programs, and evaluations. Conscious Leadership, the company's unique methodology and structure, helps people develop their self-awareness and achieve their own potential, as well as the potential of their teams. ORCA is a firm that offers a variety of services, including:
Executive coaching, team coaching, and group coaching which help individuals scale into new roles, become better leaders, and manage complexity in their organizations
Individual and team assessments, including DISC and Leadership 360, Emotional Intelligence, and Hogan Leadership, which are based on decades of research, and allow managers to increase their own awareness and build action plans for themselves and their teams based on science.
Smart Hiring which integrates assessments into the hiring process to increase the effectiveness of hiring and reduce turnover costs.
Customized leadership programs, training, and workshops to help organizations deal with complexity and overcome organizational barriers.
A Skilled Team of Professionals
Both the tech and start-up worlds have complexity that is unique to them and having a staff that has been exposed to them is a crucial competitive advantage. ORCA's team concentrates on what they do well and strives to provide the best possible service to its clients.
According to Paul, leaders must possess both present and future talents in order to overcome difficult business issues, such as managing change, retaining employees, and dealing with uncertainty. Many of them, he says, are specialists in problem solving and technical issues, but they also require "soft skills" in order to motivate and allow others to carry out initiatives. He says, "We understand this environment and the challenges and discomfort that technical leaders have in developing these skills."
Growth that Improves Everyone   
Paul considers the success of his employees to be his greatest achievement. He was regarded as a talent developer in his leadership role at Microsoft. Paul is quite pleased with the fact that several of the people he worked with are now in executive and senior leadership positions. Paul believes that these people have had this potential all along, and that providing them the chance to not just improve their abilities but also their attitude is what makes the difference.
One of his happiest memories came when he got a message from a woman he had employed while at Microsoft and who had sent him a note 20 years later about the influence working for him had on her life.
Spending Time with Loved Ones
Paul strives to maintain an integrated life by finding time for interests outside of work and family. Paul's normal day starts at 6.30 a.m. Paul enjoys having breakfast with his still-in-high-school son and driving him to school. For the past 12 years, Paul has attended a 90-minute mountain conditioning session, twice a week. He asserts, "My workday normally starts at 8.00 a.m., and I finish by 6.00. We have designated Friday as no internal meeting day. To keep us balanced, we also integrate into our meeting with our team a mindfulness check-in which helps keep us centered."  Paul and his family take an overseas trip every 1-2 years, and he enjoys visiting new locations.
Paul considers himself a lifelong learner who is always expanding his knowledge through books, certifications, and mastermind groups.
What does Success mean to Paul
Paul's success has been built on having an influence on leaders, teams, and organizations since the beginning of his company. To assess his performance, he asks himself two important questions: "Have we assisted our customers in having a transformational experience?" and "Have the individuals and teams with whom we work taken away something that makes them and those around them better?"
Roadmap of ORCA
The objective for the next several years is to increase ORCA's influence among current customers while also attracting new ones. Paul aims to establish long-term, mutually beneficial connections at ORCA.
The ORCA team consists of a hand-picked group of top-tier consultants, coaches, analysts, and facilitators. Paul states, "At ORCA, we transform the consciousness and capabilities of your leaders so they can propel your tech organizations to new levels of success."