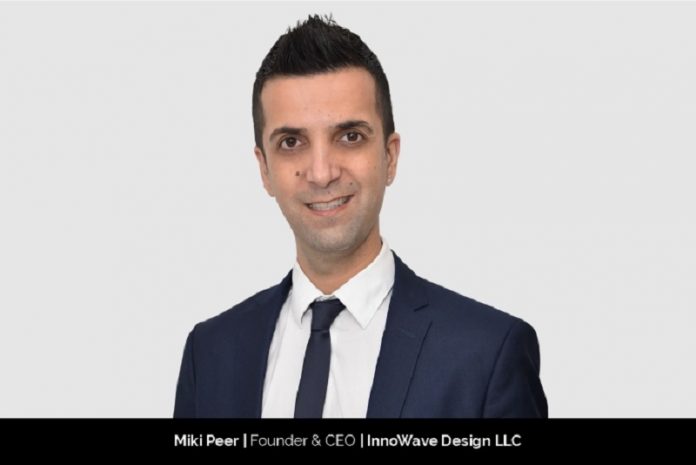 The fire to follow your passion without losing hope even after some failures is one of the key traits of successful leaders. Miki Peer, Founder and CEO of the InnoWave Group, is one of the gems who has achieved his dream by backing up his skills and passion. In his words, "Success is standing your ground when you believe in something, learning that losing a few battles can help you win a war".
Miki has never believed in focusing on monetary success; he in fact believes that following one's passion is more lucrative in the long run. Passion is what keeps one motivated when the going gets tough, and Miki is passionate about making an impact.
Having a clear vision is crucial be it for personal or for organizational goals. It can not only help support one's long-term goals but also help in setting up more realistic short-term goals. As Catherine Pulsifer says, "Setting goals allows you to paint a vision of what you wish your future to be." Miki too believes in having a clear vision and setting strong goals to climb the ladder of success.
Long Journey to Success
From the beginning, Miki was hardwired to follow his passion. He wanted to do something big with his life.
He was appointed as a software developer at IAF – Israeli Air Force in 2005. In 2007, he started his B.Sc in Electronic Engineering at the Holon Institute of Technology to expand his knowledge base and add more arrows to his quiver.
He states, "In 2008, during my duty at IAF (Israeli Air Force) as a software developer, I was intrigued why the existing UAVs (Unmanned Aerial Vehicles) Payloads suffer from limitations on security, and there is lacking in Artificial Intelligence Payloads solutions. At that time, I met someone from Virginia with a good understanding of the industry and connections, which is what gave me the confidence that I can make it!
From that point Miki shared the idea with his cousin – Sergey – a software engineer, and they decided to take this long journey together.
They established the entity, did research, closed their first contract, raised funds, built an engineering team, and started with their development.
He adds, "Many people see the glamour and think it's a bed of roses. To be honest, it was a long road and definitely not an easy one. There were many difficulties in this long journey, but after you make it happen, it is definitely worth it!"
During that time In 2012, he also joined forces with Phoenix Technologies Ltd as the Regional Field Application Engineer and then in 2014 joined Arrow Electronics as the Field Sales Engineer.
"In 2015 we were successful with our first generation payload and right after that, for the second generation, I decided to invest all my available resources. It was not an easy, but was the right decision as we finished with a huge success."
In 2017 he marked the advent of InnoWave Group. Sergey – his partner left the company and that's was very difficult especially as Miki based in Israel and all R&D team was in the US. He decided to change the company strategy and the business model. The decision was hard, but that's was necessary to rise to the next level.
He comments, "During that time, I was working for Arrow Electronics, a global semiconductor distributor and solution provider. It was a great experience working there, and it helped me to learn the business from a different perspective. We were making great progress, and the business was demanding more and more time. As a result, I left Arrow with the intention to take InnoWave to new heights."
InnoWave group started growing up very quickly and were able to add more design centers in addition to Ohio. Today, their design centers are located in Israel, Romania, Greece, and Sales offices that can be found in California, Arizona, Boston, Toronto, Germany, Italy, and the far East.
Other than being the founder and CEO of InnoWave Group, Miki holds top positions in different companies. He is the Founder & Co-Owner of BelRin. BelRin is specializing in software development, algorithms, optics, robotics, aerodynamics, and more. BelRin has in-depth expertise in the areas of firmware development for video processing, embedded systems, and many others.
He is the Founder & Board Member of MRE Technologies and Co-Founder & Board Member of WeSense – a Predictive AI & ML Monitoring solution for cot death SIDS (Sudden Infant Death Syndrome). Recently, he became the Board Member of Koya, a US based company which is a monitoring AI system that operationalizes Voice-of-Customer insights across organizations in real-time to enable greater customer-centric decisions and direction.
As of today, InnoWave is a group of companies: BelRin, InnoWave Design, InnoWave Inspire, and MRE Technologies.
Growing and learning crossing the obstacles along the way
Miki expresses, "Challenges provide the opportunity for growth and build the capacity for resilience. I wouldn't be where I am today with InnoWave if I didn't overcome my obstacles."
The biggest challenge while building InnoWave was to form a solid team that will create better results in the future. When the company is evolving into a bigger organization, the needs and processes change at a very fast pace. So, it is crucial to stay on track and meet the pace to structure the right foundation for the company, and team building is critical to form a solid one.
He stresses the point by adding, "Team building is critical for several reasons. However, there are two that standouts. The first is scalability, meaning that you will be forced to wear all of the hats until you build a solid team. This is something that almost all new entrepreneurs do at some point. Eventually, juggling all the tasks yourself has the opposite effect. It makes you less efficient, which is no way to build a business."
He further states, "The second reason that you shouldn't put off building a team for your startup is that your first team sets the example for everyone who comes afterward. If your initial team consists of serious go-getters, then your company will continue to attract ambitious people. They are not just individuals working in your business. They are the business!"
Bringing innovative technological solutions with InnoWave Group
InnoWave is a global provider of technology solutions, products, and services with established capabilities spanning marketing research, design, and development, product and process engineering, design for manufacturability, as well as technical support across a widely diversified range of high-mix, high-value and complex products with an unparalleled experience in transforming innovative ideas into full-fledged products.
Miki states, "InnoWave is focused on design, research, and development products, specializing in software development, AI (Artificial Intelligence) & ML (Machine Learning) based on Intel Movidus, Nvidia, Xilinx AI Edge and Proprietary applications, Image Processing, FPGA Design, Power, RF, Optics and Lighting."
InnoWave offers full hardware development for electronics and embedded systems.
He adds, "Our goal is to create end-to-end embedded solutions that will meet our customer requirements and integrate them into their business process."
The company also encompasses the power of ML and AI and builds strong models by exploiting their benefits. The team also offers financial, business development, and operational consultancy to SMB's and startup companies.
He states, "Our services include strategic planning, business, and financial planning, market research, competitors' analysis, etc. InnoWave advises startup companies and SMB's on the preparation of professional and appealing executive summaries, investor presentations, or prepare it for them. We offer services of efficiency and cost-saving planning and follow-up their execution. Our large network of influential, professional people worldwide and collaboration with strategic partners enable us to further expand our offering."
InnoWave has unmatched expertise in the world of vision, in-depth expertise in the areas of firmware development for video processing, embedded systems, and many others. Video images are typically first captured by a lens and sensor. These raw images could have noise from the environment, poor color, limited lighting, and many other issues that impact the image quality. In addition to that, some use-cases may require tuning for human perception while some others for machine vision.
He expresses, "InnoWave provides a complete solution which includes software drivers, 3A libraries (auto-exposure, auto-white balance, and auto-focus), calibration, and tuning tools. We develop, port, optimize custom imaging algorithms and deliver the most optimal solutions for various use-cases."
Miki believes that innovation is vital for the company to progress further, and it comes from creativity. If the employees are creative, they can elevate the inflow of new ideas by grabbing new opportunities and taking the company to the next level.
He adds, "From my point of view, innovation comes from a place of freedom. Allowing all your employees to fully self-express will transform your company into a thriving market leader business."
The freedom to grow individually keeps the morale of employees high, which pushes them to achieve new heights and create better results for the company. He aims at creating a warm environment at InnoWave by focusing on raising the integrity of the group.
He expresses, "Don't just declare and talk about it but, share your knowledge with all your team members – that's our philosophy at InnoWave." Every team member aims at the highest degree of integrity and takes everyone together to rise and achieve success.
Staying ahead of the curve
He expresses that integrity, passion, teamwork, creative freedom, innovation, and commitment to the client are the six strongholds of the company that allows it to stand its ground in the capricious market and mark its unique presence.
Every team member resonates with the core principle of the company and works hard to create better results for all the clients. Having an excellent atmosphere to work in, the team aims at grabbing every new opportunity to rise high and achieve success both at an individual and collective level.
He adds, "InnoWave partnering officially with the leading semiconductors vendors and solution providers such as NXP, Analog Devices, Microchip, ST Microelectronics, and many more others gave us the opportunity to be one step ahead."
Life as the Founder and CEO of the company
In the early stages of the BelRin, Miki and Sergey (who recently back to lead the US team) wore several hats to fuel the growth of the company. As the company progressed, they were able to create a strong foundation team on which they could rely and focus on other aspects to take the company to the next level and beyond.
Today, having a strong team at his disposal, he knows when to spearhead some initiative and when to sit on the sidelines and let his team create better results.
He believes that making the right decisions at the right time and excellent support from his family has allowed him to pave the company to the top.
He adds, "Today, InnoWave empowers and nurtures startup founders while helping them grow and scale up their venture by mentoring, investing, and supporting them with InnoWave capabilities. My vision is to proceed with our global success and also give the opportunity to those who lack resources and the knowledge of how to bring their idea into the market."
He gets his constant dose of motivation from the famous quote of Abraham Lincoln, "The best way to predict the future, is to create it." He aims to instill the same feeling by empowering his team members at the individual level.
Other than this, he believes that teamwork is critical to achieve better results. He focuses on the point by stating, ". In product development, you have to efficiently share high-level skills to complete the project on time and successfully. Most importantly, it leads to the introduction of new ideas, concepts, and processes."
He expresses that aspiring business leaders should understand the importance of backing up their dream and vision. His message is "chase the vision, make an impact and enjoy the moment."
Future plans for the group
Miki states, "We intend to continue our penetration to new industries such as automotive and medical, expand our sales network and enhance brand awareness. We plan to continue our focus on product development and proceed with our global collaborations with the leading semiconductor vendors."