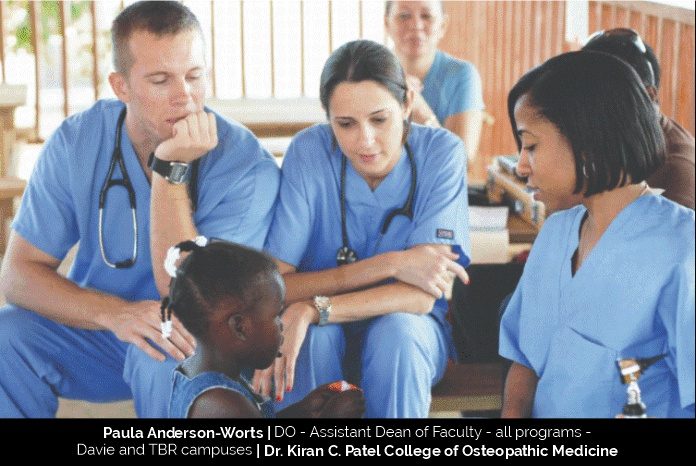 Having served Nova Southeastern University (NSU) for the last 24 years, Paula Anderson-Worts, DO, MPH, – Assistant Dean of Faculty and Alumni Affairs – all programs – Davie and Tampa Bay Regional (TBR) campuses of Dr. Kiran C. Patel College of Osteopathic Medicine (KPCOM), is the epitome of hard work, commitment, and persistence. Her journey to rise above the shackles of cultural disparities and fulfilling her dream of becoming a doctor is truly fascinating. Being well aware of cultural humility, she is currently looking for new and unique ways to promote Diversity, Equity, and Inclusion in medical education.
Paula defines success in a simple way. She opines that success is using your resources and God-given talents to fulfill your purpose and ultimate goals.
Realizing her passion
As Mark Twain rightly said, "The two most important days in your life are the day you are born and the day you find out why." She has always been passionate about serving others and knew that the medical field would allow the promotion of both health and education simultaneously. Thus, ever since childhood, she had an aim to become a doctor and teacher; she always embraced the idea of helping people as well as sharing knowledge with others.
She dreamt high but reaching her goals was not easy! Sharing her struggles, she states, "As a black female whose family migrated from the Caribbean, becoming a doctor was not always easy. In fact, during undergrad as a pre-med student, an advisor tried to dissuade me from pursuing a career in medicine." However, her will and desire for medicine always made it easier to keep fighting for her dream goal. She quite often felt that she worked harder than others to prove that she was worthy of being an excellent doctor.
She firmly believed in Oprah Winfrey's famous adage, "Every time you state what you want or believe, you're the first to hear it. It's a message to both you and others about what you think is possible. Don't put a ceiling on yourself." Having immense faith in her dreams, she further adds, "I have learned that anything worth having is worth working and waiting for. The demand to have to prove that I was capable of becoming a physician was motivational."
Although there were numerous challenges along the way, Paula never gave up. She says, "To succeed, failure is not an option. It is essential to recognize that the trials we face are simply obstacles to test our perseverance and stimulate growth in our journey to be the best that we can be."
The beginning
Paula began her journey as an instructor and clinical preceptor for medical students and residents. In 2007, she accepted the role of Family Medicine Residency Program Director while working as an Assistant professor at NSU/KPCOM.
After nine years, she returned to being a clinical preceptor and teaching as an Associate professor. She shares, "It has been a very supportive environment which has allowed me the opportunity to foster my leadership skills and fulfill my dream to serve the underserved in Jamaica, Haiti, and Guatemala. I have been fortunate to coordinate medical outreach trips to Jamaica for the past 20 years, serving over 80,000 patients."
KPCOM Survives Pandemic
The arrival of the COVID-19 pandemic brought many new reformations in all fields, including education. At KPCOM, all the educators were asked to be more innovative, collaborative, and compassionate towards the students and the teachers. Thus, a myriad of new changes was introduced owing to the big challenge of studying remotely. At that time, technology became their friend and helped in educating and staying more engaged with the students. Even her own interactive live course was transformed into fully virtual and interactive sessions.
While working remotely, there were many small and big changes witnessed through the pandemic. Throwing more light on them, Paula shares, "The Dean set up a buddy system to ensure that the KPCOM faculty and staff kept a check on one another. Every day since the pandemic began, there were daily inspirational and motivational messages sent out by our Dean, Dr. Elaine Wallace, which we all appreciated."
Paula established a faculty and staff engagement team that worked synchronously to plan virtual activities that would aid in keeping KPCOM faculty and staff connected to one another. Additionally, after the George Floyd incident, she addressed racial and social injustice and worked on promoting Diversity Equity and Inclusion (DEI) by building the KPCOM Unity Program (KUP).
Balancing her roles
Working as the Assistant Dean of Faculty and Alumni Affairs, for both Davie, and TBR campuses of the Dr. Kiran C. Patel College of Osteopathic Medicine, she considers herself as a proud 'Advocate.' Her duties mainly revolve around advocating for the needs of the faculty and alumni. She strives to make faculty feel supported as a member of the KPCOM family. She also orients the entire new faculty joining the KPCOM family and creates relevant programs for supporting their professional growth, development and further success.  When it comes to alumni, she is dedicated to providing help, and support, as well as encourage alumni involvement.
Sharing her thoughts on maintaining a perfect balance between work and family life, Paula states, "My family and friends help me to maintain balance. My spirituality and faith in God are what helps me to stay balanced. Before the pandemic, I enjoyed traveling. I look forward to being able to enjoy the cultures of people of different backgrounds."
Bright Future Plans
Paula has always enjoyed her role as the Assistant Dean of Faculty and Alumni Affairs and wishes to develop new support programs for engaging faculty and alumni efficiently. She firmly believes in working collaboratively towards the missions for higher impact.
Paula understands that now is the time to engage students with more active learning processes as well as using the gift of technology to the fullest.  She stated her vision for future educational programs, "is to promote, and encourage cultural sensitivity, diversity, equity and inclusion throughout the continuum of medical education. My hope is to educate, unify and advocate for change that will help eliminate health disparities, systemic racism and inequality."
Further, she is planning to go on medical outreach trips to various countries to serve the needy, especially Jamaica where they have already served for many years. Her end goal is to develop new medical outreach programs so that health professionals can connect with indigent populations all across the world to join hands in fulfilling their needs through face-to-face encounters and telehealth visits.
In a nutshell, she states, "I aim to work collaboratively to create more educational programs that promote DEI and help to address health disparities in the US."