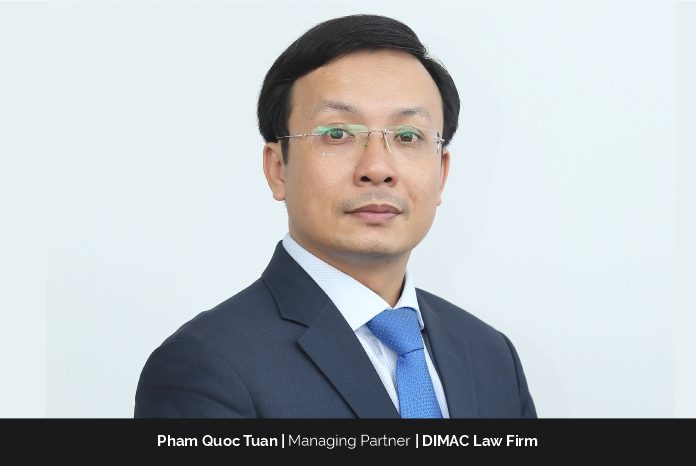 With more than 20 years of working experience, Mr. Pham Quoc Tuan has provided advice to and worked with clients from throughout the world investing into Vietnam, including Coca-Cola Vietnam, ANZ Bank, Standard Chartered Bank, Commonwealth Bank, Prudential Vietnam, Samsung Vina, VNG (Vina Games), GM Vietnam, Akzo Nobel, Becker Vietnam, Bayer Vietnam, Monsanto (Dekalb in Vietnam), Schenker Vietnam, Perfetti Van Melle Vietnam, Gamuda Land Vietnam, and Acer Vietnam. Mr. Tuan has also advised and provided legal services for Bitexco, Novaland, Coteccons, CT Group, CT Land, Tien Phuoc, Son Kim Land, HSC, Hoan My, and Viet Thai International as the Vietnamese Group.
With his extensive professional experience in contracts, construction, real estate, investment, M&A, and dispute resolution at arbitration centres and courts, the clients remember and admire Mr. Tuan as a superb negotiator and a top lawyer who is consistently dedicated and responsible for all the work he handles.
Stepping in the Legal Sector
When Mr. Tuan chose to enrol in the Ho Chi Minh City University of Law ("HCMUL"), his legal career began. His mother and a high school instructor told him and confirmed to him that he has significant potential and capacity to become an amazing lawyer. At the time, he had passed three (03) famous universities in Vietnam, but he chose to attend HCMUL.
Mr. Pham Quoc Tuan's leadership received the highest accolades in 2021. He was named a Star Litigator in Asia by the Benchmark Litigation Asia-Pacific journal, and he undertook the role of Chairman of the Vietnam Business Lawyers Club (VBLC), a grouping of the country's top professional commercial attorneys.
DIMAC
DIMAC has a current lawyer team of around 40 people working at three initial offices in Ho Chi Minh City, Hanoi, and Danang in Vietnam. As a part of the founder's vision in which DIMAC is planned to broaden its branches in Singapore, London and New York and build a strong team of at least 150 lawyers, this leading professional law firm operates on the principles of diligence, integrity, morality, activeness, and cooperation. The DIMAC Team encompasses the top international attorneys, Vietnamese lawyers doing legal studies abroad, and local talent lawyers who speak and operate professionally in English. The government is actively supported by DIMAC in enacting the greatest laws and policies for our economy and nation.
Mr. Tuan indicates some benchmarks for DIMAC's development:
In 2015: DIMAC was set up with three (03) people and established a branch in Da Nang.
In 2016: Two Partners, Mr. Tung Le and Mr. Thanh Duong, joined DIMAC. DIMAC developed the team with fifteen (15) employees and set up a branch in Hanoi.
In 2017: One Partner, Mr. Cong Nguyen, was promoted. DIMAC successfully built a capable team with twenty-five (25) employees.
In 2018-2019: A competitive and talent team of DIMAC with nearly thirty (30) employees was formed.
During 2020-2022: DIMAC team has developed to cover around forty (40) employees. Another branch of DIMAC was established in Phu Quoc City in July 2022; and
From the year of 2019 to 2022, DIMAC has been always ranked by Legal500, Asialaw Profiles, IFLR 1000, and Benchmark Litigation.
Leading a Team of Experts as a Positive Builder  
When compared to his current life, Mr. Tuan's existence before founding DIMAC is a complete 180-degree difference. He devoted all of his time and attention to addressing client business while serving as the dispute resolution, mediation, and negotiating lead partner for P&P. Despite this, he did not see the firm's values and vision developed, which are worthy of his labour. The problem seemed worse as his personal life became unbalanced by much of his time spent for the work. That is a key justification for DIMAC to be founded on the principles that Mr. Tuan's team and he can stand up for.
As a Managing Partner in DIMAC, Mr. Tuan is responsible for many important tasks to lead, develop and sustain the firm and generate an excellent legal team. In detail, they can be expressed as:
Leading the firm's activities strategically to run sufficiently;
Developing people and keeping partnership with significant harmony;
Building up a most professional work-handling system and processes;
Promoting the brand of "DIMAC" as a strong one; and
Keeping big clients to stay with DIMAC in a long term by excellent service quality
Handling Pressure as a Professional
As a practising attorney, Mr. Tuan faces stress and strain in everyday life. He must thus make an effort to strike a balance by discovering enjoyment in his diligent job. In addition to working, he enjoys his own interests and finds ways to incorporate them into his profession, such as through mentoring or training his clients or attorneys to help them more succeed. He shares, "Other ways are finding inner peace in my soul by meditating and spending more time with my family and children."
Mr. Tuan finds motivating the team is not easy, unless the leader finds the right approaches and methods. He shares some ways here, which are:
Setting DIMAC's clear vision for the DIMAC team and myself to keep going on;
Always setting new inspired goals to motivate everyone to achieve greater heights;
Coaching the team to discover their exceptional inner strengths and support them in achieving success in their own unique way; and
Bringing the team to get involved in shared activities to benefit the community.
Going Above & Beyond Challenges
Mr. Tuan has faith that success and progress lie on the other side of fear and difficulty. He guarantees that one will develop, achieve, and become stronger, the more one faces fear head-on and overcomes obstacles. They must have the courage to venture outside of their comfort zone, face their fears, and have unbridled faith in their own inner resources for this rule to hold true. If they succeed, they grow much more courageous and unbeatable.
Mr. Tuan faced three (03) significant obstacles early in his career that considerably influenced his current level of success:
The first difficulty is that Mr. Tuan joined P&P Law Firm, a sizable law firm (now known as Phuoc & Partners), in 2007 as a Partner when he was just 29 years old. It was all extremely new and challenging for him to manage the job allocated by major, worldwide companies, gain clients, and lead the team but Mr. Tuan responded with a "Yes," accepting the difficulties and gradually overcoming them. He was able to gain the confidence of the clients he dealt with in his capacity as a partner.
While still having worked at P&P in 2009, Mr. Tuan had to overcome challenges while pursuing his master's degree in law in the UK and thereafter, a renowned certificate in negotiation from the Harvard Law School's Program on Negotiation in the United States. At his best, he truly battled and surmounted obstacles related to language, knowledge, culture, and integration with the global environment in both the UK and US in order to obtain such academic degrees.
After around 10 years of service as a partner at P&P, Mr. Tuan departed to found DIMAC Law Firm in March 2015. This was a significant hurdle. He made the decision to establish his own legal firm on the foundation of sustainable values and high principles. The only things he took with him when he left P&P were his positive relationships with the clients he had previously served. However, it took about seven (07) years for DIMAC to grow from just two associates and Mr. Tuan to the strong team as it is today. DIMAC is now headquartered in Ho Chi Minh City and has three (03) branches in Hanoi, Da Nang, and Phu Quoc. It also has a network of about 1,000 clients in Vietnam, including foreign-invested companies and foreign investors.
As a personal success, in the years 2020–21, Mr. Tuan undertook the important role as a Chairman of the Vietnam Business Lawyers Club (VBLC). By accepting such large challenges, he has really matured, capable and confident to further lead DIMAC, which was recognized and ranked by Legal 500 Asia Pacific, Asialaw Profiles, IFLR 1000, and Benchmark Litigation as one of leading law firms in Vietnam.
Defining Success: Aiming and Achieving
Success is a relative concept, subject to lots of elements and the view of each person, and so is the dream. Mr. Tuan asserts, "I cannot tell that all my dreams have come true, but surely, I have achieved some significant things in my profession." He continues by saying that they can be credited with founding DIMAC, a professional law firm run on sustainable principles and ranked in the legal field by some international journals, as well as for his own recognition in Vietnam as Chairman of VBLC and as the Litigation Star in Commercial and Transactions in Vietnam by Benchmark Litigation Asia Pacific. The ideal way to build DIMAC, according to him, is to concentrate on staff development and the firm's strengths in the real estate, M&A, energy, and arbitration sectors, away from other primary industries.
Mr. Tuan's definition of success is pretty straightforward: get the target done, no matter how demanding or unpleasant it may be. He rode a bicycle from Ho Chi Minh to Hanoi, a journey of around 2,000 km, to propose to his current wife, which is his very famous story in Vietnam. His success is actually measured by how well he accomplishes his goals. He does, however, focus on important work that improves the lives of others. His belief is that his achievements will be more meaningful if the more he strives to benefit the community and positively impact as many people as possible.
Mr. Tuan believes that his understanding of success is derived from his personal experience. He has observed all the individuals who have failed because they lack a strong sense of their life's purpose and vision, or even if they have, they delay pursuing those goals until they have been achieved. They fail because they give up in the face of adversity.
Therefore, to keep the success very simple, Mr. Tuan only needs to select the right purposes and get them done completely.
Vision for the future of DIMAC
Speaking on DIMAC's future plans, Mr. Tuan has sincere goals of creating a fantastic and exciting workplace where its attorneys may grow to their full potential. He wants to properly train every DIMAC's lawyer to operate as leaders or partners without a title while still being dedicated, active and responsible. To ensure exceptional service quality and improve some of the legal services offered by DIMAC, the business is working with and hiring the top attorneys to work in DIMAC.
Mr. Tuan is still very motivated to achieve his goals, one of which is to make DIMAC the best law firm in Vietnam with at least 100 excellent attorneys. He is trying his best to find the way of expanding DIMAC's legal activities throughout Asia and the rest of the world while maintaining an automated system that allows the firm's attorneys to handle matters extremely independently and successfully.
Mr. Tuan's current personal objectives are to balance work and family life while spending more time with the kids and developing them into inspiring leaders. He shares, "In our firm, I desire to train the lawyers to gain the skills of successful people and in society, to construct at least 100 schools for poor pupils and students living in remote areas."
According to Mr. Tuan, the way to become the best lawyer, which he can share with aspiring lawyers, that is, saying "Yes" with great challenges and let's consider clients' matters as yours to solve them most effectively with the best practical solution.