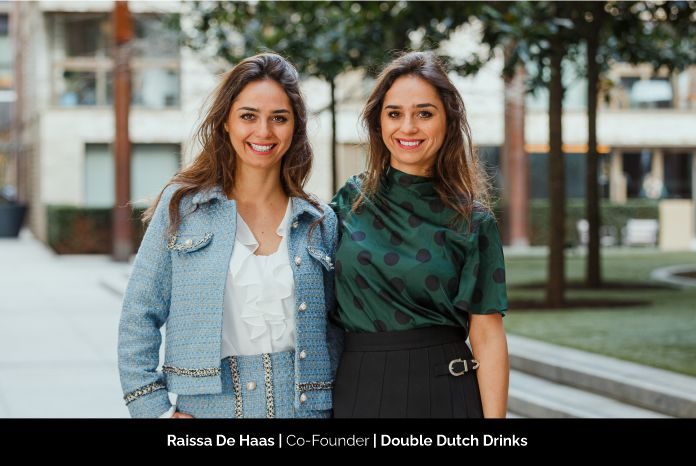 Passion motivates us, fills us with purpose and happiness, it helps us overcome obstacles. As Oprah Winfrey said " Passion is energy. Feel the power that comes from focusing on what excites you." Raissa De Haas, Co-founder of Double Dutch Drinks not only focused on her passion but materialized it into a successfully running business. With an aim to provide a premium drinking experience, she created a brand that took tonics and mixers to another level.
From Tonic Twins to Dutch Double
Raissa was born in the Netherlands and grew up enjoying a variety of premium craft spirits. Throughout her childhood, she was exposed to regular high-quality tastings. She says, "After being raised in the Netherlands, the birthplace of gin, it's only expected that we have a natural affinity with superlative drinks and excellent blendings. Our family home had an alcohol license where our parents would import a variety of spirits to be enjoyed by friends and family"
Raissa believed that the craft spirits deserved to be paired with premium, flavourful mixers, however, the market for interesting and flavourful tonics didn't exist; hence, along with her twin she experimented and created their own concoction. They tried them out on their friends, which earned them the name 'the tonic twins'
While pursuing their bachelor's and master's degrees in Finance at the University of Antwerp, they regularly threw parties and encouraged their friends to bring spirits for which they would create their own mixers with easily sourceable ingredients. Raissa and her sister, quickly learned that they wanted to follow their passion for high-quality and interesting mixers. Hence, they decided to move to the UK to study for a second master's in Tech Entrepreneurship at University College London (UCL). They dedicated their dissertation to exploring and understanding the mixer market and they learned that while the global market offered better quality and more choice in spirits, the mixers that were designed to accompany the spirits remained bland and unexciting. Although this discovery left the sisters frustrated, they quickly identified the scope for innovation in the mixer market.
She adds, "When it came to writing our theses, we turned our passion into a business plan, which won us the Bright Ideas award for best dissertation alongside our initial investment as prize money, and Double Dutch was born."
Changing Landscape of The Food and Beverage Industry
In any industry, it is important to understand the needs of the consumer while creating a product, and Raissa understands that people are seeking new experiences and looking for delicious ideas to share with friends. With Double Dutch tonics and mixers, one can experiment to create interesting cocktails. She suggests trying Pomegranate & Basil with tequila or their Cranberry & Ginger Tonic with a Cognac and a squeeze of lime to create a perfect winter spritz.
She says, "I believe authentic brands resonate more and more with today's consumers and people wanting to know the companies behind the brands they are consuming. Being an innovative founder-led business, people are looking to support local/smaller businesses and brands as the economy rebalances."
About The Products
Double Dutch offers a range of premium tonic waters and mixers, offering a fresh and innovative proposition to the market; like the debut mixers Pomegranate & Basil, and Cucumber & Watermelon, which are a product of a meticulous and technological process of flavor development. The brand now offers a range of versatile mixers and tonics that are expertly crafted by pairing unexpected natural flavors that perfectly complement spirits for refined palates. The interesting part about these mixers is that they can also be enjoyed as standalone non-alcoholic drinks.
Dealing with Competition
The food and beverage industry has transformed drastically over the last few years and with that, the competition in the industry has skyrocketed. In this highly competitive industry, Double Dutch continues to position itself as the key challenger brand in the tonic water & mixer category. She states, "We are a brand built on a belief in maximizing flavourful drinking, creating unexpected pairings that enhance every adult drinking occasion – whether served with premium spirits or savored solo."
Understating the changing needs of consumers, the brand has recently launched a new range of low-calorie sodas using natural ingredients. They were also the first mixer brand to launch quinine-free tonic, to focus on double paired flavoring for mixers, and to use molecular gastronomy for recipe development. Since the launch of their first mixers, they have expanded their range to 12 flavors which include an Indian tonic that has been awarded best tonic globally.
Female Founder in a Male-dominated Industry
Being a woman Founder in a male-dominated industry is challenging, however, Raissa believes that there are many initiatives to support female founders. She believes in keeping the momentum by spreading awareness about these initiatives and helping wherever she can. To help with the cause, she has recently launched a scholarship and mentoring program for female bartenders to support and empower aspiring female mixologists. The program teams up with numerous bartenders to not only share industry knowledge on one-to-one sessions and offer hands-on training but also provide funding. She is currently working on organizing wider events so that everyone can get an opportunity to join this program.
When asked about other challenges she responds, "There are so many challenges so it's difficult to pinpoint one but I believe anything can be overcome with persistence and hard work."
Greatest Achievements
When they first started, they received the 2015 Foodpreneur Winner as Britain's most innovative F&B retail brand and since then, they have received 40 awards. Recently, the brand has received investment backing from the family behind the Heineken Company. She states, " Charlene Heineken has always been an inspirational female leader that we massively looked up to. She and her husband (and the company) are helping the drinks industry become more inclusive by supporting women across their business– they now have more women on their board than men and have personally invested mostly in female-only founded companies."
No matter how small the achievement, Raissa believes in celebrating it with her team, and this has been challenging with Covid, hence, she can't wait for everything to get back to normal.
Future Plans for the Company
Currently, they are exporting to 35 countries and launching in the U.S. this year. With Brexit, they have also set up a subsidiary company in Europe and are building the Netherlands to become their second home market next to the UK in the next few years. She states, "Our vision is to be the flavourful drink of choice for spirit savvy sippers as well as no/low enthusiasts -being known for creative flavors and for sparking sociable drinking occasions"