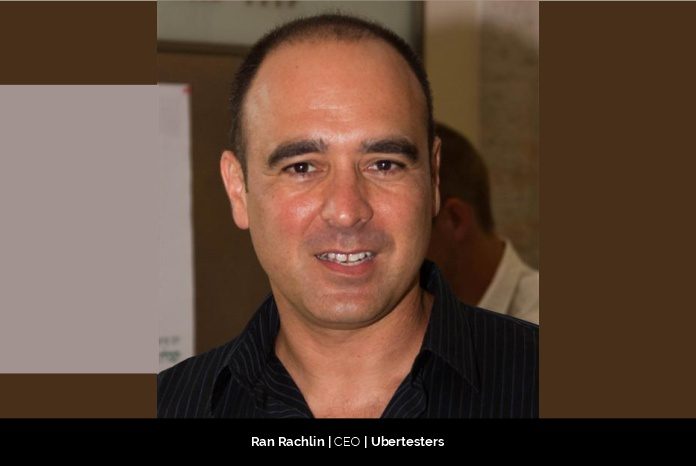 As Walt Disney once said, "If you can dream it, you can do it". Every entrepreneur who achieves success in doing what he loves, starts with a dream of passion. Passion stirs up a confidence that provides an assurance that every dream will be fulfilled. Ran Rachlin, the Co-founder and CEO of Ubertesters, started his entrepreneurial journey with the same passionate spirit that changed his dreams into reality. Ran grew up with a childhood dream of being a successful businessman that helped him to stay motivated, to stay curious, focused, and to love learning and discovering things in life. This unwavering ambition led to the foundation of Ubertesters in 2013.
Today, Ubertesters is the leading global provider of a cloud-based, process management tool for mobile applications beta testing to ensure an accurate, fast and cost-effective mobile testing process that results in high quality, flawless, mobile app. With the phenomenal success of Ubertesters, Ran is living his dream every day. He is a focused businessman, an accomplished leader and a driven CEO who is leading the company to success every year. Ran Rachlin shares his exceptional journey with us as a source of inspiration for every entrepreneur and budding businessman who has a dream.
The Start and Struggles of an Aspiring Businessman
Ran co-founded Ubertesters back in 2013 following a true need for a different type of software testing that he had in his previous company. In the old company they developed a mobile app and needed global testers with different devices, different languages and carriers and could not find a flexible, affordable solution. So, they came up with the concept of "Crowd testing" – a large community of global freelance testers that are ready to test any product for the client and provide a list of bugs. The beauty of it was that the tester can do the testing during his/her free time and make extra money while testing.
When Ran started Ubertesters, there were two main challenges they faced. Firstly, they had to compete with one industry giant and had to provide unique value proposition and beat the competition. The second challenge was to build a large community of global QA experts that fit the profile and are willing to test during their free time for extra money. The entire business model was based on having enough global testers that can scale the client's QA team in the fastest, most flexible, and cost-effective manner. To overcome the first challenge, they had to provide extra value to clients. Hence, Ran and his team decided to create a "boutique" type of service that offers more customized and unique testing solutions together with superior and personal customer service. They overcame the second challenge by using heavy social media activity and paying their testers a little more than the competition did and much faster. Amidst every challenge, Ran and his team were certain of their goal and solutionized their problems with innovation and creativity.
Life of a Successful Entrepreneur and CEO
As a kid, Ran always wanted to become a businessman, someone who leads others by example, working on a global level with global customer base, traveling the world to meet clients, colleagues, and employees. "I'm happy to say that my childhood dream became a reality.", says, Ran.
Ran Rachlin has massive global experience, managing and leading new initiatives from inception to implementation and significant sales as well as managing large global organizations in different countries.  Before starting Ubertesters, Ran held several high-profile management roles in General Engineers (The Israeli distributor of GE), Mul-T-Lock (am ASSA-ABLOY group company), and Silicom Inc (NASDAQ: SILC). He also holds an MBA degree with honors. Ran brings to the company his experience in management and business development and acts as a mentor to the team on their way to success.
He has been fortunate to have been given the leadership role for several opportunities involving the turnaround of various companies in different industries and business sectors. These successful turnarounds collectively are his greatest professional accomplishments. Following his experience with turning around companies that others built, he created Ubertesters – his entrepreneurial venture, which was another great achievement. "I can proudly say that the main key achievement was 'creating something from nothing'. It was a dream that with hard work became a reality. Further, building a culture I can be proud of, is also something I consider a key achievement.", Ran adds.
Responsibilities of a Revolutionary CEO
Ran's most important and critical responsibility as the CEO of Ubertesters is shaping the vision of the company. "Without a clear vison there is nowhere to go and nothing to achieve. So, it all starts with a clear vision.", he believes. The second important one is building and recruiting the right team. The vison can be clear, the product/service can be amazing, but without a great team – there will be no execution. Lastly, as the CEO, Ran leads the execution by implementing a tight set of controls and operating principles, as well as operating metrics measures to monitor the progress. In addition to these responsibilities, he also takes upon himself the role of leading the sales team. Because of his sales background, and the fact that he knows the product best – Ran can lead the sales team and make sure they sign the client.
To manage a balance between work and personal life Ran focuses on two main things – time management and setting boundaries. Since his daily workout is extremely important, Ran gets up early and spends the first 1.5 hours of the day, each day, working out. "It can be a 10K run, or a gym workout, but it's part of my calendar. When I get to work, I set daily priorities, create a schedule, and try to eliminate distractions. Then, when I finally get home, I try to keep my laptop, mobile device and other "interruptions" shut down to allow me to spend some quality time with family and friends.", he shares.
Ran loves to keep his team motivated and takes every effort to do so. From his experience Ran learned that long, endless meetings, full of un-relevant people was a complete waste of time. So, the first thing he did when starting Ubertesters was taking a decision to avoid unnecessary meetings. And if there is a meeting, it is short, to the point, and only relevant people are invited. This is one of the main reasons that the team is kept motivated.  In addition to this, Ubertesters offers a very pleasant work environment with a game room where people can relax during the day. Lastly, as a management mantra – Ran does not micromanage. He sets clear goals to the team and then lets them figure out the best way to achieve them. This motivates the team to be creative and think out of the box.
Service and Products of Ubertesters
Ubertesters offers a complete, end-to-end, software testing solution for digital products to help organizations beta test their digital products prior to launching it. The holistic solution includes: (1) a SaaS product – a robust platform to manage the entire mobile beta testing process and teams, ; (2) a crowd testing service of global, professional testers for hire with devices (like 'LYFT' but for QA experts) for most flexible and cost effective global testing under real-life conditions; and (3) offshore outsourcing services of QA experts on full time basis based in the company's East European facilities. Thus, any organization in a need for beta testing can find the right solution with Ubertesters to help them launch their product with confidence.
Ubertesters has utilized the advancing technology to their utmost benefit. Technology and human touch are the main values they provide. For Ubertesters to provide great solution they had to develop their own proprietary QA management platform to allow easy bug reporting. The platform allows the testers to easily submit bugs and issues (including video recordings and screenshots), while providing the client with an easy to use and clear tool to review the bugs/crashes. Technology has allowed the bug reproduction process to become easier for the clients, thus, allowing the client a much faster 'time-to-market'.
Vision for the Future of Ubertesters
Ubertesters is a global company with 3 global offices (New Jersey, Tel-Aviv, and East Europe), but their main clients are currently from the USA, UK, and Israel. One of their prime focus is to expand globally (market development strategy). "We will do it by setting up additional sales offices in additional locations, and/or by acquiring other businesses.", says, Ran. In addition, they have plans to develop alternative channels and, in some countries, work with local distributors that will help them expand into that country.
Ubertesters will continue to grow through creativity, invention and innovation. They will continue to put the 'voice of the customer' in the center, listen to their customer's needs and add new exciting features to their QA management platform. In addition, Ubertesters will continue to enlarge their community of global QA testers to allow their crowd testing services to serve clients all around the world while making sure their testers can earn money in their free time.
Ran has a set goal before him as he plans the global expansion of Ubertesters. The best word to describe Ran would be 'leader'. He is a true leader who is interested in the development of his team and makes available equal opportunities for their growth. The company will continue to grow under his profound leadership because Ubertesters is his dream come true. Ran has witnessed the pros and cons of leadership from the varied industries he has worked with and derives his unique way of managing his team with a view to lead by example.