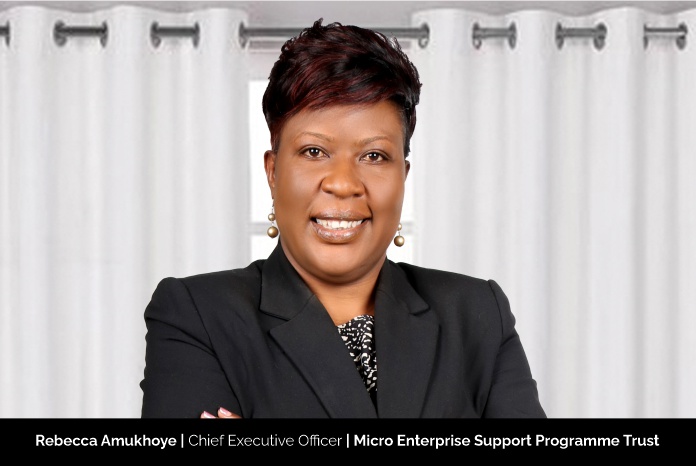 Belonging to a family of smallholder farmers, Rebecca Amukhoye, CEO of Micro Enterprise Support Programme Trust (MESPT), has always dreamed of making agriculture profitable, ensuring a quality life for smallholder farmers. Agriculture is not only her work, but her life!
Influencing Others Positively
As a student, Rebecca thought success was passing exams and advancing to the next grade; as an employee, success was achieving work targets and making the employer happy; as a senior manager, success was building and growing a team by delivering the organizational goals and positively impacting the community. Now, she defines success as the ability to influence someone's life positively in terms of quality of life and economic wellbeing.
Leading a Vision
Rebecca leads MESPT by relentlessly pursuing perfection, illustrating true integrity, valuing ability rather than experience, sharing her vision and having a sense of purpose. She believes in creating an environment in which people refuse to accept mediocrity, practice mutual respect, excel in work, undertake deserving roles and encourage staff engagement.
She does find it challenging to make difficult decisions like dismissing a staff member, handling conflict and finding the balance between demanding results and top performance from people without instilling a fear of failure in them. Nevertheless, she is always there to inspire the team in times of uncertainty, staying positive and calm.
Building a Prosperous Society
Micro Enterprise Support Programme Trust (MESPT) is a development organization established in 2002 by the Government of Kenya and the European Union and later by the Royal Danish Embassy in Kenya, (DANIDA) enjoined through a Trust Deed of 2013, with the main goal of promoting economic growth, employment creation and poverty alleviation. This is achieved through capacity building which includes skills development and technical assistance to micro, small and medium enterprises (MSMEs) by providing business advisory and market linkages. MESPT has implemented its mandate through two key segments: Value Chain & Enterprise Development and Financial Services. Their Vision is "to build a more prosperous society" and their Mission is "to provide sustainable business development and financial services to smallholder farmers and Agri SMEs in Kenya".
MESPT is currently implementing a portfolio of 3 programmes with a budget value of Kes. 2 billion and a loan portfolio of Kes. 1 billion in 18 counties of Kenya.
Widening the Outreach
In the next five years, MESPT plans to double its programme portfolio, triple its credit portfolio, double its outreach from 50,000 to 100,000 smallholder farmers, achieve the green transition agenda and establish a reserve fund. They propose to achieve this via creative development, continuous improvement, brand positioning, unique value proposition and attraction of top talent.
At MESPT, the focus is on increasing their portfolio and reaching marginalized communities and building a happy workforce that is fully engaged and committed to the vision and goal of the organization – working hard and having fun.
The Absolute Agriculturist
Rebecca studied at a prestigious provincial school, one of the best in the country, at a time when no one spent resources on a girl child. After high school, she did BSc in Agriculture and Home Economics at Egerton University. She was not too eager to study agriculture, but her father encouraged her. He taught her several life lessons like honesty, respect and hard work; while her mother taught her to pray and the Golden rule- treat others as you would want to be treated.
Rebecca did odd jobs like laundry, car-washing and selling food until she was recruited as a Research assistant by Steadman and Associates to collect data on fast-moving consumer goods.
She has held several positions before joining MESPT as a CEO. In 1998, she joined Adventist Development and Relief Agency as a Field Officer for a dairy and agroforestry project. In 2001, she was promoted as a Programme Coordinator to work in a USAID Food for Peace programme. In 2005, she joined Self Help Development International (SHDI) as a Programme Manager, where she worked in establishing a new country programme. Her specific role was to design projects for funding and work with farmers to implement them. Their first donor was an Irish Aid through SHDI Ireland. She left in 2009 and joined Gorta, The Freedom from Hunger Council of Ireland as a Country Representative for Uganda and Tanzania. This was her first international experience. She was later promoted to the Regional Director for East and Southern Africa and relocated back to Nairobi where she worked until a merger was finalized between Gorta and Self Help Africa (SHA). She considers this promotion as her best recognition.
She was then appointed Country Director for Self Help Africa, Kenya. The CEO, Ray Jordan nurtured her management and leadership skills and taught her to learn from mistakes. SHA sponsored her to complete an MBA degree, an opportunity that completely transformed her career. She accredits her success to the guidance, coaching and mentorship of great people like Ray Jordan.
She joined MESPT in May 2020. Though anxious at first, now she is confident because of a great team at MESPT.
Persistent Leadership
As the CEO of MESPT, Rebecca formulates and implements strategies to achieve the overall goal. She is accountable for the organizational results and all resources. She implements the business and action plans to achieve the vision as approved by the Board of Trustees. She ensures that all aspects of the Trust's activities obtain maximum surplus in the best interest of customers, employees, shareholders and the general public. She is also responsible for the MESPT fundraising function. She provides the interface between the Board of Trustees and the employees at MESPT, by ensuring high corporate governance and infrastructure. She drives a joint strategy and business plan for MESPT and its partners that include clearly defined initiatives and target results with key partner sponsors and internal stakeholders. She conducts reviews of MESPT's Business Plan with milestone metrics and progress tracking. She ensures proper utilization of Information Communication Technology (ICT) for achieving MESPT's overall strategy. She liaises with the founders and assures compliance with the rules and laws.
Overall, she fosters business growth objectives and monitors success.
Achieving Ambitious Goals
To maintain a balance, Rebecca is learning to disconnect completely and being self-aware. She confesses that it is a work in progress. She goes walking and jogging to eliminate the tensions and pressures of work. She manages her work by organizing, planning, prioritizing, delegating and adhering to schedule.
She motivates her team by acknowledging their efforts publicly, instilling a sense of belonging and ownership, enabling meaningful participation and providing opportunities for capacity development and career progression. She stays strong and motivated by visualizing herself and the team in a successful mode. She chalks ambitious goals and strives to reach them. She chooses to succeed!
When Much is Given, Much is Expected!
Rebecca wishes to continue to build her leadership skills and enhance her emotional intelligence to better support, coach and mentor others.
Her message to aspiring business leaders is to be decent, treat everyone with fairness and empathy; to always push towards the 'new'. By her words, "Break the norm, break old ideas, be innovative. Move the culture with change and not be afraid of criticism."
Website: www.mespt.org and info@mespt.org