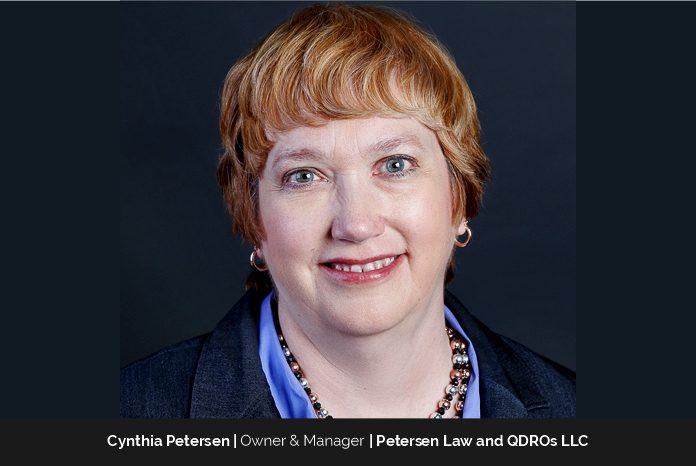 Meet Cynthia Petersen, the brilliant mind behind Petersen Law and QDROs LLC. As the owner and manager of this esteemed firm, Cynthia dedicates her expertise to guiding attorneys and individuals through the complex realm of retirement plan divisions during divorce proceedings. Her unparalleled skills extend to consultation, drafting, and even litigation, ensuring that each client's retirement assets are protected and fairly distributed. With a remarkable ability to craft Qualified Domestic Relations Orders (QDROs), QILDROS (Qualified Illinois Domestic Relations Orders), Railroad Retirement plans, government and military pension orders, Cynthia is a trusted ally for both legal professionals and private individuals seeking justice.
Cynthia's extensive expertise and experience make her a valuable asset in retirement plan divisions. She is renowned as an expert witness in Will County, Illinois, testifying in domestic relations cases regarding retirement plan divisions. Prior to attending Loyola University Chicago School of Law, Cynthia worked at a prestigious benefit consulting firm near Chicago. As a customer representative, she provided reliable information and assistance to retirement plan participants, delving into the complexities of the Employee Retirement Income Security Act of 1974 (ERISA) to gain a comprehensive understanding.
Leveraging her profound knowledge of ERISA and expertise in qualifying Qualified Domestic Relations Orders (QDROs), Cynthia effectively negotiates favorable outcomes and skillfully litigates complex retirement plan division disputes. She sets herself apart with her unique perspective and passion for enlightening fellow attorneys about retirement plan divisions.
Cynthia's interest in the legal field grew during her time as a customer service representative at a pension/401(k) plan sponsor. There, her team discovered her deep understanding of ERISA and plan regulations, and she discovered her enjoyment of working with statutes and rules of law. Collaborating with the legal department to qualify QDROs for dividing retirement plans in divorce cases fueled her desire to pursue a more fulfilling path, leading her to become an attorney.
Cynthia is a beacon of excellence and innovation in the world of retirement plan divisions. Her unwavering commitment to her clients' wellbeing, unmatched legal acumen, and dedication to sharing knowledge continue to redefine the standards of excellence in her field.
Resilience and Fulfillment
With 25 years of experience in the legal profession, Cynthia has encountered her fair share of challenges and moments of frustration, causing her to contemplate quitting. Yet, during such trying times, she employs a practical strategy to regain her momentum. Cynthia creates a list outlining the tasks she must accomplish each day, as well as those for the following day. By narrowing her focus and concentrating on the immediate goals at hand, she finds the strength to persevere and overcome these obstacles.
At Petersen Law and QDROs, Cynthia specializes in retirement plan division during divorce cases. She has served as an expert witness in two cases and has prepared numerous QDROs and other essential documents related to retirement plan division. Cynthia's practice also extends to divorce proceedings, where she handles both litigated basic divorces and provides assistance with uncontested divorces that do not involve parenting issues. Additionally, she offers her services in real estate transactions and basic estate planning. Cynthia finds immense fulfillment in practicing law in a small town where she is the sole full-time attorney, making her work particularly rewarding.
Triumph in Litigating Top-Hat Pension Benefits Division
Cynthia achieved a remarkable triumph when she successfully litigated a division of the top-hat, executive, non-qualified pension benefits of her client's ex-spouse. Despite the opposing party's claim that her client was not entitled to these benefits, Cynthia persevered for nearly three years. Even after losing at the trial level, the opposing party appealed the decision.
This presented a unique opportunity for Cynthia, as she delivered an oral argument in front of the Illinois Appellate Court—an unforgettable milestone in her career. The significance of this moment was further magnified when the Illinois Appellate Court quoted her argument, acknowledging that while they could not instruct the trial judge, they recommended ruling in accordance with Cynthia's compelling argument presented in their court.
This notable achievement showcased Cynthia's exceptional legal prowess and left an indelible mark on her professional journey.
Empowering the Legal Community
Cynthia actively shares her knowledge with attorneys, focusing on retirement plan divisions in divorce cases. She has conducted numerous seminars and organized question-and-answer sessions specifically tailored for judges and legal professionals in this field. Furthermore, Cynthia provides invaluable assistance to attorneys by offering guidance on the wording for marital settlement agreements and by drafting retirement plan division orders when required. In cases where attorneys need help explaining the intricacies or options related to dividing retirement plans in a divorce, Cynthia lends her expertise by directly communicating with their clients.
To further support the legal community, Cynthia willingly provides free information and guidance when attorneys seek her assistance. In return, she kindly requests that they refer clients or collaborate on future work. This reciprocal arrangement allows Cynthia to extend her expertise while fostering professional relationships within the legal sphere.
From Solo Practice to Expertise
In 2004, when Cynthia established her own firm, she took the initiative to host seminars and inform fellow attorneys about her ability to provide assistance with retirement plan divisions. Concurrently, she began drafting language and orders for other legal professionals. However, the demands of raising her young children necessitated a more structured schedule and a steady income. As a result, after approximately 10 years of independent practice, Cynthia transitioned to working for a law firm for several years until her children grew older.
During her tenure at the law firm, Cynthia's commitment to educating attorneys persisted. The firm provided her with opportunities to expand her expertise in retirement plan divisions, enabling her to enhance her reputation as an esteemed authority in this field. This continued dedication to education further solidified Cynthia's standing as a leader in the realm of retirement plan divisions.
Accolades and Unwavering Commitment to Clients
Cynthia received the Legal Elite Awards from the New World Report in 2022. She was also awarded the 2021 Attorney of the Year from Business Leaders & Professionals Top 100 Registry. In July 2023, Cynthia will be honored with the Outstanding Leadership Award at the Law 2.0 Conference. Regarding notable cases, the one that brought Cynthia the most satisfaction was successfully winning child custody for a client. The client's ex-boyfriend had taken the child and fled to Michigan. Cynthia managed to compel him to appear in court, and during the litigation, her client was granted sole custody. It was a challenging battle, but ultimately a victorious one.
Cynthia understands that achieving success involves a collaborative effort, involving clients, vendors, and associates. Building a strong network and contributing to the community plays pivotal roles in attaining success. By demonstrating genuine care and delivering exceptional service, one can establish a reputation and thrive. Additionally, Cynthia emphasizes the importance of maintaining a healthy work/life balance, as it is crucial for one's mental and emotional wellbeing, enabling effective leadership.
Pursuit of Work-Life Balance and Entrepreneurial Ventures
Cynthia relocated her family and law practice to a small town in pursuit of a better work-life balance. She purchased a house that was previously a B&B, offering potential for room rentals. In addition to her legal work, Cynthia is engaged in various entrepreneurial ventures. She has developed a photography, art, and craft gallery/shop, and her family is assembling an escape room. Furthermore, she has an Airbnb located on the second floor of her office building, and she is contemplating the possibility of adding more Airbnb rooms at her home in town.
To maintain equilibrium between family life and business, Cynthia dedicates time to running errands and enjoying recreational activities with her family during weekends and quieter workdays. Her passion lies in singing, and she actively participates in her church's worship team. Cynthia attends rehearsals on Tuesdays and performs at 2-3 church services almost every weekend. Singing holds a special place in her heart and is her favorite activity.
Unlocking Success
Cynthia aspires to gain greater recognition in the field of retirement plan divisions during divorce cases. Additionally, she plans to initiate an escape room venture and expand her endeavors by potentially organizing motivation/team building workshops and events. These initiatives aim to help individuals identify their strengths and weaknesses, ultimately enhancing productivity and morale in businesses, or simply providing an enjoyable puzzle-solving experience. Furthermore, Cynthia intends to maintain her passion for singing, writing, photography, painting, and exploring new creative endeavors.