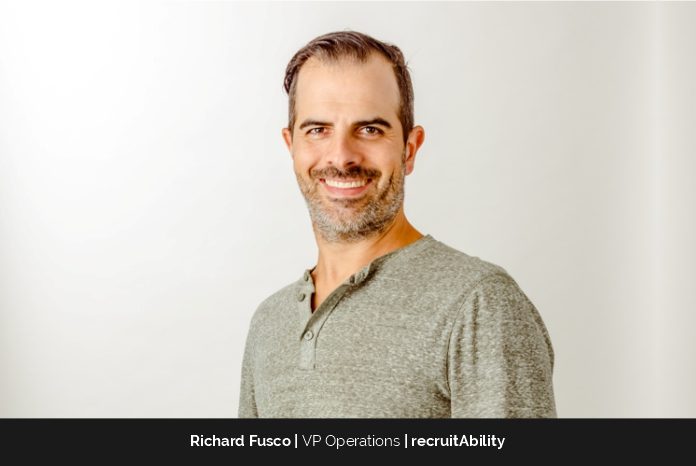 After working in various product management and consulting roles in New York City for 10 years, Richard Fusco joined recruitAbility as VP of Operations in November 2017. He earned his undergraduate and MBA degrees at UT.
Richard has over 15 years of experience in the software sector as a management consultant and product management director. He enjoys working with clients to break down apparently intractable challenges into realistic solutions. His background includes directing a team that created a data platform for Fortune 50 financial services firms and pioneering mobile technologies for live sporting events. He has achieved his greatest successes by serving as a client advocate throughout the product development and sales processes. He has a thorough grasp of the challenges that technology enterprises confront today, including oil and gas, health care, financial services, and live events. He is excited to bring his "in the trenches" experience to lead strategy and operations for recruitAbility to help clients build the teams they need to succeed.
After a wonderful decade in New York City, Richard now lives with his wife and two very energetic daughters in Austin. Besides playing with the kiddos, he loves live music, archery, being outdoors, and obviously a good nap on the beach once in a while. He is also an avid volunteer, building schools and infrastructure for international communities.
Bringing the Right Talent
recruitAbility was founded in Austin, Texas, by CEO Nad Elias, with the premise that recruiters should be valued partners in the process of discovering and keeping talent for the organizations they represent. Its methodology emphasizes staff retention and distributes accountability throughout the recruitment process. The recruitAbility team delivers this responsibility through a unique scorecard methodology and transparent payment arrangement with the following stakeholders.
The team keeps these interactions going for up to a year after a candidate starts to ensure that expectations are met. Shared accountability is the reason why the company's interactions with its clients are so effective.
The team at recruitAbility strives for openness and accountability to guarantee long-term and successful hires. It is aware that there are many recruiting companies you can utilize for IT, sales, mid-management, and executive hiring needs, but it takes a new approach by collaborating with you to recruit talent, grow talent, and retain talent. recruitAbility will alter the game for the organizations it chooses to partner with by recruiting top talent to add to their teams. Then working with those teams to help them retain that talent.
Ensuring Growth
Richard started as Head of Sales when the firm had just four people. It was a new job in a new industry; the company was definitely in start-up mode. He then switched into his current role, running operations, and now the team is 30+ people and growing. He says, "We've hit some bumps along the way, as every company does. Growth is definitely not a straight line. Setting and sticking to our core values has been huge in helping us grow with the right people." The whole business revolves around people helping people change their lives with a new career. The team takes that seriously and only brings in people that align with the company's mission.
As per Richard, another thing that has really helped the team grow is the development of the company's training program. He adds, "The ability to successfully transfer the knowledge from our experienced leadership team to people that are joining our industry has been our secret sauce. Recruiting done right can be of real value to candidates and companies by making it a good experience from start to finish."  
Responsibilities at recruitAbility
Richard joined recruitAbility to help it grow into something exceptional, but no one knows what it will look like until it occurs. Around here, he's known as the glue guy. He is in charge of Operations, which means ensuring that everyone has the proper tools and processes in place to thrive in their roles. Everything from workplace snacks to IT equipment to retirement plans is covered. The leadership team is always listening to its staff to ensure that the culture remains strong and that they have all they need to achieve their best.
Richard took a circuitous route to recruitAbility. He began his career in the oil and gas business in Houston. He went back to school to get his MBA and then dove into the world of management consulting. It was fun for a bit, and he learned a ton, but ultimately, he didn't like being on the road. He joined an investment bank to lead the rollout of a regulatory program. Then Richard hopped into product management at a few tech start-ups. He actually got recruited by the company's CEO, Nad Elias.
Richard's family and he were living in NYC at the time and were ready to move somewhere new. He recalls, "I knew our CEO Nad from college, we started talking after he started recruitAbility and one thing led to another and here we are today."
Sharing Real Mean of Success
In Richard's role at recruitAbility, success is defined by how well people develop and succeed at achieving their goals. For everyone at the company to succeed, it is important for him to ensure the company's people are equipped with the right skills and tools. He says, "We work hard to develop an all-around skill set for our employees. From marketing manager to recruiter, we want everyone to learn how to do the specifics of their job and know how it impacts every part of the company." The team is working on developing skills like project management, sales, recruiting, and organizational discipline, skills they can utilize to be successful in any role they hold at recruitAbility or in the future.
Way to Grow
As per Richard, he learned that the ONLY way to grow is to challenge yourself by doing hard things, failing at them, learning, and getting back at it again. It took him a while to figure this out for himself. He recalls, "When I was younger, a lot of the time I always looked for the easy road out. Now I constantly try to find new things to challenge myself mentally and physically. It helps me excel at all the things I want to do."
He began his work at an oil and gas company's credit and collections department, where he learnt a lot by talking to small business owners every day. They pushed him about a lot, so he had to grow thick skin quickly to deal with them. He says, "I'll never forget the day my boss had to grab the phone out of my hand to finish a conversation I was struggling on. I took it as a valuable lesson, I had to figure out when to be stern and when to just chat with someone." He adds that learning the value of clear, concise communication early on in his career was invaluable and has helped him ever since.
He states that the best recognition one can get as a leader is by winning multiple Best Places to Work awards. It has shown us that we are building a place that is successful and where people are very happy to work.
Following Routine
Richard maintains work-life balance by sticking to a schedule. He works out and trains, shooting archery every day. The rest of his time is split between family, friends, and work. He says, "I've learned over the years to say no to more stuff and spend more quality time with the things that I want to be doing, which is what keeps me going."
Richard explains that he thinks we are establishing a fantastic company with excellent people at recruitAbility. They value work-life balance, which has given him the ability to spend time with his wife and children while simultaneously training as a professional archer. Ultimately, he doesn't want to attain everything he has wished for; making the effort to obtain his goals is the fun part. He says, "I'm one of those people that can't sit still, I need to be working on something to keep me going. If I get close to a dream, I push it out further to see what else I can accomplish."
Notes from Self Learning
Richard finds keeping the team motivated is always a challenge. Each person is driven by something different. He asserts, "Our work can be emotionally draining. We try to maintain a fun work environment where people enjoy being around each other and can learn from each other." The management also created a culture committee that enables everyone to pitch in on ideas for fun events to do both in and outside the office. This has really helped everyone bond beyond just what is happening in the office.
Richard shares the things he has learned in entrepreneurship.
To achieve your big goals, stick to the day-to-day. No one particular deal is going to make your business; it's the daily wins that compound on each other that make it happen.
Establish and abide by your core values. If you are ever unsure of anything in your business, you can always look at your core values and see where the decision fits in with them.
Find a good partner and team. You can't do it alone. A team makes a company successful, not individuals.
Future Vision for recruitAbility
Richard wants to continue growing recruitAbility and really change the way recruiting is thought of as an industry. Recruiting has developed a bad reputation over the years, with both candidates and companies. The recruitAbility team is on a mission with every interaction it has, to make sure everyone has a great experience.