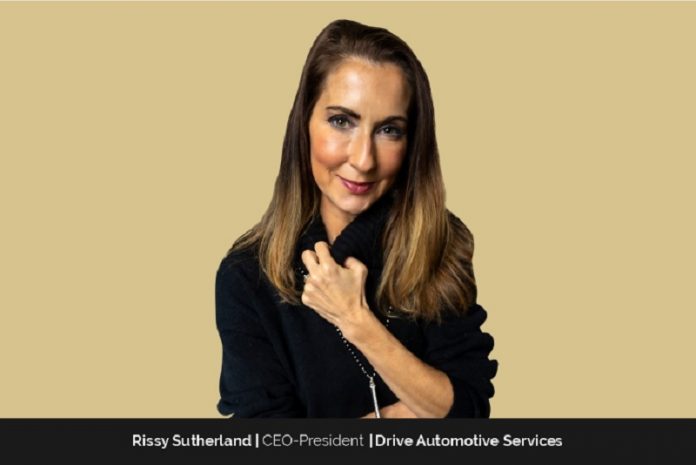 If there is a single word to describe Rissy Sutherland, it would have to be positive. She doesn't back down from challenges or stepping into unfamiliar territory. Her career in the automotive industry began at a very young age.  As a child, she worked in an auto repair shop for her father, where she learned all aspects of working in and running an auto shop. Now, more than two decades later, Rissy is regarded as one of the most authoritative experts on running national auto repair shop chains. As the CEO and President of Drive Automotive Services, an Atlanta-based corporation that runs repair shops for all major vehicle brands, she oversees a network of repair shops that span across five states, employing over 350 team members that provide maintenance and repair services to more than 140,000 vehicles a year.
"Anything that is worth having is also worth the headache and the hard work that goes into getting it…Most things in life that are worth it are not easy to get, if they were everybody would be doing them."
The Beginning in the Automotive Industry
Rissy's father, cousins, brothers and uncles – all ran automotive repair shops. She would often go to her father's shop and work there. At the time, she only wanted to answer the phone at one of their shops. "It was my dream job," she says.
At the age of 14, she got the opportunity to realize her dream. Rissy recalls standing behind the counter and waiting for the phone to ring, and when she answered her first phone call, she said, "Thank you for calling, Rissy speaking, how can I help you?" The call was from her father, calling to see if she was capable of handling a phone call. "Well, you passed," he said and gave her the opportunity to attend phone calls. It was there that Rissy began her career as an automotive professional.
She was determined to be the "best of the best" when she started her career in the automotive industry. There were not many women in the automotive industry back then, according to Rissy. After her father noticed her passion for automotive repair, he enrolled her in Automotive managers Training classes at the company's national headquarters in Chicago. An 18-year-old Rissy committed herself to studying day and night.  She knew the only chance she had to grow in the industry was to be humble, learn from the best, run a good business, be the best at what you do and be grateful for every chance you are given. This leads her from working under the car, to behind the counter, to shop owners chair, to VP of national operations, to COO and now CEO and President.
"I just kept progressing on and on," says Rissy.
Only Female in the Room 
Rissy faced a number of challenges as a woman in a male-dominated industry. She was often the youngest in the room at the time, as well as the only female present, and her knowledge and abilities were often questioned. The questions Rissy heard were, "How well does she know how to run a business more less a national automotive company business? Will she be capable of doing so?"
"Probably, at times, it was a benefit to me because I was able to come in and not expected to perform, but, at the same time, it was kind of challenging to me," Rissy says.
She also faced challenges related to running businesses nationally.
It was thanks to some great mentors and the training she received from the International Franchise Association (IFA) that she was able to successfully succeed in running and growing national franchise companies.
Returning to Automotive Industry
The automotive industry has always been Rissy's passion.  In 2008, Rissy co-founded and served as COO of Honest-1 Auto Care. She started it from 7 automotive shops spread across the country to form the foundation for a new automotive franchise concept. Over the next several years, they had grown the number of opened and signed locations to about 75 nationwide. Upon accepting a compelling offer to sell her equity in the company Rissy accepted opportunities to lead struggling national companies, wanting to test her ability to run companies outside of the automotive industry.
Upon accepting a role as a consulting COO for 3 separate national companies, her vision and determination led her to turn around over 250 locations of a medical-based company, a maid service business, and other failing franchises in about a year and a half.
"But my heart was still in automotive industry," Rissy says.
Having turned each of the franchisor companies around and hired new executive teams, the companies continued to grow, and she then returned to the automotive industry.  This time, Rissy didn't want to run a franchise; she wanted to run it all. As a result, she partnered with a former business partner who owned partner ran automotive shops across the country and later became what today is known as Drive Automotive Services shops across the country.
In order to expand and allow former partners to retire Drive Automotive Services, sold a part to Silver Oak Services Partners, LLC, a leading lower middle market private equity firm.
Drive Automotive Services  
Drive Automotive Services offers complete automotive services to its customers. The company has already opened shops in five states, and it is presently expanding into eight states.
They are the only national company to offer a 5-year, 50,000-mile warranty to their customers – it is one of the ways by which they earn their customers' trust.  She adds that most people offer a 12-month warranty or a 3-month warranty at the max, but we give a five-year warranty because we want you to be 100% comfortable when we fix your car. The company also offers a five-year warranty because it knows how to fix cars.
Drive Automotive Services takes pride in providing the fastest service along with the longest warranty.
The core values of Drive Automotive Services are respectful, high energy, competitive grateful, humble, integrity, focused, and accountable in 'ALL' of its dealings. The company believes in saying "Yes." Rissy says, "If you call me and you want to come in for an oil change or to get you brakes repaired, you don't want me to say, 'I can get you in three days from now. Or I can get you in next week' – that is a common occurrence. Our answer no matter what it is, "Absolutely, is now a good time to bring your vehicle in'."
Drive Automotive Services puts customers in front of the line when they come and makes sure the technicians, the tools, and everything is in place for them to get in and out quickly.
Rissy wants Drive Automotive Services to be the fastest-growing, independently owned national chain in the U.S. in the next 4 years. Rissy and her team are planning to triple it in size over the next 3 years.
Rissy wishes to see Drive Automotive Services become one of the leading automotive shops in the country.
"In your career do something you have passion for, if you do you will always be successful. You will never see it as a job, and you will wake up every day excited to get out of bed."
Responsibilities of a Leader
There are many things that Rissy does throughout a typical week. She meets her team members and has one-on-one meetings with each member. They discuss what they need to accomplish and what they will do the following week. Most of the time, they are looking at the goals and thinking of ways to achieve them. They also determine the roadblocks that are holding them back and discuss how to overcome them. Moreover, Rissy makes sure that they find and hire the best talent, as well as retain the best talent – narrowing down who they already are and how they can help them improve.
As a leader, Rissy does not believe that she already knows everything, "she says she is far from it." Whenever she gets the chance, she is meeting with other successful CEOs, shop owners, business owners and business leaders. She is always looking for new ways to become a better leader, how she (and the company as a whole) can better serve the community, how to serve her team members, and how to make the company better and grow every single day. Through the nuisances, Rissy says, she's navigating these roles.
"I have a role in leading most areas of the company from marketing to operations to IT, but that is not really what my job is," she adds. It is mainly to help the company achieve its vision while honoring our core values along the way. Rissy believes that the leader's job is to develop those around you to be better than you and provide more value in their areas of expertise in a way that uplifts the company as a whole and make sure we are aligned on the vision to get there.
At Drive Automotive Services, every single day is different. Rissy points out that as they have locations across the U.S., she never wakes up and feels that the day is going to be boring. Whenever she walks in, she finds the entire team excited about getting up and doing their job every day.
"I have a ton of energy and I'm passionate about what we do," Rissy says. "There is not a part of this business that I don't actually love. I also love the community part of it whether it's serving our customers or giving back through our national Foster Care Charities. At the end of the day, we love changing lives and building leaders."
Rissy has a lot on her plate. So, how does she maintain a work-life balance? She says, "There are going to be certain times in your life when certain things going on in your personal life may take a more dominant role, and there are going to be times in your life when you need to hunker down and get the work done." Rissy also points out that she does not see work as work; she sees it as fun. So, she never feels the need to go on a trip; instead, she feels excited about getting to do something at work and the opportunity to learn from other shop owners.
"And I love integrating our team and all the things I'm passionate about. So, when I host a foster event, my team gets to come, when I speak at events, go paddle boarding, whitewater rafting, lead bible study or hiking, I invite my team to come as well," Rissy says. On the personal side, she likes to keep reading all the time.
Rissy, an early bird, gets up at 4 a.m. The early morning hours are her personal time –during this time she likes to walk, run, listen to podcasts, read, and think. "At the end of the day, I read the Bible – that is the last thing I always do," Rissy says.
"Always give back to others. It will bring you more joy than it will ever bring them. Selfishness and isolation are a very sad and lonely place – if you give more than you think you can, you'll get double in return."
Dreams and Success
Rissy dreams a new dream every single day. She then sets her goals for the following week or the month and goes for them – and makes sure to achieve them. So, when she is asked, "Have you achieved everything you had dreamed of?" she says "yes" without pausing for thought.
Rissy also lives her life to its fullest and believes that she has been given many blessings both on her personal side and business side. And she is beyond "grateful for everything" she has been given.
When it comes to success, Rissy does not measure it in terms of personal gains. She considers it a success when she is able to grow her people internally, offering them opportunities they never had before. Rissy says that she hires people based on their performance, aptitude and attitude, not necessarily based on what they have already done. So, when these people work beyond what they ever thought they could do, that means success for her. It is also a success when her company hits its goal. "If the company does not hit its goals, then, of course, it is not successful," Rissy says.
She recognizes that people build a successful business for her. So, she and her team make sure that they are building people and future leaders within the organization. Also, Rissy believes in giving back to the community; for example, by speaking at events, hosting bible study groups, leading foster care programs and adopting foster families and children. "We are actually not only building better leaders inside our company, but we are also helping the communities around us," Rissy says. "If we can do all of that and continue to grow, then we did a good job."
In her stellar career spanning more than two decades, Rissy has many achievements to her name. According to her, it was a huge achievement when she was able to turn around two large companies – these were non-automotive companies. She is proud of being listed among the top executives under 40 as well. And Rissy also considers it an achievement to be able to give back everything she has received to make the lives of others better.
You'll Find Success
If people have not met Rissy before or seen her on TV or in the magazine, they look at her and say, "you're not what I was expecting." Rissy says, "I guess to look like a girly girl and to be running an automotive business is just strange. I think that alone is to say, 'you don't have to look anyway. It is all about where is your passion, and what you are able to do has nothing to do with how you look." If somebody tells Rissy that she cannot do something, she is going to figure out a way to do it. "There is absolutely nothing I can't do only things I choose not to do," she says. "That is one thing I hope that everyone around me always remembers."
Rissy also points out that if one figures out what they love to do, they will be doing great because they will be excited to wake up every single day. "It doesn't matter what it is, you just have to figure out what you love," says Rissy.
Rissy is an inspiration to many aspiring women leaders. She, however, does not want to get attention or be in the spotlight because of her gender. She prefers being the best over being the only woman in the room. "One thing to remember is that I never wanted it to be about I'm a woman or I'm not a woman – or who I'm. No matter what room I'm in, I should be the best in the room," Rissy points out in her message to aspiring women leaders.
She is also the best in care, humble, and strives to learn from others. So, she tells leaders, "If you do these things, and then at the end of the day, you do what you love, you'll find success. Whatever your definition of success is, you'll find success."