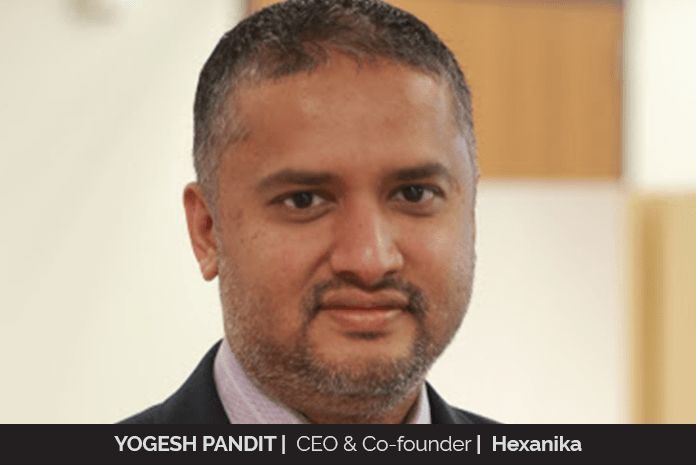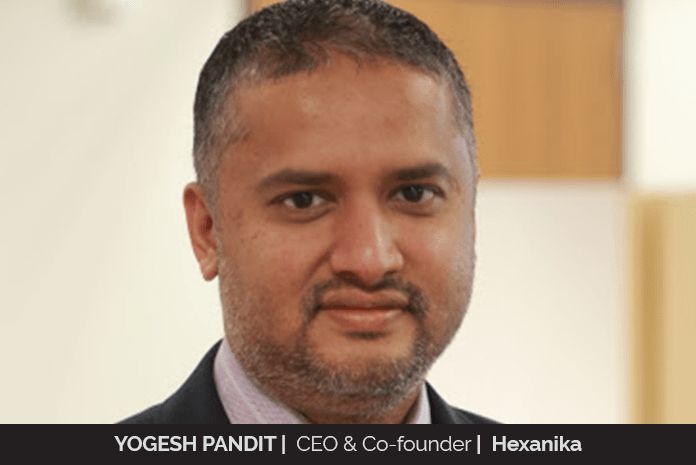 Data management is an important process and a complex business. Providing effective solutions to simplify this process needs intellect and innovation. With this creative thought in mind Yogesh Pandit, CEO and Founder of HEXANIKA started his entrepreneurial journey to transform the conventional techniques of data management. He used his innovative ideas and years of industrial experience to create unique solutions to simplify the complexity and secure the confidentiality of information. Yogesh made a phenomenal transition in the data management field, that stimulated the rapid growth of HEXANIKA. In this exclusive article, Yogesh shares his success story with some interesting insights as an inspiration for all our readers.
What were your dreams and aspirations while growing up? What led to the foundation of Hexanika?
Before HEXANIKA was founded, I was with Citibank as the Senior Vice President responsible for large scale data projects. During my time with Citi and EY, I realized that financial institutions spend an enormous amount and time to streamline complex business processes and still have to pay huge fines due to irregularities in data and reporting.
I realized that this was primarily due to the way institutions manage their data. That is when I reached out to Mak, who was responsible of various development teams at Microsoft which included MS Excel and now is now the co-founder and CTO at HEXANIKA. I believe Excel is still the best data tool in the market even today. Together, we set out to build a simple, smart and efficient platform with a focus on solving business problems such as data management, compliance and reporting.
What were the initial challenges and setbacks that you faced and how did you overcome it?
While there are many challenges when it comes to establishing a company like HEXANIKA, one of the most critical aspects of a company is finding the right people with right culture and values. In 5 years, HEXANIKA has grown to be an enterprise of with a footprint in India and the US. I believe getting the right people to empower and share your vision is critical for building a successful product.
The second critical challenge is the mindset of continuous innovation internally and with clients. Internally it is difficult to get people who can challenge their own way of building things and continuously think "how can we do this better?"
Externally, although institutions want to innovate to enhance and modernize their processes for the business outcomes and benefits, there is a challenge to embrace it due to the displacement of existing people, systems and processes. To overcome this, HEXANIKA platform and solutions are built to be agnostic of infrastructure, platform and technology, that makes adoption and adaption simple smart and efficient.
Tell us in brief about the services of Hexanika
HEXANIKA provides customers with the following:
Simple to Get Data
SmartJoin: innovative platform that allows customers to get data easily with help of patented/patent pending trained AI algorithms. Multiple disparate and manual data management technologies and processes (sourcing, ingestion, aggregation, consolidation, etc.) get automated, standardized and consolidated.
SMART to Use To Data

SmartPlace: Thus, combined with industry specific data solutions the business processes become effective and efficient.
SmartReg: by using out of the box / and reporting processes

Efficient by monetizing data

The combination of our automated data platform with solutions that allow clients to save money and make money by converting data to oil makes it super-efficient.
Clients and partners can also build with "no code" philosophy on top of our platform without SMARTBUILD solution faster better and cheaper.
What is the importance and scope for data management?
First, Garbage In, Garbage Out. With lack of good data management processes either it's not possible to get insights or the insights may be wrong. Second, if the data management is bad then most likely the business processes that are built on that are also bad. Data is the new oil and you need a good refinery to extract and maximize monetization of the same. Data management is that refinery.
The challenge with data for most of the large institutions is not just large amounts of data but management and use of the data. For large banks the problem is that the data is disparate. However, the small institutions don't have access to advance data technologies and resources which makes it difficult or sometimes impossible to get actionable insights and analytics.  Data Management is just an important starting point and the means of achieving the end vision to 'Succeed With Data'.
HEXANIKA leverages open source Big Data and AI technologies to enable institutions to manage these ever-growing data challenges by enabling institutions to automate, standardize and consolidate the data driven business processes to be simple, smart and efficient. This end-to-end approach also helps 100% data traceability.
How do you define the growth of the company over the past few years? (Can be explained with statistical data too)
The first definition of growth is people. We have now 40+ people focused on solving the ever-growing data problem and we may double our size in next twelve months. We will continue building this innovative team that will enable continuous innovation to build a "driverless" data management platform. We have filed few patents but there many more to file.
Second is the product. It took almost more than 3 years to build the core end to end data platform. But since the launch of our beta and V1 of the product, HEXANIKA solutions have been deployed and used to build various solutions with financial institutions in the US and Europe.
By working with clients in financial services, HEXANIKA has helped its clients address specific industry specific issues pertaining to data management, analytics and reporting. These have been validated with the client and we have positive feedback on the product capabilities.
To scale and help clients to adopt Hexanika has also formed strategic partnerships such as with FIS, IBM and others. We are actively working to further build right partnerships for deployment, integration and other capabilities to make it easier for our customers.
HEXANIKA has also partners with a large accounting firm to develop customized industry-specific solutions such as AML & Risk Monitoring using its innovative technology and accelerated development platform like SmartDetect. We intend to build many such solutions with our partners.
What is your vision for the company?
HEXANIKA's vision is to be 'Leader in providing customers with innovative industry-specific data products' and enable clients to 'Succeed with Data'.
Give us a brief of your life before Hexanika
Life before Hexanika was much different. We had to work within the boundaries of risk averse mindsets, time and budget. New ideas sometimes were appreciated and very very rarely implemented. The process of getting innovation approved was slow and expensive. There was comfort of a good salary and benefits but not enough to be facilitator of innovation. For many people including my family members leaving my stable job was a mistake. But I love what I'm doing now.
Tell us about your roles and responsibilities as the CEO of Hexanika and how does it make you feel?
The roles and responsibilities of a CEO is ever changing. On day 1 of the organization you are everything. Depending on who you hire, you start depending on those people. CEO needs to have a telescopic aka strategic and microscopic aka tactical view at the same time and he has to continuously juggle between both. At each stage of the company, you have to change your gears fast between building product, people, processes and revenue. It does make me feel challenging but at the same time fulfilling as long as people are doing what they like to do to and we make stride in helping clients to save money and make money. Building a company with common values, goals, vision and mission is very important and that is what we will focus on.
What are your greatest achievements?
Biggest achievement would be to build foundation of people and product that has enabled client to save money.
HEXANIKA has been recognized globally for its innovative approach and has won a number of recognitions like:
1 Fintech in India Award by the government at Fintegrate50
Regtech Top 21 List Globally (Top 7 in Americas Region) by MEDICI and EY
Regtech Top 50 by Regtech Markets
Regtech Top 100 Companies by Fintech Global
Winner of Nikkei's Pitch Run at Reg/Sum, 2017
Winner of TiE Top Startup 2015
How do you manage to balance your personal and professional life?
It is very tough. One has to have very understanding loved ones who will support you in any circumstances and be flexible. It is also important to use technology to connect to people who live for. Your personable hobbies and likings sometimes have to be put on hold. However, if you are loving what you are ding then it's not that tough. I end up meeting so many interesting entrepreneurs, investors, etc. that substitutes what you are sacrificing.
Describe yourself in one word and tell us what inspires you?
I'm an 'entrepreneur' that loves to empower people to solve big problems. Innovating and solving existing challenges using new and better approach is what inspires me always!
What keeps you and your employees motivated?
Innovation and integrity are the two pillars at HEXANIKA which enables every employee to grow and be empowered in their respective roles. HEXANIKA does that by investing in people and then empowering them to do their things. We firmly believe that if we continue to innovate faster, better and cheaper compared to our clients and competitors, we will individually and at the company level continue to grow and achieve success. Success is defined as achieving our goal, vision and mission with values.
What does the future of Hexanika look like, globally? How do you plan to widespread the company services?
HEXANIKA is currently in the process of raising funds and launching it's SaaS solution.
In the next 3 years, we plan to reach our goal of becoming the leader in providing data solutions to industries. In addition to US, HEXANIKA is targeting to expand to other focused regions and has already started communications with potential opportunities in these geographies. The goal is to grow through partnerships with companies focus to build the product from a central location.
HEXANIKA has already began the groundwork for this by participating in global Fintech accelerator programs & events in Europe, Japan, Singapore, and India. Since the overall product and concept is not specific to any geography, we at HEXANIKA feel we can make inroads in different geographies given the right opportunity.
HEXANIKA is certainly the present and future of accurate and effective solutions for data management. They are steaming ahead to create better ideas to revolutionize the industry and inspire the generation to innovate.