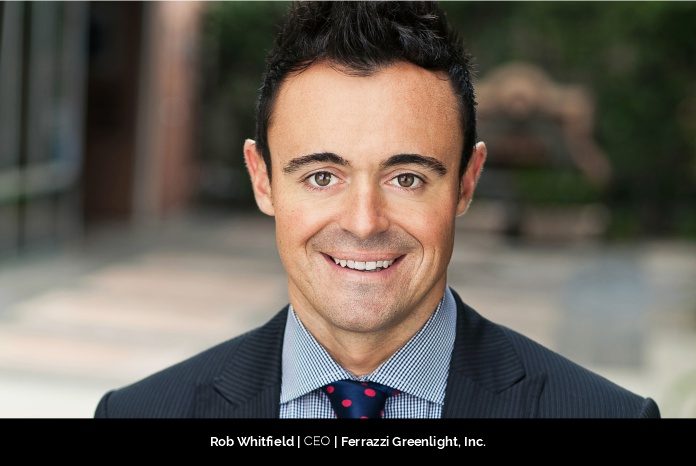 Rob Whitfield, CEO of Ferrazzi Greenlight, Inc. always had a crystal-clear vision of his life aim. He says, "Growing up in England, sometimes in difficult situations including homelessness and often around people who were not making the best choices for them and others, I always knew I wanted to make a difference in the world and to help make positive change in people's lives to reach their full potential."
Helping others ignited Rob's motivation
Rob works with a broad network of organizations that includes startups, charities, and banks, as well as the Fortune 500 companies. He adds, "Helping teams achieve their full potential is what motivates me." When he worked with the largest development bank, they helped streamline how many of the poorest countries in the world received water, sanitation, and electricity. He also helped a charity to get necessary help for child protection against abuse.
He shares, "All these efforts are the main career highs for me. I received a personal note from a Fortune 500 CEO recently to say that the work we did together not only changed how his executive team worked together, but also how he interacts with his family in a more positive way. My goals are to keep learning and growing and helping as many people as possible."
Services and Core Values of Ferrazzi Greenlight
Based in Los Angeles, California, Ferrazzi Greenlight is a renowned global consulting and coaching firm that marks unprecedented growth as well as facilitates Radical Adaptability™ within fast-growth Unicorns, Fortune 500, and the Middle Market. Being a multi-faceted company, the company has experts who create shareholder value with the help of their team efforts. They act as the fuel that drives magnificent change and brings cumulative growth.
The main value that dominates the operations of Ferrazzi Greenlight is empowering teams to unleash their true potential. The company has even created a term named Co-Elevation® that represents their core work ethics. It basically means that all team members achieve their own goals and then, take ownership of each other's goals to step up together. This means that no one wins until all the teams cross the finish line.
He adds, "Our 20 years research has repeatedly proven that the most powerful and impactful teams and companies operate with this Co-Elevation® mindset. This mentality is the backbone of our Ferrazzi Greenlight culture, and as leaders, we have removed the traditional hub and spoke mentality of hierarchy allowing any member of the company to lead without authority!"
Becoming an Invigorating Leader at Ferrazzi Greenlight  
Rob shared that he could see a huge, unharnessed potential at Ferrazzi Greenlight to help people change and improve their working and personal lives when he began working with this company. He says, "I bombarded our founder, Keith Ferrazzi, with ideas and suggestions on how we could be even better, until one day he suggested I become CEO and lead the charge in making those changes. Candidly, I think he was fed up with me pointing out issues and he wanted me to start solving them."
He believes he is a true case study of Leading Without Authority – Keith's latest book – and in being the change you want to see in the world.
Beginning his career in technology consulting, he was once asked to lead a client session which became a turning point of his life. He was an introvert until then and that made him panic at first, but as he progressed through the session, he felt empowered. He says, "I combine that front of house style in our client sessions now with the attention to detail starting out as a tech consultant gave me. I love being part of my team and coaching and helping my colleagues on a day-to-day basis."
He believes that agility and openness to change and innovation has kept the company on top. Even though they have been in business for 20 years, the company combines the best elements of a startup mentality with the strong experience and stability of a more established firm.
Not just this, he says, "Our employees have an unparalleled forum to share ideas, collaborate, and take on new roles as they develop through their career with us, which I believe keeps them motivated and engaged. In addition, the breadth of clients we partner with, and the sheer variety of their challenges, means no two hours are the same."
Attaining Work-Life Balance
Rob shares, "I am very proud of the work I have done so far, but I am also acutely aware that as a person, and for our company, we have only scratched the surface of where we can get to together."
He wakes up early every day excited by the opportunity to help more individuals and teams. He is always focused on the mission of targeting bigger goals as he feels, "The higher we aim, the more we will achieve both individually and in teams."
As he genuinely loves his work, and he never feels that he is working, although his two dogs loudly remind him to take adequate breaks in between. He works with companies around the world, and while building deep relationships with the clients, he feels elated from heart.
Ferrazzi Greenlight expansion plans
2020 made a breakthrough as many companies were able to shake off the shackles of age-old procedures and processes. While many companies wanted to incorporate these innovations for 5-10 years, the COVID-19 pandemic proved to be the 'right time' to make these changes for real. Thus, he expresses, "The silver lining of the terrible pandemic is that many were forced into these changes and are now leapfrogging forward 5-10 years in terms of innovation and agility. I truly believe that Ferrazzi Greenlight is at the forefront of helping companies make these giant leaps into the new world of work. As a result, we are busier than ever."
He is happy that Ferrazzi Greenlight have doubled in size in the last 9 months and feels confident in growing further as the company to bring more and more successes to the clients.