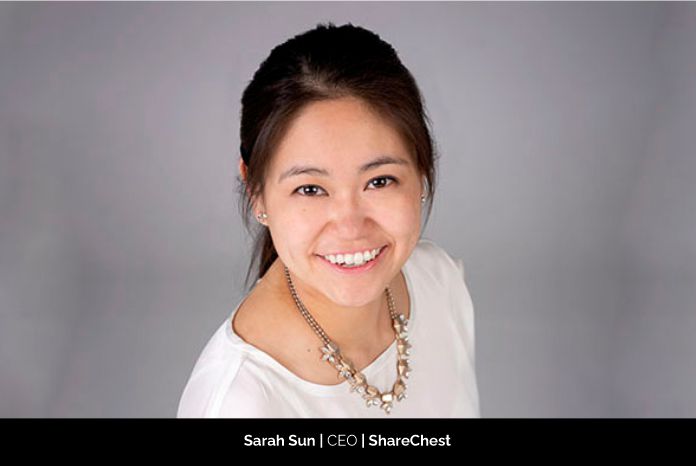 Every successful leader has their own definition for success. For Sarah Sun, Co-Founder and CEO of Sharechest, success comes from constantly evolving while progressing forward, creating a positive impact on the community, achieving work-life balance, and working on personal weaknesses. She constantly aims to adapt to new changes while steering the company to new heights of success.
Plunging into success
The dawn of Sarah's journey to success started with her first internship during her university career. She adds, "While many people do not really count internship experiences as the start of one's career, I beg to differ.  I learned skill sets that are invaluable to me as a leader now, but most importantly, my internship experiences were crucial to helping me understand what my strengths were, my opportunities, and what I enjoyed doing."
Being a data geek, she was fascinated with the power of AI and started her professional career in the banking sector. She transitioned into Data Strategy in the latter half of her career, starting in banking then branching into other industries such as mining.
In the early phase of her schooling, she always had a passion for STEM education. She created and led multiple competition and extra-curricular mathematics programs for students between the grade 5 and 12.
This passion allowed her to serve as the Deputy Leader for Math Team Canada at the International Mathematics Olympiad (2017 & 2019) and the All Girls' Math Team Canada at the European Mathematics Olympiad in 2018 and 2019.
The foundation of Sharechest was marked with two turning points in Sarah's life. First was the COVID-19 pandemic, which put her out of her job and allowed her to expand her horizons. Second, a stranger came to her with a unique business idea and deemed her fit to build it.
She states, "The fact that a complete stranger saw this kind of potential in me was game-changing.  From there, despite my lack of experience in technology and software, I knew that I could quickly build a team with complementary skill sets to get this off the ground.  The rest is history!"
Growing smarter while progressing forward
Having a curious nature, Sarah loves challenges. She focuses on the point by stating, "I hate being bored, and as a result, that tends to go hand in hand with seeking out new and interesting challenges.  As soon as I get bored in the workplace, it is a signal that I'm not learning and growing professionally."
However, she picks her battles smartly. She knows when to take some challenges head-on and when to duck to save her resources and energy. She says some challenges are quite tricky, and it is better to avoid them.
While progressing forward, she learned to prove her capabilities with example and understood the importance of a solid support network.
Revolutionizing customer engagement with Sharechest
At Sharechest, the team builds tools that allow issuers to engage with potential investors in a better way on their website.  A website is a company's most important digital property. The Sharechest team wants to ensure that their clients optimize their ability to constantly attract and draw in new capital.
Sarah adds, "Currently, our products include a widget that is optimized to sit on any company's website to engage with potential investors, an investor hub where a company can manage their submissions and investors, and analytics and insights to guide their investor activities."
Brining innovative idea to connect with investors
Sarah started Sharechest at the height of the global pandemic.  The need was never stronger for companies to find new ways to connect with their investor base, especially with the restrictions on travel and trade shows.
She adds, "Since we lost our ability to connect with potential investors through traditional means, we needed to find ways to communicate and connect in a digital age.  This is the same way we treat our culture internally. We embraced technology and tools to communicate constantly, foster open discussion and human connection."
In fact, they took a page out of the gamer community. For years people around the globe have connected digitally through tools that allow individuals to play games together and feel like part of a community. They use those same tools to build their team and culture internally and remotely. Moreover, they build tools so their clients can do the same with their investor base.
She marks that the average investor is changing, and the pandemic has never made that clearer. She aims to change the way people interact and invest with companies completely.
She mentions, "I want companies to be engaged with retail investors.  I want to see them branch out of traditional ways of raising money and embrace the power of methods like chat rooms and retail investing forums.  I want more companies to realize that the investor demographic is changing and adapt to meet them where they are.  I want Sharechest to be the de-facto name when it comes to investor engagement and our widget and brand to be recognized worldwide."
Fueling the growth of the company as the CEO
As the CEO, she is responsible for building a world-class team that can build, develop, grow their product, and meet their strategic and financial goals.
She expresses, "I need to create and articulate the vision, and I need to ensure that every part of the business has people and leaders that can be relied on in good and bad."
Having realized the importance of having a solid team, she aims to build one with a complementary and diverse skill set. To keep the morale high, she ensures that everyone has ample space to grow on the individual level and is valued for their contributions.
She expresses, "It's absolutely amazing how far a simple 'Thank you' can take you, and it's also one of the easiest things that we can forget to do in the heat of a moment."
Balancing the work and personal life
Creating a balance on both the professional and personal front is crucial for Sarah. She carefully manages her time to run everything smoothly. While pushing the company forward, she makes the necessary time to rest and re-energize her body and mind. She feels it is important to relax as it avoids the accumulation of stress and allows her to tackle the upcoming challenges smoothly.
Future prospects of the company
Sharechest will be operating globally by the end of the year. Sarah expresses, "Our brand and our name will be recognized as innovators in capital markets, and investors globally will recognize our products in multiple industries.  We are going to transform the way that people will interact with and invest with new companies, and we will have increased our team to support."