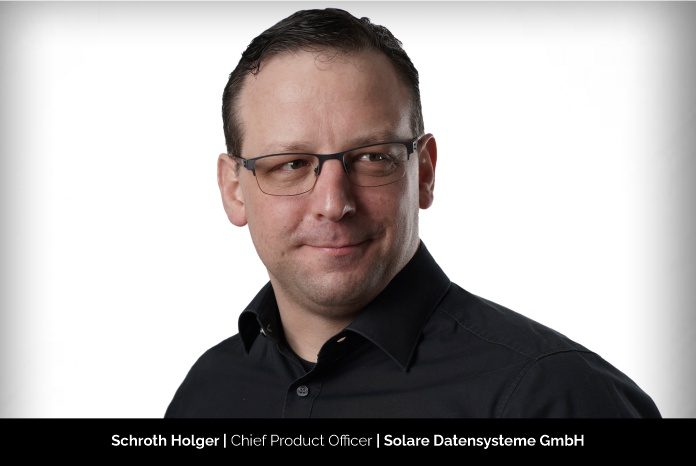 The ultimate aim of a product or service is to provide satisfaction to its users. What if the product/service is not fulfilling its purpose? This 'if' is not just a word. It is a thin line between the success and failure of the product/service, and efforts have been made to create it. To make sure there will be no 'if' in the future, there is a team of experts who ensures the quality and efficiency of users.
Schroth Holger, Chief Product Officer at Solar-Log GmbH, is an expert in project management, product management, and technical marketing. He ensures user satisfaction should be the primary goal of the company. He says that innovation is the key element in any organization's success. He adds, "We are in a transition where we transfer our solutions from the past more Hardware centric view to now a strong focus to the Software centric view." The whole company is transferring from a traditional project-oriented structure to an agile company. This leads to more personal responsibility and more opportunities to bring one's ideas into the company and put them into practice.
Solar-Log GmbH is a pioneer in the field of pv monitoring. Founded in 2004, the company was one of the first companies who enable the monitoring of different manufacturers in one system. Today, as part of the BKW AG (a major Swiss Energy and Infrastructure Company), it is evolving pv monitoring and integrate gird control and smart energy applications for systems >30kWp. "With this, we are offering our customers a modular hardware setup and a setup of digital services around our Web Enerest 4 platform," says the company.
Solution that Leads to Satisfaction is Success
For Schroth, success and learning are both closely connected. If one can learn how to act or solve the different situations and cases in the business and how to turn challenges into a good end for the customer, he/she is having success. He outlines, "If I am going to end my day with the knowledge that my team and I solved a problem of one customer and he does not need to think any longer about this problem, makes me happy and satisfied."
An Accident that Becomes an Opportunity
Schroth's path into the renewable energy sector was "nearly" a small accident but, he never misses work in this industry as he is proud to see what the renewable are capable of today. The industry is moving towards creating a world of sustainable energy. It feels good to see how the efforts have been made to reduce the system costs and thus the electricity generation costs to produce sustainable and affordable energy today.
Team Support Makes Challenges Easier
At Solar-Log GmbH, no one is alone when it comes to face challenges. Schroth says that the company is leading with a great management team, and each team member has his own strength and skill set. He says, "In every challenge, you are having a chance to learn something, therefore, challenges are so important." He recalls the time during his military services in the Federal Armed Forces, then he learned a lot about overcoming challenges and what the most important things in life are, and in most cases, a warm shower and dry bed can make life good. He opines, "In my professional career, I learned a lot during the most challenging periods. One of the most important findings is that you can act much better if you are part of a passionate team of other professions who are focused on the same goal."
Started with World Class Company 
Schroth states the most significant impact on his career is his time at SolarEdge. He joined the company in the early stages when the company was in its beginning. It had a bit the same as the time as Product Manager for Storage systems before, new technology and a new way of thinking about the pv-system-structure. He explains, "During that journey, I learned deep what is my "mantra" today – focus yourself more on the solution instead of the problem."  SolarEdge is one of the leading pv-inverter companies and has achieved great feats in storage systems and electrical vehicles.
Redefining the Renewables & Environment Industry
The major challenge ahead of Solar-Log GmbH is the decentralized structure of the production and consumption facilities. It leads to a new setup on grid control mechanisms and chances for digital services. With Solar-Log GmbH, the team will drive this challenge further and provide the company's customers and clients a product with multi-usage so the team can support a cost-efficient solution and an excellent user experience. Schroth deems, "Our team is motivated and focused to re-define the way we are using pv-monitoring and grant additional benefits to the user." 
As a Chief Product Officer
The responsibilities are a crucial part of the job, and for C suite leaders, it's most of the time a crown with challenges. At Solar-Log GmbH, Schroth ensures that everything is running forward. If the team halts at some point, he acts as the guide who shows the right direction. He describes, as Chief Product Officer, he is responsible for taking the product strategy forward and take care that the company's DEV projects are in time. A significant part of his daily work routine is spent for discussions with Sales and the customers so that Schroth can understand what is going on, where are pain points, and where the team should focus on.
Schroth's day starts with phone calls and ends with phone calls mostly with his team. Between the calls, he is working on the strategy or supports the team with input so they can work forward on the projects. He says, "As I am away from home for a couple of days in the week, so the evening is mostly reserved for video calls with my family to discuss the day and solving school things with my kids."
Maintaining Balance while Supporting Others 
To keep himself balanced in his personal and personal life, Schroth tries to play sports twice per week that most of the time running a bit. He describes, "An important Anker to keep me balanced is my family therefore, I take enough time with them during the weekends and having family activities, for sure this not works every weekend, but we are focused on to keep it in a positive ratio."
Even working in the industry for years, Schroth feels motivated to see how today's young professions are making growth and collecting their success. He believes, at the company, the most important task is to have motivational tasks and grant the team members as much space as possible to work on their tasks and support them.
Visioning to Develop More User Centric Offerings
According to Schroth, Solar-Log GmbH aims to finish its transfer to a product with multiple benefits for the user. Considering personal goals, Schroth wants to pen more technical articles to grant other partners in the renewable energy market a bit of an inside view about the company's transition. He says, "On the other side I hope, I can support the growth of our professions in the team further." 
Schroth's vision for Solar-Log GmbH is that the team can present the O&M partner every year on the spot. This is having a different track; based on an excellent error recognition system in the company's monitoring platform, where the team will be able to help the operator in finding problems in his system, which leads to higher yield. On the other side, the intelligence of the system itself leads to a better O&M cost structure in the future. Both in combination will lead to more income and better cost-efficiency.