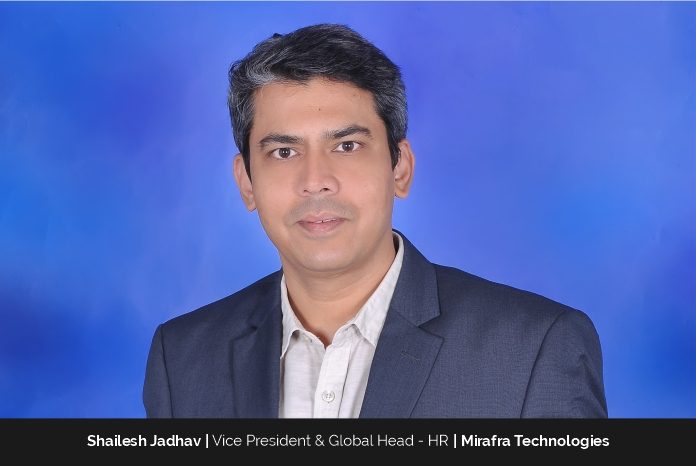 The human resource industry is an ocean of possibilities and opportunities as it deals with human minds and behavior in conjunction with business. HR has evolved after a long journey of many decades, and now it is redefined as a catalyst by carving out its own position in decision making. HR is looked at as an enabler of human capital for the purpose of the successful running of an organization.
"Every business exists to solve human problems, and human talent is the key asset of the business that must be nurtured well."
Always been interested in dealing with human resource in various environments and challenges, Shailesh Jadhav's career started serving with elite Indian Army. After serving in the military, he relocated to Civvy Street, where he continued to pursue his passion for interacting with people by working for some of the world's leading corporations, which has greatly benefited his learning and experience.
Shailesh's 22-year career has developed both his leadership and HR professional principles and ideas. He currently works for Mirafra Technologies as Vice President and Global Head of HR. He shares, "This wonderful journey has offered me many moments of recognition, but the best I could cherish is the trust and confidence I have won as a leader and a team member in Mirafra is unparalleled. Earning confidence of the organization and the Founders is the most challenging yet a rewarding thing that a leader always looks for."
Mirafra Technologies
Mirafra Technologies, a product engineering service and technology consulting firm, was founded in 2004 and specializes in semiconductor design, embedded & application software, and digital technologies.
By integrating VLSI hardware, embedded software, cloud technology, and data analytics, Mirafra is a pioneer in the provision of specialized technology design services. The firm has established a position in the domestic and foreign markets, including those in India, the United States, and Europe, thanks to its deeply ingrained ideals and high integrity. Leading technological businesses, including the top 10 semiconductor goliaths, have trusted Mirafra for 18 years.
The Solutionist
For more than 9 years, Shailesh's professional playground has been Mirafra, where he has had the chance to establish the HR department from scratch and turn it into a crucial element of the business.
Here, Shailesh is in charge of developing a culture that inspires and recruits the most enthusiastic people and fosters learning and growth for all members of the workforce. His typical workday is still the same as that of other HR executives, but his priority continues to be elevating the employee experience for the benefit of all business stakeholders. Shailesh made sincere efforts to provide answers for the people while achieving corporate objectives by fostering a culture of cooperation, participation, and partnership. In Mirafra, Shailesh is referred to as a solutionist who offers a solution to most challenging situations.
Challenges and Opportunities
"As they say, when the going gets tough, the tough get going. In a true sense, the challenges are the path to the nectar of success. Keep smiling and face the challenge to kill the challenge."
Shailesh believes that challenges are really opportunities in disguise, and that an obstacle's degree of difficulty may reveal a person's genuine value. Years of experience strengthened his conviction that the answer to a problem is always found in the problem itself when it comes to challenges and hurdles. He mentions, "While everyday petty issues keep me busy solving the puzzle, keeping self-motivation intact all the time is a big challenge.  Various roadblocks drain my energy, but I find a reason to rise and buckle up to take on the next one."
Making His Part of Contribution
Redefining the industry is an enormous task that needs support and contribution from all facets of the field, including business setups, HR associations and societies, academia, experts and scholars, and industry leaders. Shailesh believes that real change occurs in the industry when these actors come together to challenge and brainstorm current practices against future needs. He says, "At my level, I contribute my bit in the HR field by expressing my views in HR conferences, round table discussions and publishing articles."
Success Mantra for Individual and Organization
Success is a word that gives much needed contentment to a human mind, but to Shailesh's belief, success is temporary yet continual and keeps on happening to a person. It is more spiritual in nature. He asserts, "Success is a sense of pride in doing something meaningful, even if that sense may come through material gain, learning, failure, achievement, and so on. Success is a state of happiness as an outcome of purposeful action; it is complete harmonization of mind and heart."
Shailesh views success in his work life as primarily resulting in the prosperity of others. He thinks that will help the system and the workers work together to achieve greater goals. It entails bringing individuals together to collaborate on a project and giving them a place to grow personally and professionally. In the end, cultivate an atmosphere of joy and attentiveness for the people you are around.
Success for a corporation is described as meeting predetermined goals for development, customer happiness, and stakeholder interests, all while adhering to moral standards and ethical behavior. Shailesh contends that although many elements contribute to a company's success, its employees and executives play a crucial role. Success doesn't happen the way it is intended; instead, it depends on how well the plan is carried out by the team and how well the leadership leads it. The leadership team's dedication and the sincere efforts of all Mirafra members have paid off, and the organization has gone a long way. He thinks that it just so happens that he is a part of the leadership team on this trip, and that his faith and the supportive atmosphere have inspired him to give his all.
Combining Vison and Innovation
For a business to survive, innovative ideas are like air. Your business will fail if you stop trying to innovate. Shailesh claims that the Mirafra team encounters many bottlenecks and dead ends in the organization on a daily basis at several levels but also works to overcome them. Only ideas can drive a resolution to these problems, so business as usual continues. Talk about new companies and start-ups. They are nothing more than the birth of ideas.
"Drive your workforce to the growth path by making them partner in the success story."
The management of Mirafra encourages innovation and has a high degree of openness to hearing recommendations, fresh concepts, and solutions from all levels.
Shailesh's ambition for Mirafra is to become a world-class product engineering business that is renowned for consistently producing cutting-edge goods and serving a select clientele. Through ongoing education, he aspires to develop skilled engineering and managerial staff. All of these are made possible by embracing the most cutting-edge HR practices and giving employees the freedom to live happy, healthy, and productive lives.
Balancing Personal and Professional Life
Mirafra has developed a culture and an atmosphere of collaboration and partnership with its employees, in addition to the basics of providing growth opportunities, adequate training, the best benefits, and quality work. This has helped in engaging employees by recognizing them as key stakeholders in the company's growth, and all these efforts have helped in boosting the motivation level of our employees.
"We truly believe in giving world class experience to our employees and our engagement with them is nothing less than a 'family' culture."
Mirafra has also aligned with the newer generation workforce and strives to remain focused on their critical needs of innovation, independence, and creativity. Shailesh enjoys his role and work. The engagement he has is exceptionally enriching and fulfilling.  He enjoys being with employees and the leadership team as they are the main source of his energy and happiness at work. He shares, "We, all together, can find reasons to remain motivated. In fact, we are the reasons of motivation to each other.  Let me be honest here-I could focus on the work front only for the cause of absolute fabulous support from my family."
As per Shailesh, his family understands his passion and sometimes goes the extra mile to support him in his professional commitment. He makes sure to compensate for the adjustments they make by spending quality time off and attending social and personal occasions with them on a regular basis.
Constant Growth for Future
Mirafra is now on the rise and expanding quickly in a number of industries and areas. Shailesh is being held to a high standard as an HR leader during this trying period. In order to increase the dynamics of the human force, Mirafra plans to acquire additional engineering development/in-house projects in various geographies. Shailesh sees a fantastic opportunity to stay up with the quickening pace and keeps pushing himself to keep up with the steps. He shares, "It is simple, I'll move with the flow as this assures me of my level of Success."  
Note on Leadership
"Everything is possible – It is all about Attitude, Will and Flexibility."
The one that characterizes a leader is the finer human being. A leader is a combination of numerous attributes. Leadership is about personality, in addition to a few traits and qualities. Leadership is taking the initiative, understanding the team from a human perspective, empathizing, safeguarding and correcting the team, making risky but wise decisions, offering solutions, getting over your fear of failing, and remaining humble. Leaders need to be able to cope with VUCA and adapt to their own cultures.
"Too much to ask from a leader but that is how it is to be a leader," says Shailesh.