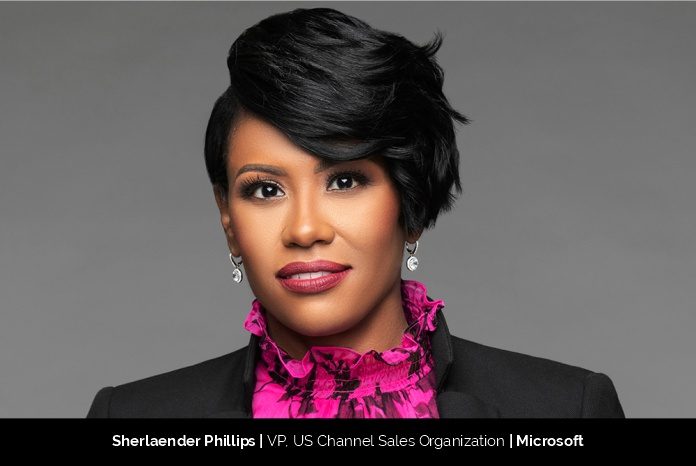 There is nothing more powerful than recognizing your interests are really passions at an early age. However, being exposed to a variety of things at an early age will allow your passion to find you at times. While delving into the mind of Sherlaender Phillips (Lani) who is the Vice President, US Channel Sales Organization of Microsoft, she unveils that her passion for technology was injected into her at an early age since her parents had invested in the arena of technology. This developed an interest in technology for her to pursue her academic as well as professional pursuits in the same field. Her expertise lies in the segment of digital transformation as she acknowledges that every company was confronted with accelerating their digital transformation agenda over the last year.
The Tug of Vision:
It is in everyone's grasp, to become a CEO. But is it really? There are many who may have longed for it but in the swarming pair of eyes which requires you to prove your worth every now and then, couple with the reality of gender and racial inequality, these judgment eyes will cause you to armor up and not expose your vulnerability. As shared by Lani, she has encountered challenges with a limited number of mentors that provided her transparent and good counsel. Yet she was determined to not turn back from her shadow. Other than that, she has at an early stage in her career encountered a lack of confidence and courage that caused her to second guess every decision which she admitted slowed her down because she was striving for perfection. To overcome her own boulders, Lani took steps to tap into her organization's employee resource groups to find likeminded people to help her navigate the challenges.  In addition to that she leveraged certain professional organizations that had racially & gender diverse networks in tech (BDPA, ITSMF & WIT). She attributes some of her success to finding people within these professional networks to help her create a personal blueprint for navigating the corporate environment and situational challenges.
The Snap of Enterprise-class Business:
The advent of cloud computing can be witnessed with its rapid growth and the discovery of new segmentations that are revolutionizing tomorrow's invention. It is not about how you do compute rather where exactly you are computing. As it is revolutionizing the technology industry, every swarming cloud provider is on a cut-throat edge to cut the pie and conquer the market share. The best way to reap all the market information and stay abreast of predictions is to read the technological and business resources online such as VentureBeat, Wired, CNET, and Forbes Tech to name a few. Lani mentions that another way to learn about the industry challenges and advancement is to lend an ear to the potential end consumers and partners since they are the ones on the front line facing the challenges and evaluating solutions all the time.
The Perspiration of Employee Experiences:
The sphere encircling the management of leadership is to produce an ample number of leaders rather than producing endless followers. Upon seeking views on the changing landscape of digitization and cloud computing, Lani enlightens that every consumer is looking forward to prioritizing the employee experience as, without them, the organization will be sluggish enough to diminish off the radar. She also mentions that organizations are embracing hybrid work culture and explore what the future of work plans. This is resulting in changes in the landscape of digitization and cloud computing. She also has a strong belief that with the growth of Artificial Intelligence, it is becoming more pervasive, and we must learn to instill human values and run-on trust. She further highlights Microsoft's mission which is to "Empower every person and organization on the planet to achieve more". We are committed to creating innovative solutions to empower these scenarios.
The Pivot of Enforcement:
Upon seeking the vision of the technological industry, Lani illuminated on the umbrella of the three focus areas as elucidated:
Consumerism in Healthcare – Taking the circumstantial evidence of what the pandemic has outdone, she intends to utilize the assistance of technology that can assist individuals in playing a proactive role in managing their own healthcare needs.
She is excited about Microsoft's development of an "Employee Experience Platform" that amalgamates engagement, wellbeing, learning, and knowledge transferring into an integrated experience that aids to assist the leaders, teams, and employees altogether.
Technology for Good – With the advancement in technology and Artificial Intelligence, she intends as the world is getting more diverse technology should remove bias in their algorithms and we must build human values as per her wisdom.
Logical blueprint from A to Z:
It is undebatable that a leader is aware of the pathway, walks on the blueprint, and enlightens the blue for others to follow and envision. The pandemic has entirely revamped the way an organization functions and has led to the discovery of other sustainable variants to get work done. This has also given birth to the development of unrecognized mixed emotions ranging from lack of human touch to lack of teamwork and expedition. Upon seeking the impact that pandemic has blacked and the secret sauce to yet balance the level of self-motivation, Lani reveals that there is just one thing that has kept her, and her employees motivated throughout is to not devalue yourself and demonstrate empowerment throughout. She has practiced a few methodologies during the outbreak of the pandemic which she has duly shared with us for perusal:
Do regular check-ins – Ask your employees to identify 2 words that describe your present emotion and delve into soulful communication to understand where the employee is at and their lived experience.
Quarterly connections virtually with the sole intention of doing things that are just fun. These could include playing a virtual game, sipping and painting, creative workshops, happy hour, themed events, etc.
Learning circles focused on their professional development. Invest in your people and their professional skills so they can be intentional around being continuous learners. This will pay huge dividends to your company.
On her last pearl of wisdom, Lani shares that the future for Microsoft is bright. Their next big breakthrough is bringing together years of experience across people analytics, culture, community building, knowledge, learning, and teamwork, Microsoft will help its customers reimagine the employee experience.