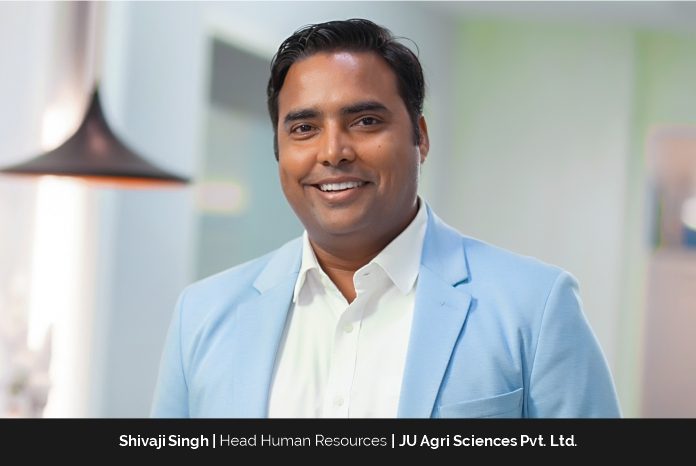 The primary responsibility of an HR leader is to expand their potential business while successfully innovating. In simplest terms, the department is a group responsible for managing the employee life cycle (i.e., attracting recruiting, hiring, onboarding, training and developing employees) and administering employee benefits.
Shivaji Singh, the Head of Human Resources at JU Agri Sciences Pvt. Ltd. a certified HR Professional with proven track record in multi sectors includes Farm Input Industry, Travel Retail, Insurances, Media and Consulting. He adores working together with the leadership to create and constantly enhance a fantastic workplace environment. As a seasoned employee success specialist with over 16 years of experience, making employees successful is where he claims to get his energy and enthusiasm from.
Shivaji's inspiration to take a leap of faith into the human resource industry.
Since a young age, Shivaji was actively involved with various outdoor activities amongst which Cricket was his favorite sport. He has participated in multiple competitions and tournaments and, the first time he got to be a leader and lead a team was in his college days. That was when he realized that this is what he would love and enjoy excelling in his future. "I had just gotten the taste of leadership, and this is what drew me to the field of human resources," he states.
Shivaji has worked in several departments, industries and environments over the course of his life, and has discovered that to increase his knowledge and experience, he should take cross-functional assignments and deep dive into the subjects for insight and developing business strategy.
At college, Shivaji studied human behavior and developed a feeling that he can thrive in the field of HR. Following that, he pursued his master's degree in human resource development to broaden his horizons and shape his career as an HR professional. "Throughout the course, I discovered that this field allows me to influence lives and provides me with the skills to create a positive impact in the organization," he says. As his career progressed, Shivaji realized that as an HR professional, he could bring a unique perspective to the business while also assisting organizations in setting priorities.
JU Agri Sciences Pvt. Ltd. and its services
At the turn of 21st century, JU Agri Sciences was conceived as a key enabler in Indian farmers pursuit of enhancing farm productivity and to produce more with limited resources sustainably. In a journey of mere two decades, the company has emerged as one of the fastest growing organizations in the Indian agricultural services sector.
The company has also been recently certified by Great Place to Work® from March 2022 to March 2023. With its offices in all the major states of the country, the company has gained pan India presence and caters to a network of more than 6000 trade partners and 25000 retailers. JU possesses a broad range of more than 120 products including Biological Fertilizers, Organic fertilizer, Biological Pesticides, Insecticides, Fungicides, Herbicides & Bio- stimulants and has solution for all the major crops grown in the country like Cereals, Fibers, Oilseed, Pulses horticultural crops and cash crops. With a team of more than 850 trained people on ground offering regular technical and advisory services, the company has also been instrumental in establishing the biological fertilizers industry in India. The organization also has deep experience in brand building and many of its brands are amongst the most trusted names in the Indian farming community today.
Leading a successful company is a challenge and challenges help you grow.
The definition of success for Shivaji has evolved over the course of his life. Many people measure their success based on how much wealth & status they have acquired; but in Shivaji's opinion, success is primarily an attitude and the satisfaction of our minds.
"Each day brings new challenges and if I can channelize my energy and skills to make a positive impact, I feel content and fulfilled," Shivaji states. As humans, we have the capability to aim and scale new heights by using the intangible notion of an undying attitude, motivation & desire.
The journey of life is never a straight path. It is a series of twists and turns, hills, and valleys, both smooth sailing and rough seas. Though obstacles cannot be avoided, one can always choose how to deal with them. You must apply some resistance to your muscles to build physical strength. The same is true for challenges, which are a part of our daily lives, and Shivaji strongly believes that without them, life would be meaningless because then we would have nothing to compare in the good times. "As a leader we are judged on our ability to deliver results. While at times this might seem tough and unfair, at the end of the day it is the results that matter. Theoretically, delivering results looks easy, but in a real work situation it proves to be more difficult.," he says.
Shivaji pens down some most important lessons he has learnt the hard way in the corporate life:
The pandemic situation has thrown some real challenge and dealing with it taught me – "Agility is the key".
A common trap is moving too quickly, sometimes moving at a slower pace can prevent burnout, react appropriately to developing problems, and gain a better perspective about what we are trying to accomplish.
Don't hesitate when you should act.
Good things don't come easy, there is no shortcut to success.
Embrace the ups and downs, never fail to try more.
Shivaji's contribution in redefining the human resource industry.
After the pandemic, it is safe to say that the top priority for all HR officials has been to redefine the human resource sector. "Most businesses and their employees are switching from a physical to a digital format. It has been a tremendous challenge and a fantastic success for me to learn how to assist this transformation while assuring employee responsiveness in a way that improves morale, engagement, service level, and corporate performance," Shivaji states.
Today, employees have higher expectations and Shivaji says that understanding their requirements and viewpoints has been crucial for his professional development. At JU Agri Sciences, they have received the "Great Place to Work certification", and they work hard to contribute to the industry by coordinating HR priorities with business priorities while keeping employee happiness & wellbeing in mind. "Throw me to the wolves and I'll return leading the pack," he exclaims.
The significance of innovative ideas in the company
In any business, innovation promotes growth, allows for adaptability and distinguishes a company from its competitors. It improves the ability to respond to changes, discover new opportunities, and contributes significantly to overall economic growth.
No matter what industry, any company that wants to stand out in a crowded market needs to be innovative to keep up with the changing demand and stay relevant, because you can't solve many problems with old solutions. You can't be everywhere at once and you don't have the luxury of seeing things from every angle. You have people from your team all over the place. They may have innovative ideas, suggestions on how to improve specific processes, and a way to do things differently and more efficiently.
"I encourage creativity in my team and surroundings without critiquing it, as this fosters psychological safety and builds a culture of innovation in which new ideas are warmly welcomed and freely discussed," Shivaji states.
Shivaji's vision for the future of JU Agri Sciences
Shivaji wants to see JU Agri Sciences as an MNC with a strong potential for employee happiness soon. JU Agri Sciences has come a long way since he joined the team in 2020. Since then, the corporate culture has experienced tremendous growth, and that is how he hopes for change to be affected.
A company's culture can have a significant positive impact on its growth if it is managed well. "I want to lead positive cultural transformations, to improve performance and productivity at work and to foster a sense of pride amongst the employees of JU Agri Sciences. I believe that employees are the business and the key to success in any organization is identifying, developing, and empowering the right people," Shivaji explains as he quotes Craig Groeschel.
Some of Shivaji's focus areas for the next couple of years in JU are:
Fostering employer-employee relations in a post-pandemic socio-economic and uncertain environment.
Enable the organization's profitability through training and development.
Establishing a strong culture to support organizational success.
Achieving employee retention by creating a secure and comfortable workplace.
Using HR technology and analytics to make good data-driven decisions.
Building a future ready leadership.
A boss creates fear; a leader creates confidence.
As the head of human resources, Shivaji is in charge of directing the L&D, employee experience, and social media departments for the company as well as the payroll, administration, and TA teams. He claims that overseeing various large firm divisions makes each day fascinating and challenging at the same time, but rarely the same. A typical workday for Shivaji begins with team check-ins before moving on to scheduled meetings.
In his opinion, an employee's attitude determines how productive they are that day, so he tends to concentrate a lot on the employee experience and cultural projects. He macro manages his team which allows him to focus on these areas and his own tasks each day. As per his list of responsibilities, he is confident that he performs these tasks on a weekly basis, and some daily.
Shivaji describes his professional journey in 3 words: Upward, Learning, Evolving.
The best recognition he has received as a leader is for his contribution made in Marketing and Shivaji claims that he will always cherish that. Another recognition he received in JU was for building a strong platform for JU HR for the years to come and for leading the culture transformation front.
Staying motivated & maintaining a work-life
"The excellent workplace culture at JU Agri Sciences makes it simple for me to balance my personal and professional obligations," Shivaji exclaims.
At JU Agri Sciences, they have a variety of platforms for employee engagement and experience in place and that keeps the staff engaged by offering them helpful and encouraging leadership. Shivaji notes that all of them understand how challenging it is to maintain constant employee happiness, but as a business and as the head of human resources, he works every day to improve it.
"Since I enjoy my profession and play cricket as a passion, keeping myself motivated is not difficult for me. Every day, my work serves as my inspiration," he states.
Every leader, regardless of experience or skill level, has space for improvement, but one might be unsure of where to start when it comes to defining and attaining leadership goals. Shivaji's message to aspiring leaders is Employees are more likely to give individual attention to not only their customers and coworkers, but also the work these people do if they feel personally and consistently cared for. The word "consistently" is essential here. Great leaders make employee engagement a regular, year-round priority, never limiting their show of appreciation to a single day or season. Live your values — and build a team that shares them.