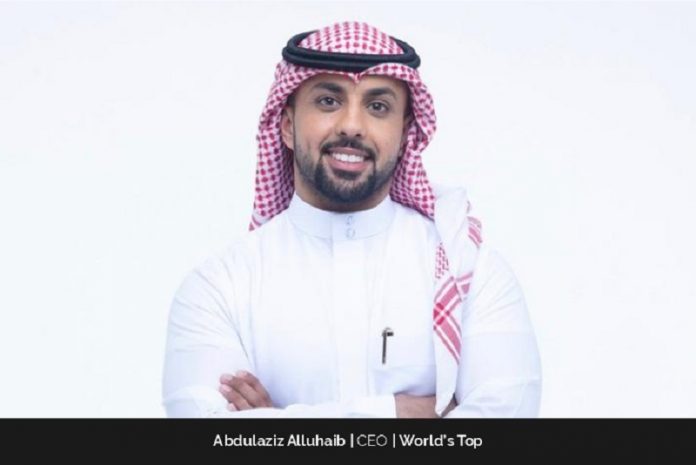 Within our cover stories, we've shared numerous accomplished leaders' career journeys and life lessons. While we hope our readers have gained much from these tales, we wish to impart a vital takeaway: Success cannot be achieved via a universal formula, for there is only your path to triumph. We've discovered that the "brass ring" of success isn't always a seven-figure paycheck; it can entail building a business and crafting a fulfilling life that adheres to your individualized terms.
Throughout our discussions with inspiring individuals, we've been most impressed by the extensive range of experiences, the diverse lessons learned, and how each person defines success on an individual level. Today, we're privileged to hear from Abdulaziz Alluhaib, the CEO of the World's Top, as he shares what success signifies to him.
For Abdulaziz, success is chiefly defined as accomplishing a set goal or attaining a sought-after achievement, representing a positive impact. He states, "Success is believing that what I'm trying to accomplish is for a greater cause, something that transcends my personal existence and will positively impact people in some way. I don't view failure as the opposite of success."
Abdulaziz considers failure to be an inherent aspect of the journey toward success. Although he has faced numerous failures, he has also experienced many successes. A quote by Charlie Day holds particular significance to him: "You cannot succeed without the risk of failure. You cannot have a voice without the risk of criticism, and you cannot love without the risk of loss. Be willing to fail. Let yourself fail. Fail in the way and place where you would be proud to fail. Fail, pick yourself up, and fail again. Because without this struggle, what is your success anyway?"
Abdulaziz is an astute professional and a savvy businessman. His perseverance and determination have enabled him to secure a place among the "Top 10 Most Inspiring People in Food & Beverages, 2023."
When asked, 'how do you wish to influence a change in the generation?' Abdulaziz responds, "by solidifying the belief that one person can make a large-scale impact, even if he/she is young." He emphasizes that the power of one person's conviction should be considered, as it can inspire a ripple effect and instigate a positive transformation on a large scale.
Professional Journey Before World's Top
Abdulaziz holds a bachelor's degree in Finance, which he earned from Southeast Missouri State University in 2015. He gained invaluable experience by working at General Electric for two years, where he focused on Financial Planning & Reporting in different business segments including Healthcare and Power After that, he spent nearly two years working at a consulting firm doing business valuations before switching careers to become the financial planning manager at the Misk Foundation, a position he held for two years. In addition to his corporate experience, Abdulaziz has a successful track record as a consultant for SMEs, providing strategic planning, vision development, and financial planning services as a freelancer for six years. His varied background has given him a unique perspective and a diverse set of skills that he brings to his leadership role at World's Top.
Insights on Overcoming Challenges to Achieve Success
Abdulaziz firmly believes that challenges are an inherent aspect of life that fosters personal growth, learning, and character development. While they may seem daunting at the time, reflecting on the past makes it evident that challenges are what shape us into better individuals. Challenges evoke a complex set of emotions such as thrill, fear, hope, doubt, and confidence, and without experiencing these, one cannot develop or advance.
World's Top's CEO shares a personal anecdote regarding his struggle to commit to a fitness regimen. However, he promised himself in 2014 to join a gym, work with a trainer and follow their guidance for six months. His journey began with many failures, feeling weak and incapable of doing the exercises. But he persisted and showed up every day to do the work, failed, and returned the next day to fall again. After four months of consistent hard work, he transformed himself and is still devoted to working out six days a week. This journey taught him the most valuable lesson of his life: committing.
He says quitting is easy when faced with a challenge, and most people give up at the first hurdle. The difference between successful and unsuccessful individuals is the former's perseverance in adversity. The journey to finding the perfect job was filled with failures, but Abdulaziz was motivated by his past experiences and how he overcame challenges before. He persisted and eventually found a fulfilling job and work environment that allowed him to grow and learn while facing numerous obstacles.
World's Top: Providing Comprehensive Food Solutions
World's Top, a Saudi-based company established in 2011, has offered various food services and solutions, including food packaging, manufacturing, and supply. The company's approach is to provide clients with a holistic and seamless experience, catering to all their food-related needs under one roof. This unique strategy has enabled World's Top to earn the trust and loyalty of a vast clientele, which includes some of the most prominent companies, restaurants, and facilities across Saudi Arabia.
CEO's Daily Routine and Responsibilities at World's Top
Abdulaziz Alluhaib, the CEO of World's Top, is responsible for charting the company's course toward achieving its goals. He starts by creating a vision encompassing where the organization aims, why it needs to get there, how to get there, and what benefits all stakeholders can expect. He emphasizes that every organization member needs to be on board and committed to the mission to succeed.
He divides the yearly goals by department, employee, and month to execute them. He then further divides the monthly goals into weeks and days, ensuring that each employee knows their responsibilities and what they need to do to achieve their targets.
Abdulaziz's regular day at work starts around 11 am, where he begins by reviewing the day's agenda and meeting with department heads to discuss details, updates, and potential risks and challenges. He also plans for upcoming weeks, months, and the year ahead and makes necessary adjustments to their strategy. He takes an hour to interact with employees, discuss any obstacles they may be facing, and offer support.
Despite his busy schedule, Abdulaziz ensures that he stays connected with his team and employees to ensure the successful execution of the company's goals. He usually leaves the office around 8 or 9 pm, accomplishing his daily objectives.
Role in Redefining the Training and Coaching Space
World Top's Management has implemented an annual development plan for all departments and employees. He emphasizes the importance of training and encourages his team to pursue opportunities to help them gain new skills and training to strengthen their current skill set.
Abdulaziz recognizes the positive impact of his ex-manager, Eng. Omar Najjar had on his career by tapping into his untapped potential. He strongly believes in having a coach who believes in one's abilities, so he has weekly sessions with each team member to reflect on their actions and decisions throughout the week and identify areas for improvement and development.
Furthermore, Abdulaziz urges employees in high management roles to continuously seek coaching mentors to develop their own management skills.
Innovative Values and Competitive Strategies of World's Top: Insights from CEO 
Abdulaziz expounds that the company's fundamental principles are centred on innovation, quality, and customer satisfaction. The company places paramount importance on delivering superior-quality food products and pioneering packaging solutions that cater to the distinctive requirements of its clients. They uphold uncompromising standards of excellence in their offerings, ensuring their customers are thoroughly pleased with their purchases.
"To stay ahead of the competition, World's Top invests significantly in research and development, consistently keeps track of industry trends, and engages with customers regularly to better understand their evolving needs," conveys the CEO.
He asserts that this proactive approach has helped the company maintain its competitive edge while nurturing enduring relationships with its esteemed clientele.
Mantra for Perfecting Work-life Balance
As the CEO of a company, it can be challenging to maintain a work-life balance, given the high level of responsibilities and demands on their time. Regarding his take on it, Abdulaziz Alluhaib expresses, "It's honestly pretty hard to balance, and I don't think I'm doing the best job here at the moment. However, I ensure that what we are working towards is bigger than all of us. It is not a routine day-to-day but rather a mission that we need to accomplish, a war that we need to win."
Abdulaziz Alluhaib's Vision for the Future of World's Top
World's Top, under the leadership of its CEO, is embarking on a new business model that involves transforming into a manufacturer, supplier, and partner. The company is set to open a food factory by Q2 of 2023, producing Belgian Waffles and Drip coffee with a capacity of over 50 million pieces per year. Furthermore, the brand will establish the first fully automated packaging factory in Saudi Arabia by Q4 of 2023, utilizing advanced technologies for real-time production tracking and AI for planning, logistics, and future orders. These efforts will reduce lead time by 88% and offer eco-friendly products.
"By next month, we are also introducing our new brand, "MANZILAH," which will focus on the supply of essential foods such as chicken, Rice, Oil, Cheese, and sugar," shares Abdulaziz Alluhaib.
Later this year, they will also launch a one-of-a-kind franchise model for young Saudis interested in the coffee shop business. The franchisees will receive the know-how, the brand "Today Special" (World top brand), and become the only supplier of everything from coffee, Gelato, Waffles, Machinery, and packaging.
Abdulaziz Alluhaib, the visionary leader, embodies inspiration for aspiring leaders, showcasing how perseverance, innovation, and determination can drive success to unimaginable heights!