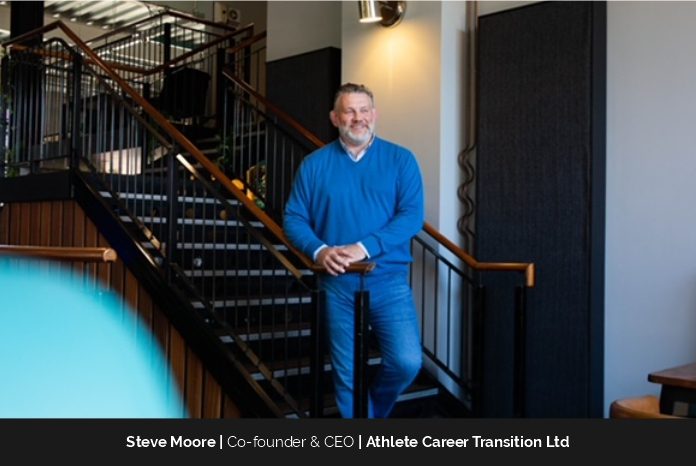 As the creator of the online rugby retail firm just4rugby, Steve Moore became a successful entrepreneur, mostly in the e-commerce and sportswear areas. Steve also founded the sportswear company just4sport, which has done well in the Middle East and Eastern Europe.
However, in 2011, Steve chose to take a different path and, along with his brother Andy, launched Athlete Career Transition (ACT) with the goal of creating a ground-breaking career transition program for retired top athletes.
Steve is enthusiastic about making the transition from sport to business as simple as possible for today's best athletes, and he is in charge of directing ACT's athlete evaluation and profiling process, as well as the growth of ACT's commercial ties. He works closely with both athletes and business partners, ensuring that the career development programs that ACT creates are structured, meaningful, and valuable for both the athlete and the business partner.
ACT
Athlete Career Transition (ACT) was founded on the combined career transition experiences of ACT's founders, Andy and Steve Moore, former Welsh International Rugby Union brothers.
Coupled with the reality that professional athletes in all sports are now retiring with little knowledge or comprehension of the abilities they have earned over years of high competition, ACT has designed a complete transition program for athletes at all phases of their career and beyond; Giving them the ability to successfully transfer their skills into relevant work contexts.
ACT under Steve Leadership
As a start-up in 2011, bringing a unique and trailblazing concept to market required tenacity, drive, and a significant amount of conviction in what the team had set out to achieve in order to overcome the market obstacles that we encountered. Steve and Andy (his brother and co-founder of ACT) were on the verge of bankruptcy for at least the first five years of the company. Fast forward 6 years, and ACT has seen its most continuous period of development in the last 18 months, becoming the world's top specialist in career transition, assisting more athletes than ever before, and collaborating with some of the world's largest corporations. He states, "We are all former athletes aspiring to offer the very best support to current retiring athletes with the collective goal of bringing our partners the most outstanding high-performance talent from a completely diverse background."
Always Learning Something New
Steve is constantly striving to learn, grow, think differently, expose himself to new possibilities, and put himself in difficult circumstances. He believes that here is where the most progress is being made. Prior to co-founding ACT with his brother Andy, Steve's life had been somewhat diversified. Steve has had several occupations throughout his life, including being a police officer in his early twenties, professional sports, and then being an entrepreneur and owner of numerous firms in various sectors, but he still considers himself to be at the start of his business adventure.
He was a professional and international rugby player for 12 years, experiencing all of the highs and lows of professional sport. When he retired from sport, he almost immediately became an entrepreneur, through necessity more than anything, and over the course of the next 6 years, he set up a number of businesses in the eCommerce sector, Team Sportwear industry, and sports consultancy space. Then he and Andy created ACT, and the rest is history!
As a leader, Steve's greatest successes and recognition are reflected in the achievements and development of those around him. He shares, "Seeing them succeed and develop, watching them grow, and, in certain circumstances, watching them leave to follow their own dreams."
Heading ACT
As a small business owner, Steve's duties at ACT are broad, but his primary focus is on business development. Working with current partners, strengthening, and innovating the company's partnerships, ensuring that the athletes it puts with its partners get on board seamlessly, and developing new business ties with partners that share its culture and values are all part of it.
Balancing Personal and Professional Life
Being the Co-Founder of ACT and balancing work and life is tremendously difficult; there is always something to do and to be honest, it is something Steve has struggled with for a long time. It is an issue that he continuously talks about with his wife, Sara, and urges one another to take time out for ourselves and each other, to remember to be in the moment, and to not become too preoccupied with our professional life. He recently spoke with a top business executive who gave him some excellent advice. As per Steve, the person said, "Be selfish with your time. Look after your wellbeing first before anyone else, because if you are not 100%, then how can you lead and support those around you to the best of your ability."
Steve says that one of the benefits of running ACT is that he absolutely loves what he does. He is in an extremely fortunate position that he very rarely feels like he is working. He states, "We have amazing partners that we feel are truly our partners. We support awesome athletes in their transition journeys from sport to business, and I have the most outstanding team that makes every day a pleasure to do what we do. Keeping them motivated means empowering them to be the best they can be through collaboration, creative goal setting, and supporting them to develop their careers."
Face Challenges Head on with Honesty.
Steve has faced many challenges in his life, but they have all contributed to making him the person he is today. He has an extremely positive outlook on life and any challenge that he is faced with, he feels, will always bring out the best in him. He opines, "I was taught from a young age that there are never problems, only ever solutions, and that is how I view life." When times are tough, Steve has discovered that "you will find out exactly who you can trust, who is with you for the long haul, and who doesn't have your best interests at heart. "Face challenges head-on with honesty, integrity, and resilience, and with the same enthusiasm that your welcome success," he adds. Do this and something good will always come from the challenges you take on."
The Journey of Achieving All the Success
Steve views life as a journey, an ever-evolving journey where everyone has the opportunity to learn from their own experiences and the ability to grow as a consequence. His dreams are the goals that he sets for himself personally and professionally. He believes that setting goals is important, having a vision of where you want to get to and striving to achieve them is part of the fun of life. Holding those goals too close and measuring success solely on the achievement of outcomes, goals, or dreams, on the other hand, can be completely debilitating. Having the mindset to pause, enjoy the moment and all of the small successes along the way is key. He says, "If you are able to do this and adapt when things don't go your way, I believe that you can lead an even more fulfilling life."
Success, to Steve, means taking each day at a time and aspiring to be the very best he can be on that day. As a former professional athlete, he learned that the only way he would achieve his big goals and succeed in the long run was by paying attention to the process and letting the ultimate prize take care of itself. Now, it doesn't mean that you never think about where you want to get to or plan ahead, but in Steve's experience, the longer that you linger on your dreams, the further away they get. He adds, "Small steps every day will get you to your destination quicker than large steps every so often. Focus on the here and now and the future will become clear."   
A Vision to Bring More Athletes to the Forefront
Andy and Steve's ultimate goal at ACT is to support as many former athletes as possible in their personal transitions from sport to business. They are redefining success for them and aim to create a future for them that has stability and a clear vision for their futures. This means that their partners are key to this and building on the group of global partners that they are now working with is essential to achieving their goals. Steve believes that being an entrepreneur certainly isn't for everyone. There is a lot of sacrifices, hard work, and total dedication to what you believe in. However, his overriding message to aspiring entrepreneurs is to believe in your journey and the destination will look after itself!