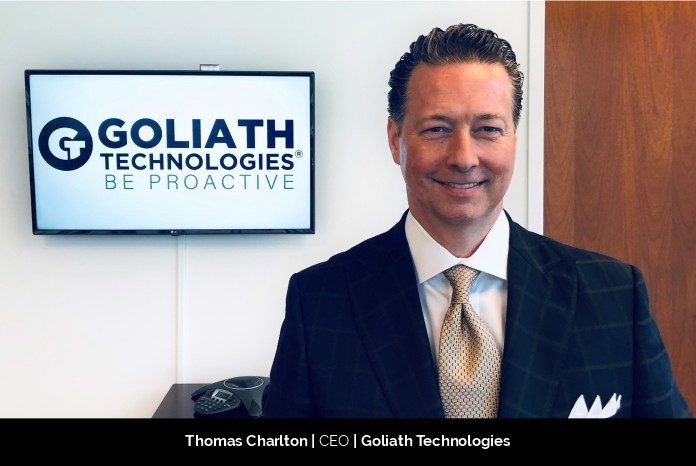 Thomas Charlton, CEO and Chairman of Goliath Technologies, has always had a clear vision of his intended path in life, both personally and professionally. Influenced by his father to have a positive impact on everyone around him, Thomas set out to do just that. Growing up, Thomas had the unique experience of being able to observe his father, who was the CEO of American Steel and Aluminum, interacting with many of his professional colleagues. From lawyers and bankers to shop foremen, he treated them all with a high level of respect, which was commented on by all years later outside his funeral, where attendees reminisced and shared stories of the impact his father left on them. His father's influence as a role model paved the way for Thomas to become a successful CEO himself, and informed his approach to leadership, where he makes an effort to improve the personal and professional lives of not only his employees, but of his clients and partners as well.
The Beginning of the Journey
Thomas started his career in the medical device industry. When the medical company he was working for at the time moved to San Francisco, Thomas also relocated. This move occurred during the Dot Com Era, an exciting time for technology, especially in the middle of San Francisco. As Thomas looked around, he became attracted to the uncapped ambition he saw in the technology industry around him. At thirty years old, he left his executive position at the medical company and took over as regional manager at Legato Systems, a backup software company. After only two and a half years, Thomas landed his first job as CEO at a software company.
The Start of Goliath Technologies
Before founding Goliath Technologies, Thomas worked at five venture-backed companies. All five companies were failing operationally when he joined, but they had good products and markets. Thomas explains how the goal of venture-backed companies is to grow the company and exit in a certain amount of time. Additionally, the company takes outside financing from a venture capital firm and adopts the goals of that firm. After doing this with several companies, Thomas desired a different experience. He wanted the flexibility to grow a company long-term while prioritizing clients and employees differently. This goal led to the start of Goliath Technologies.
When Thomas started Goliath Technologies, he did not have the resources and outside capital he had at his previous venture-backed companies. This time, Thomas was starting with zero revenue and resources, funding everything himself. Thomas took everything he had learned from his previous companies to start and grow Goliath Technologies. He had a good understanding of the market and quickly learned to prioritize spend to maximize value.
Goliath Technologies is focused on relieving the professional pains of corporate Information Technology (IT) professionals. Corporate IT departments are engaged in many current initiatives such as working remotely, BYOD (bring your own device), moving to the cloud, and more, but many solutions are not tailored to make these initiatives simpler for the IT Pros doing the work. All these initiatives are massive projects that fall completely on IT departments, who generally are not experts in all areas. Goliath Technologies helps take the burden off IT departments by focusing on resolving end-user experience issues, helping to eliminate upset and angry end users who are experiencing issues reaching their applications or who have general slow performance. Goliath Technologies improves the lives of the IT professionals they work with by helping them anticipate issues before they occur, troubleshoot issues if they do arise, and document fix actions to confirm problems have been resolved.  Customers have said that when they use Goliath Technologies it has the impact of hiring two to three full-time employees to their IT staff. In addition to helping IT departments and IT staff at work, Thomas believes that they are making an impact on their personal lives as well. Thomas states that if you can improve someone's work life, it is bound to also have a positive effect on their personal life. Goliath Technologies interacts with their clients daily to understand what challenges and changes they foresee in the next 12-24 months in order to evaluate and understand how to help solve any anticipated issues concerning software and technology.
Growth of the Company
When considering growth, the company looks at its overall value, consisting of an increase in revenue and profitability. The company has grown on a year over year basis over the last ten years. Starting with just himself, Thomas has grown his team to under 200 employees. The company concentrates on hiring ambitious people that truly want to grow their careers and provides them with an environment where they can do so. Thomas believes that their hiring strategy ensures that they have the best quality people with the highest integrity and strongest work ethic who are focused on executing the company's overall strategy.
Thomas measures his greatest achievements by the people he has been able to help over the years. When he was working in the medical device field, he became a manager at the age of 26. At that age, he began to see the impact he could have on someone when he was able to improve their career. He realized that if he could increase someone's take-home pay and gave them more responsibility with a promotion, they would feel good about their work which would then positively affect their personal life as well. Thomas recalls how one year he was doing a presentation on work/life balance. He shared a graph with the audience that displayed the number of people who were promoted and the number of people who had bought a house, got engaged or married, and/or had children. There seemed to be a direct correlation between the two. Thomas states that when employees are spending eight or more hours each day at work, you want them to feel good about it. Thomas takes the well-being of his employees seriously and wants to make sure he is always fostering a positive workplace dynamic, so his employees can find fulfillment and achieve their goals in their professional life while also enjoying a fast-paced and stimulating environment.  At the end of each day when his employees go home exhausted, he wants them to go home feeling rewarded and feeling that they have accomplished something.
Finding the Right Balance for You
When balancing his work life and personal life, Thomas focuses on understanding where he needs to spend his time and for what reasons. There were times when he had to put a lot more hours into his work, while other times he was able to focus more on his personal life. When he accepted his first CEO role, he recalls it being difficult because it was his first time dealing with certain responsibilities. At that time, he knew more of his time had to be allocated to work. Thomas explains how when any life change occurs such as getting married, having kids, etc. you always need to adjust and decide where you allocate your time. Trying to allocate time evenly between your personal and work life can cause stress. Thomas's advice to others is to listen to yourself instead of trying to take advice from people who do not live your life. Some people offer advice on finding the right balance, but they are not you and they do not have the same goals. Understand what it is that you want to achieve and prioritize your life accordingly.
As for keeping employees motivated, Thomas believes that motivation comes from the individual. His objective is to hire motivated people and put a framework and culture in place that embraces their motivation and ambition and allows them to further their careers and improve their work lives.
Today Goliath Technologies' products are distributed globally, and they continue to expand their footprint. They are improving their core products to improve client value and are recruiting tech entrepreneurs who have new innovative products to augment their portfolio through equity partnerships. This year alone, the team at Goliath is expanding to include support for Citrix Cloud and other cloud solutions such as Amazon Workspaces, AWS EC2, Microsoft Azure, and Google Cloud. The vision for the company remains focused on bringing valuable technology to the market to address the professional pains of IT professionals. As Goliath continues to grow, Thomas expects to have the opportunity to continue to touch more lives and improve the work and personal lives of not only IT professionals, but all who work for or partner with Goliath.