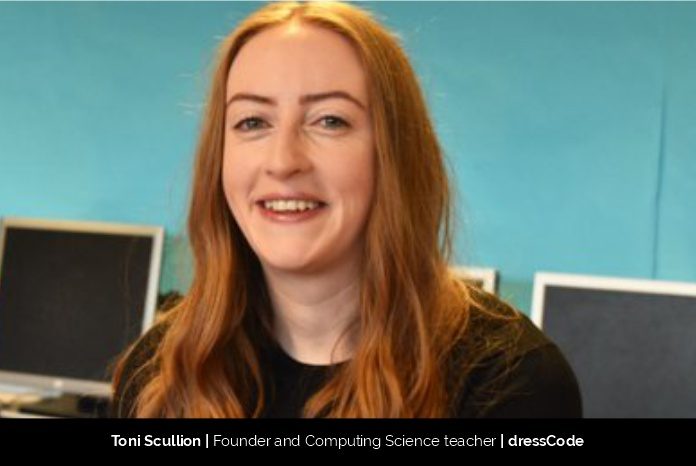 Carrying her childhood passion for computing, Toni Scullion, Computing Science teacher and Founder of the charity dressCode, is treading the path of her dreams through dressCode, where she wants her students to feel the same type of excitement around Computing Science as she did; she says, "I remember the utter joy and amazement I felt when I got my first computer and discovered HTML and CSS and changed the background color of a web page. This experience is what I still draw on when teaching or creating anything for dressCode."
Her aim is to bridge the gap between the wide tech sector and the declining number of females studying the subject at secondary school in Scotland. dressCode works to support, empower and champion others as much as they can, both teachers and pupils. She feels that teachers can encourage the next generation into Computing Science and shatter all barriers among them and their bright future in this field.
Overcoming Challenges Boldly
Toni feels fortunate to have had a positive education experience even though there were very few females in her university classes. Her passion drove her through everything. Now she states, "For me, success is seeing great delivery of Computing Science by innovative, engaging teachers and seeing pupils become excited and interested in Computing Science and the wider tech sector."
However, she knows that savoring the taste of success comes with its own challenges. As dressCode runs numerous initiatives such as an online coding club portal for pupils, hackathons, Computing Science Scotland – a network to help support, encourage and champion teachers delivering Computing Science knowledge, Digital Technology Education Charter, etc. now, Toni has to manage everything with her two outstanding trustees Brendan McCart and Richard Carey while working full time as a teacher.
Facing all the initial challenges, she has now become more resilient while moving ahead with her vision. She says, "I still sometimes struggle with belief in myself and confidence but having the right people around you really helps with this."
Innovative services of dressCode
dressCode is a multi-award-winning charity that is striving to motivate and inspire pupils into Computing Science, particularly girls, with the core goal of closing the gender gap. Sharing some alarming figures in Scotland for Computing Science at schools, she states, "In 2001, 28,393 pupils were studying the subject. As of 2020, we only have 9,873. Further, in 2001 – 9,825 females were studying the subject at schools. As of 2020, we only have 1895. Thus, dressCode is trying hard to inspire as many of the next generation into technology, and they are running a unique range of initiatives to help drive change forward."
There is a long list of initiatives that they are working through, and dressCode has won many awards that made her recognized for the work she is doing. Owing to her efforts, last year alone, they were able to reach over 5,000 pupils across the UK.
Passion spurred motivation and success
Toni believed 2017 had been a significant year in which she garnered a plethora of recognitions. She says, "This is the year I was a finalist in Scotland Women in Technology awards in the Secondary Teacher of the Year category, awarded Cyber Security Teacher of the Year at the Scottish Cyber Awards, and won the overall accolade of the night as Champion of Champions."
All these recognitions lit her confidence and acted as a big motivation boost to keep following her dreams. She is elated that her work with dressCode was being acknowledged and figured that if she inspired one more pupil that they didn't have before, her efforts were worth it.
Bringing a change with dressCode
dressCode's core values are about inspiring the next generation into Computing Science. The team at dressCode wants to make a difference and help, and everything is built around that.
Toni adds, "We have never lost that, and with any new initiative we always ask the question "how will this impact the pupils" and if the answer is it doesn't or it won't in some way help inspire more pupils, then we don't move forward with that initiative. It's about holding on to the reason why we started dressCode in the first place and what our ultimate goal is, of seeing Computing Science thrive in all schools, uptake of the subject soar and the gender gap closed."
Being teachers themselves, they know how hard it can be and the challenges that are faced, so they help by removing barriers, providing support, and encouraging the pupils to push their limits. Partnering with industry is also a vital aspect as it helps raise awareness of opportunities for young people. Toni states, "We want to work with organizations who also value the next generation and want to invest in them for the future."
Taking dressCode to the next level
Taking the onus of her roles, Toni likes to organize her day ahead so that she can give time to all the aspects. Planning the things for the day allows her to have a sense of control and perform her duties in an optimal way. She adds, "I would spend the day teaching a mix of year groups from S1 (11/12 year olds) to S6 (17/18 year olds). At lunchtime, I'd work with a group of senior pupils who help me run my dressCode club at my school. Then I'd go home, and when I have some time in the evening, I will work on all things dressCode, like, responding to emails, doing calls, planning the latest initiatives, scheduling social media messages, etc. It's busy, but I love doing dressCode and helping others."
She realizes that the figures in Scotland are extremely alarming and plans to make a difference with her passion and hard work. She mentions, "It helps drive me and make me want to do more for the subject that I love and work to ensure pupils know about the incredible opportunities that the world of tech can offer, that they can change the world with code."
Being a determined individual, Toni urges the young aspiring leaders to chase their dreams. She says, "If you have an idea that you believe in and are passionate about, go for it! Reach out and ask for help. Linkedin has been a great place for support for me over the years. Listen to people's opinions and thoughts, you can always learn from others, but mostly listen to what feels right for you."
Planning the future strategies
Even coming this far from the advent of the company, Toni plans to spread the roots even further. She expresses, "We have lots of plans and initiatives that we are working on. Our next two plans that we are working on are dressCode awards and a dressCode scholarship, which is so exciting! "