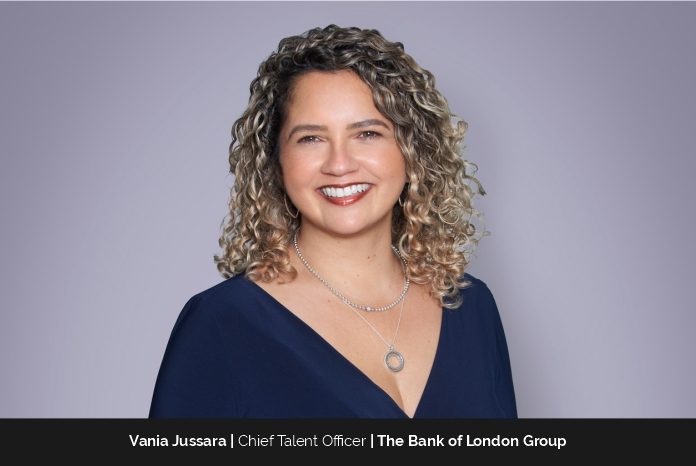 Vania Jussara is the Chief Talent Officer and Chief People Officer of The Bank of London Group – a next-generation technology company building the world's first purpose-built global agency, clearing and transaction bank and. Vania is an insightful and influential business leader with experience in designing and setting up business units and operations worldwide. She continues to be fascinated by the relationship between behaviour and environment - the sweet spot where the desire to develop and contribute meets sustaining growth opportunities.
Inspiration to be an HR.
"We invest most of our time awake during our life working. It is the best part of our days, the best years of our lives. However, for many people, working is not living. When they talk about the work-life balance, they have 'living' in opposition to 'working'," states Vania. She likes to think that working is part of living instead. It is the contribution you make to the world around you in your sphere of influence. Vania chose HR and joined The Bank of London to enable this experience to be meaningful and to enrich people's lives.
Anthony Watson, our CEO and Founder, has a clear ambition to be a different type of Bank. Having worked for fantastic big companies, Vania says that she has seen both outstanding and poor experiences. She wants to be part of a team who will co-create unique work experience.
Success is the feeling of fulfilment.
Vania believes that: success is to look back and know and feel you had a rich and fulfilling life. The best way to identify what is important to you is to think about your 100 years birthday party. When you reflect on who will be there, what they will talk about and what will be your dearest memories, you gain a perspective of what is success for you. We tend to live life believing it is eternal, albeit we know it is not. Thinking of the end brings us wisdom on how to use the most precious resources we have: our time and our attention.
Challenges make you stronger.
At The Bank of London, they are always looking for exceptional talent. "If you reflect on your life, you will see that the moments you learned the most were the ones you were challenged—the ones you had to have the grit to overcome difficulties or barriers. But not everyone will learn through hardship; we all know people that have been through multiple experiences without changing. It is essential to believe you can grow and develop to do so," says Vania.
Many situations in Vania's career were tricky. Once, she was hired to do a job in the UK, six months later, they were relocating to Denmark. The initial was hard, new language, culture, and industry. There were many moments when she asked herself, "What am I doing? Could I make that work?" Denmark ended up being one of her career highlights. She states that she learnt to love and cherish that beautiful country and culture, but first and foremost, she realized that they could do it, as it was a family experience; they had a fantastic experience there and learned a lot.
Bank of London and its services
Bank of London has the world's first purpose-built global payments and clearing platform via a single API. It extends its cutting-edge capabilities and technology directly and as a BaaS solution to all customer segments.
The Bank of London offers safe and frictionless payment and account solutions to financial and non-financial institutions for global money movements and cash management with a capital-efficient model.
Vania's contribution to Human Resources
You do the small things thinking about the big stuff. We think, design and implement people processes to enable the work experience to be meaningful and to enrich our colleagues' lives. Vania believes that the utmost objective is to understand what our external customers need and shape the organization to deliver exceptional products or experiences.
"Let me give an example: In September, we will communicate our performance development approach. It is future-focused and acknowledges that every conversation a colleague has with their leader is a performance conversation about their contribution. We want to move away from unhelpful and unproductive performance reviews about something that happened 12 months ago," she explains.
Importance of innovative ideas in business
Innovation is key. At The Bank of London, they have a value that says, 'We learn. Fast.' In doing so, they acknowledge that they will not get everything right, but they value scar tissue and the ability to change their minds and course correct.
"I am surrounded by exceptional talent that joined the bank of London to create their life's work. Rebecca Skitt, our Co-President and Chief Administrative Officer, talks about the ones that have challenged the status quo and brought in fresh ideas. We call them exceptional," Vania notes.
Vania's vision for the company and influencing change.
Vania states that at The Bank of London they want to create an inclusive culture. An environment everyone can bring themselves, contribute and be productive. "The best thing about creating something new is that you have no legacy to change. It is thinking from the start and designing how you would like to be. However, our colleagues and leaders come from different backgrounds and contexts," she says.
The challenge, then, is to rethink your own experience and accept or welcome another way of doing it and continuing with the Performance example. They were trained in a reductionist approach: Describe five things; do five things – you have performed. However, everyone knows this is not true. They want to take a holistic perspective and think of contribution instead. "What and how have you contributed to the team, the Bank of London, and the Society around you? It is more challenging and requires judgement, as all meaningful experiences do," Vania further explains.
Beginning of Vania's career and recognition achieved
Vania started her career in market research. Human behaviour always fascinated her. The immense capability we have to create incredible things but also to cause significant harm. One of the many Mentors she had throughout her career invited her to join the HR team. He spotted Vania's passion for behaviour, her multiple questions and opinions about the colleague's experience and asked her to come and join the team who was trying to solve it.
Vania has had great examples around her, and she shared two that are no longer around.
Her grandfather had an unshakable belief in the human being. Their potential to change and to achieve great things. She learned kindness and generosity from him.
Her grandmother, who passed away this year, showed Vania with her life to have internal confidence – it is possible to do it, and change is always necessary.
"We have the privilege to touch many lives in our daily tasks," Vania asserts. The best recognition she has received is the multiple individual conversations when a person's life is enriched, and they find themselves in flow. In other words, when the challenges they face meet the capabilities they bring. "We are back to doing the small things, thinking about the big stuff. When you touch one person, you are changing the world, one at a time," she states.
Responsibilities as an inspiring leader
As Chief people officer Vania's responsibilities are – Three higher level goals: how they organize the work, what is the colleague experience they deliver and how it is to work there – culture.
As Chief Talent Officer Vania says her responsibility is: Talent – get to know people and plan the jigsaw over time: do we have the capability? Do we need to buy? Can we develop? Keep adjusting as the context keeps moving.
There is no typical day in a start-up. "You go from the strategic to the very operational on any single day. You can sign off payroll; do an interview; have a conversation with a leader who is struggling; discuss a succession plan; write documents for regulatory approval; attend a leadership session to discuss customers, commercials, and risk, have a workshop, write a policy; review an announcement, etc.," Vania explains.
Maintaining balance and keeping others motivated
Vania is not sure if she has a great work-life balance. However, she certainly feels she makes her own choices, and she is at peace with them.
She believes that you cannot motivate people. It is always an individual choice on how you want to spend your time and attention. What can be done, as leaders, is create an environment where each individual chooses to stay and give their contribution.
Plans for the future of The Bank of London Group & personal goals.
The Bank of London is the world's first purpose-built global payments and clearing platform. They claim to be here to disrupt a sector that for far too long has provided inadequate products and services.
Their ambition is to be the most efficient clearing bank in the world due to modern built-for-purpose, cloud-first patented technology, highly automated legacy-free processes and multiregional licensees in a single ecosystem.
 In other words:
1) Faster and more price competitive
2) Easy to access through a single API
3) Safe, transparent, and compliant; and
4) Scalable and proven core platform
It is a technology company in a bank wrapper; The Bank of London has already been licensed as the UK's 6th principal clearing bank, only the 2nd in the last 250 years. "We will be known as being a different type of bank, to have an inclusive culture. We want to provide exceptional products and services to our external customers, but you cannot give what you do not have. The customer and colleague experience are two sides of the same coin," she says.
Her advice for aspiring business leaders is: Go back to the 100 days birthday and consider what success for you is. Develop your own brand. Be proactive and manage your choices, don't outsource your career or development to anyone.  Always stay long enough to see the results of your work. Be the best at what you do. Develop three key capabilities – growth mindset, learning agility and grit or smart resilience. Recognize when it is time to move on.