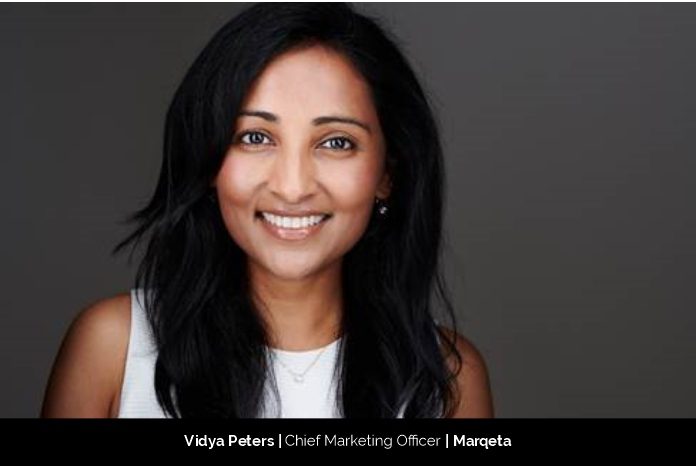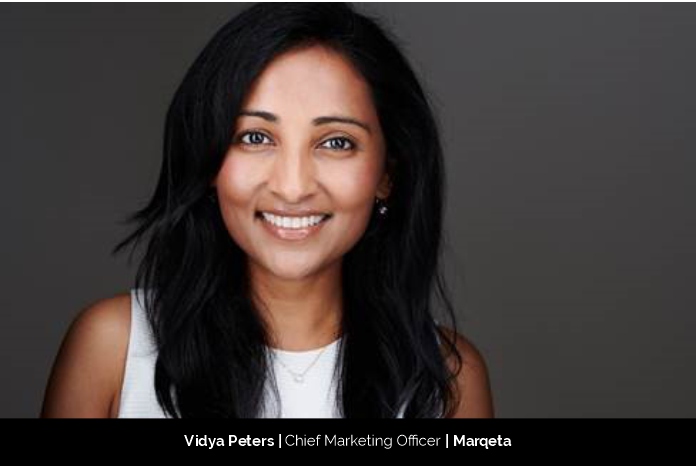 Having simple and tailored payment solutions is often at the heart of innovative customer experiences. Building the capability to make custom and safe payments with the least amount of risk is the goal of every high growth tech company. Vidya Peters, CMO of Marqeta, is bringing to market the world of modern card payments. Marqeta has developed an innovative platform that puts the control of building cards in the hands of businesses looking to create innovative experiences for their customers and end-users. Marqeta uses open APIs and modern developer-first technology to simplify the world of complex payments infrastructure. With deep experience in leading various functions of marketing including PR, design, corporate marketing, and demand generation at various companies, she aims to transform complex technology into simple solutions to reach more businesses across industries.
The education
After completing the bachelor's degree in industrial engineering from Northwestern University, Vidya started her career at Bain & Company as a strategy consultant. She worked on a variety of strategy projects in Chicago, Bangkok, Singapore, Hong Kong and Mumbai. Subsequently, she returned to university to pursue a dual master's degree in business and Public Administration from the Kellogg School of Management and Harvard Kennedy School.
Working her way to become CMO at Marqeta
After graduate school, Vidya started as an Associate at Intuit and worked her way up to Director of Marketing. Over 7 years at Intuit, she worked across a variety of businesses including desktop and online software products in Intuit's small business division. As the Director of Markting for QuickBooks Online, she grew the subscriber base of the company's leading SaaS program by over 50%.
After Intuit, she joined MuleSoft as the Vice President of Corporate Marketing. She led in-house creative/design, web development, public relations, analyst relations and developer relations. She built a strong strategy and vision for the corporate strategy team, and her role was subsequently expanded to include events, partner & training marketing, and talent marketing. Vidya helped lead a successful IPO for MuleSoft with a strong narrative for the company as a category creator and market disruptor.
Vidya was promoted to CMO at MuleSoft in 2017. She led the product marketing, demand generation, brand, corporate marketing, and field marketing functions, and scaled the team to over 100 marketers globally across North America, South America, Europe and Asia Pacific.
She has always been fascinated with disruptive technology that simplify complex infrastructure. Marqeta was doing exactly that in the financial technology industry.  Historically, card products were standard in functionality and took ages to change. Marqeta has disrupted this entrenched industry with legacy technology and built a platform with open APIs that allow any company to create very specific experiences for their customer, worker or vendor. Vidya is currently the CMO at Marqeta where she leads design, corporate marketing, demand generation, PR, and product marketing.
Role as CMO at Marqeta in transforming the future of money
Being the first modern card issuing platform, the company is redefining how money moves globally. Now every company can have full control over the payments make to their constituencies without worrying about fraud.
Vidya says," A few large enterprises have historically dominated the financial services industry." However, in a technology-empowered world, every company, no matter small or large, is a contender in the industry."
To change the card experience for companies, Marqeta developed a modern card issuing platform. The modern architecture allows for flexibility, a high degree of configurability, and accelerated product development, democratizing access to card issuing technology. Marqeta's open APIs provide instant access to our highly scalable, cloud-based, and configurable payment infrastructure that enables companies to launch and manage their own card programs, issue cards to their customers or end users, and authorize and settle payments transactions.
The technology is complex and in largely unchartered territory. A core part of the CMO's role is to make the technology more accessible and understandable to innovators who are not steeped in payments but know that card products are essential for their customer experience.
The power of team
A core tenet of Vidya's management is to build a high performing team where collaboration is valued. "When you put the interests of the customer first, and the company before yourself, you build a higher performing team that goes further." And it's critical to ask for help – from colleagues, mentors and managers – there is deeper collective context and knowledge that is impossible to build alone.
And as the world has been working from home, the team realm has extended to the home. "You were never meant to do everything on your own. We support each other as we ebb and flow between work and family related work that all needs to get done when working from home." she adds.
In addition to the CMO responsibilities at Marqeta, Vidya Peters is a board member of InfluxData and Apisero, an advisor at Snorkel AI and the Dutch Operator Exchange.
The face of Marqeta in future
Marqetea has issued over 270 million cards and just launched a new credit card issuing product that makes it a truly comprehensive platform. The company has over 500 employees and is certified to issue cards in 35 countries. With payments at the heart of some of the most disruptive companies in the world, Vidya Peters is thrilled to be a part of Marqeta and fuel the global money movement.