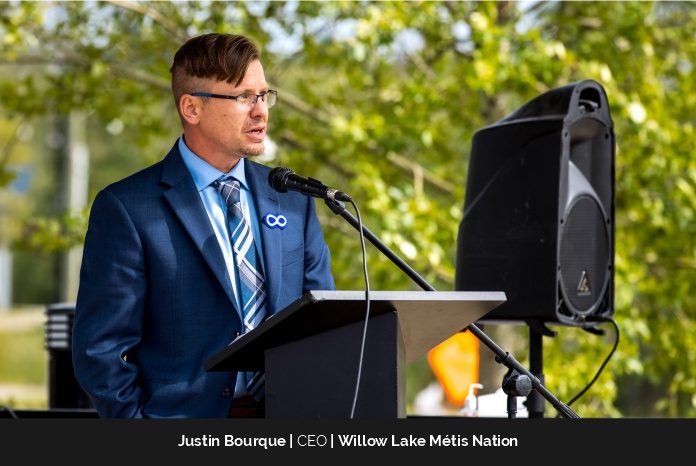 Willow Lake Métis Nation (WLMN) is a Métis community whose citizens largely live in Anzac, Alberta. WLMN's origins are in Alberta's fur trade history, as well as the economic and political realities that arose during and after the fur trade.
The historical village of Willow Lake was adjacent to trade and transport routes that connected Fort McMurray and Willow Lake to Lac La Loche to the east, Fort Chipewyan to the north, and Lac La Biche to the south. Willow Lake Métis peoples lived on and derived their livelihood from the lands between these locations through much of the later fur trade period, and they continue to use these lands to exercise their Indigenous rights, sustain their culture and identity as Métis people, support their community, and pass their knowledge and way of life on to their descendants. Bourque, Cardinal, Huppie, Lavallee, McKenzie, Quintal, and Whitford are among the important Métis family lines represented in the WLMN community.
A Historic Acquisition
WLMN recently purchased approximately 205 acres of land near Anzac to reset its environment and offer a permanent home for their community. The Nation will have a sustainable future because of Sohkastwâwin, which includes an eco-bison ranch and local food supply, a community culture center, Métis housing, and local power generation. Sohkastwâwin is the community's means of addressing climate change and guaranteeing the nation's resilience.
 "We are no longer a landless Métis community," says Justin Bourque, CEO of WLMN. "Sohkastwâwin reinforces our self-governance model and the actions we take now to develop resilience will change the course of our nation's future."
Last September, WLMN, Suncor, and seven other Indigenous communities in the Regional Municipality of Wood Buffalo announced a historic collaboration. The Astisiy Limited Partnership purchased all of TC Energy's equity position in the Northern Courier Pipeline, giving it a 15% stake in the pipeline. The WLMN was able to buy their land as a result of the earnings through that relationship. Sohkastwâwin is Astisiy's first publicly declared significant investment.
The Path of Success
A celebration was held on Friday, June 3, on the newly acquired land in recognition of this historic Métis milestone.
The unveiling was attended by stakeholders and supporters from across Canada. Their inclusion reinforces the value of collaborative collaborations and emphasizes that, while WLMN is and has always been self-sufficient, relationships are the foundation of their current success.
 "Sohkastwâwin is proof that more can be accomplished together than on your own," continues Bourque. "Our Nation's success is not built by our achievements but on the relationships and partnerships we have formed. These connections have bolstered our confidence to continue to actively maintain our right to self-governance. The Willow Lake Métis always have been – and always will be – resilient peoples."
Signing Partnerships on Climate Resilience
Together, WLMN and The Resilience Institute (TRI) aim to use a multidisciplinary approach to reviving, developing, and monitoring land, which is heavily damaged by industry activities. TRI is a charity organization that collaborates on multi-pronged efforts to improve resilience to the current and future consequences of climate change with local and Indigenous peoples, academics, and businesses.
"Sohkastwâwin is a Cree term for 'the act of being resilient' and it is the future for our people," says Justin Bourque, CEO of WLMN. "Sohkastwâwin is an ecosystem of food, culture, and economy that will provide our citizens the ability to maintain resilience in an ever-changing future of climate change and bolster our ability to adapt. We are grateful for the opportunity to work with the Resilience Institute on this important initiative."
"This initiative exemplifies the meaning of doing business differently in contrast to 'business as usual' in the context of climate change and the impacts it is unleashing on communities," says TRI's Founder and President, Laura S. Lynes. "By taking a transdisciplinary approach to Sohkastwâwin, we bring together the wisdom of local and traditional knowledge holders with the best available science to meet the community's objectives. We're really excited about this journey."
The collaboration was strengthened through a $30,000 community contribution from Keyera Corp. ("Keyera") (TSX: KEY). The extraordinary gift will be utilized to fund critical cultural and scientific research to support TRI's work and the WLMN's goals, such as developing holistic land development and monitoring plans for the nation. The next stage is to examine the present landscape and develop an understanding of the potential implications of their land plans via a climate lens. The University of Saskatchewan has been tasked with laying the groundwork.
 "Keyera is pleased to support the future development and vision for this land through our $30,000 donation and wishes Willow Lake Metis Nation great success as they step forward on this journey," says Dean Setoguchi, Keyera President & Chief Executive Officer. "At Keyera, we strongly believe in the power of collaboration and seek partnerships with those who have like-minded goals, such as sustainability and community resiliency. That's why we're honoured to support the Sohkastwâwin initiative and look forward to continued growth in our relationship with the Willow Lake Metis Nation."
Sohkastwâwin will achieve several objectives, including economic advantage—not just for the nation, but for the whole community. The cultural space will provide traditional food, medicine, materials, and reclamation sources for the WLMN peoples and the surrounding region, as well as opportunities for them to communicate their traditional methods with others to perpetuate Métis culture. Above all, Sohkastwâwin will reintroduce WLMN to the bison, a culturally significant keystone species.
The development of this long-term resource will better equip the Nation and future generations of WLMN people to deal with a climate-change-affected environment and economy. WLMN intends to begin with 20 heads and will work with industry partners to gradually expand the herd. The WLMN and the bison will then develop a new alliance.
"Bison and the Métis are intricately connected, and both share a powerful historical connection to all living things," says Justin Bourque, CEO of WLMN. "Revitalizing our connection with the bison will be a key component in our work to revitalize our land and lay the foundation for our future."
About Justin Bourque
Justin Bourque is WLMN's CEO and elected Vice President and was recently honored as one of the 10 Most Innovative Business Leaders to Follow in 2022. Justin was born and raised in the Willow Lake/Anzac area and is pleased to call it home. He is a traditional harvester and land user who continues to practice his land rights and pass on his expertise to his community and family.
Justin has been the proud architect of a change away from a centralized style of governance so that his community may return to a grassroots organization administered by and for the WLMN. Justin and his leadership team have made significant progress in restructuring an organization that is accountable to its citizens and driven for community prosperity while remaining culturally grounded. They remain dedicated to introducing new community-based services to the Nation, to protecting and enhancing the rights of the Willow Lake Métis, and to ensuring the Willow Lake Métis have an economically viable future for future generations.