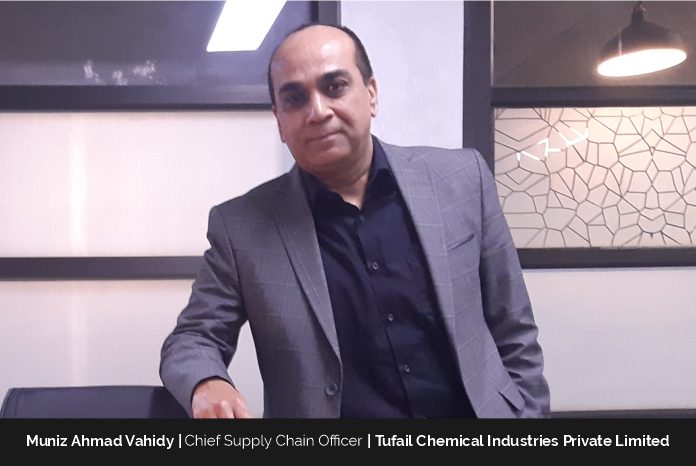 The supply chain industry is complex, and it involves several different functions, including procurement, logistics, planning, and operations management. Experienced professionals in the supply chain industry have a deep understanding of how these functions work together, and they know how to manage them effectively. Experience in the supply chain industry provides professionals with a unique perspective on how businesses operate. Supply chain professionals are involved in managing the flow of goods and services across the entire organization, and they have a holistic view of the business. This perspective allows them to identify areas for improvement and make strategic decisions that can have a significant impact on the organization's overall performance.
Muniz Vahidy, the Chief Supply Chain Officer at Tufail Chemical Industries Private Limited, is a detail-oriented and well-organized leader. With extensive experience in supply chain management, manufacturing, procurement, and research and development within the world's leading FMCG companies, Vahidy is committed to improving business performance through value creation, market insights, strategic partnerships, and innovative approaches to work.
Before Tufail Muniz was in Unilever. Muniz's experience with Unilever was a valuable opportunity that helped him develop and enhance his skills and competencies. The company provided him with a balanced leadership growth profile through their three-highway concept, which gave him a solid understanding of the business, diverse experience, and the ability to respond effectively in adverse situations. Muniz had the opportunity to travel and explore different countries, which helped him understand best practices and gain confidence in sharing his perspective with the audience and senior leadership. He also gained valuable knowledge about working relationships, the latest technologies, unconventional productivity tools, company transformation, the deployment process, organic growth, and profitability. Unilever's reward and recognition system and learning tools played a pivotal role in Muniz's career development.
The Company
Tufail Chemical Industries Private Limited is a well-established chemical manufacturing company based in Pakistan. The company produces high-quality LABSA 96% & 90%, as well as SLES 70% & 30%, which are manufactured on state of the art plants. Tufail owns and operates five plants, employing over +350 people.
The company's vision is to transform the chemical industry in Pakistan through innovation, import substitution, and global expansion. Tufail is among the largest and most prominent manufacturers of industrial chemicals in Pakistan. The company not only provides its products to the local market and leading multinational companies, but it also has a global presence. Tufail has over 10 product lines, more than 1,000 customers, over 350 employees, and a production capacity of more than 250,000 tons. The company's key product range includes LABSA, SLES, SLS, Formic Acid, Sodium Sulfate, Acetex Plus, Sulphuric Acid, and Aluminum Sulfate.
Resilient towards Challenges
Muniz firmly believes that challenges are a catalyst for personal and professional growth, making individuals stronger and more resilient. A true leader's credibility can be determined during difficult times when the overall situation is adverse. Such situations serve as a litmus test for an individual's strengths, weaknesses, skills, and competencies, providing valuable learning opportunities.
Muniz has personally experienced this while working for a globally renowned FMCG company. For ambitious companies, sustainable growth is critical as it creates future opportunities. To achieve this, a company needs financial resources to invest in research, innovation, and product portfolio expansion. Muniz and his team were tasked with tripling the business by launching 16 new brands within three years, which was a significant challenge.
However, Muniz and his team saw this adversity as an opportunity to excel. As the R&D head, Muniz's role became crucial in ensuring the successful launch of 16 new brands within the challenging timelines. He set key performance indicators for himself and his team to ensure that all launches landed the first time at the right price point and within the agreed timelines.
Thanks to their hard work and dedication, Muniz and his team successfully launched all 16 new brands within three years. This achievement completely transformed the company in terms of turnover, profitability, employees, and product footprint. Today, Muniz can proudly say that his team turned adversity into an opportunity and achieved remarkable success.
Maximizing Value Derived from Technology
Tufail Chemical Industries Private Limited is guided by a set of core values that include respect, integrity, sustainability, and excellence. The company values and respects its employees and the work they do, and it operates with honesty and integrity in all aspects of its business. Tufail is committed to sustainability, aiming to achieve long-term success while also supporting the success of others. The company strives for excellence, constantly seeking to improve and achieve its best.
The company's strategy is centered around maximizing the value derived from technology and big data, while also minimizing the need for imports through localization. Continuous research and diversification are critical to Tufail's success, as the company seeks to disrupt the market with innovative products and solutions. By focusing on disruptive innovation, Tufail aims to enter new market segments and grow its business while staying true to its core values.
Learn to Adapt and Lead with Empathy
Muniz recognizes that a true leader must be resilient and adaptable to changing environments, otherwise they risk being left behind. As a leader, it's important to serve as a role model and inspire others through knowledge sharing, counseling, and honest guidance. Muniz believes that clarity in concepts, technology, and leadership standards is essential to influence the younger generation and future leaders.
Effective leadership also involves clear objectives and robust engagement with others. By involving others in discussions and making them feel like they are part of the decision-making process, they are more likely to feel invested and take ownership of the outcome. This approach creates a collaborative environment where everyone has a stake in the success of the organization, promoting teamwork and ultimately leading to better outcomes.
Muniz's message to emerging leaders is to believe that nothing is impossible and to give themselves ambitious targets to achieve outstanding results. Muniz also emphasizes the importance of developing a strong team by ensuring that the right people are in the right places. Furthermore, Muniz encourages leaders to contribute to the development of young and future leaders, as they are one of the most precious assets that one can carry.
Sharing the Significance of Personal and Professional Balance
Muniz has learned from professional experience the importance of work-life balance. It is essential to balance the demands of work, family, and personal well-being to achieve a fulfilling and successful life. Muniz recommends using time management tools, multi-tasking, and effective time utilization to help balance these demands effectively.
Moreover, Muniz recognizes that health is a crucial factor in achieving work-life balance. A healthy employee can deliver good results, while a person working under stress or depression could be a problem for the entire company and family. Muniz recommends maintaining both physical and mental health by eating healthy food, exercising regularly, spending quality time with family, and engaging in positive socialization.
Muniz understands that work-life balance is critical for both personal and professional success. By prioritizing health and well-being, managing time effectively, and balancing the demands of work and family, individuals can achieve a fulfilling and successful life.
Views on Success
According to the Oxford Dictionary, success is defined as "the accomplishment of an aim or purpose." However, Muniz holds a different perspective on success. He believes that success is not limited to wealth, power, or fame, but rather a feeling of satisfaction and happiness that comes from living a certain way of life or pursuing a particular activity. Muniz is driven by passion and determination to achieve ambitious targets, and when he accomplishes them, it gives him renewed energy and confidence to strive for even greater heights. He enjoys taking unconventional and innovative approaches to challenges, and he never limits himself. In order to effectively lead a team, it is crucial to have a clear understanding of the objectives and deliverables of the project. Muniz firmly believes that the sky is the limit and encourages others to believe the same.
Focusing on Improving the Profitability and Working Environment
Muniz's plan for the future of Tufail is contributing to the company's profitability and working environment. Muniz aims to use their previous experience and knowledge to benefit the company by developing a strong supply chain team that can deliver outstanding results. Additionally, Muniz plans to expand the company's product portfolio through disruptive innovation and market development to improve the overall profit and loss (P&L) of the company.
To support these goals, Muniz is also working on implementing a robust forecasting and planning system that is aligned with the company's technical capabilities and sales targets. Finally, Muniz believes in simplification and aims to simplify complicated and non-value-added processes to improve overall efficiency.
Muniz wants to help Tufail grow and succeed in the future. By focusing on these key areas, Muniz can help the company become more profitable, efficient, and competitive in the marketplace.