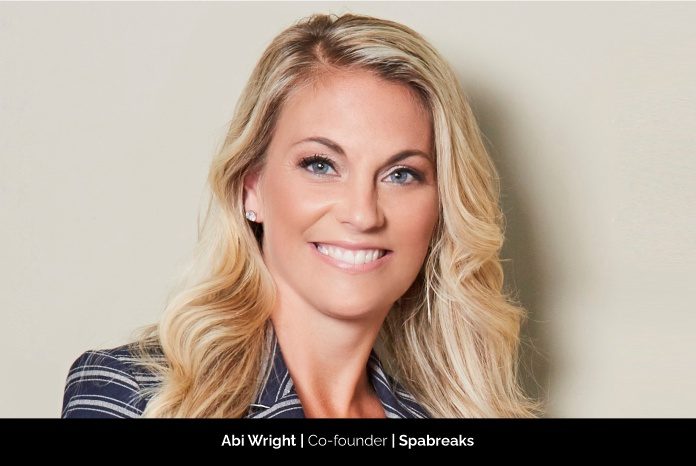 The thought of taking a relaxing day off and spending it at the spa to lower the stress levels, has been deemed as an elitist lifestyle. To change this stereotypical outlook and with a view to make spa services available to everyone, Spabreaks.com was started in 2008. Backed by ten years of industry experience in spa and hotel marketing, Abi Wright was sure about the entrepreneurial path she wanted to pursue and was passionate to bring about a change in the society with a distinctive vision. As she founded Spabreaks.com, Abi was prepared to overcome every challenge with determination that made her see success in a just a few years, making Spabreaks.com the market leader.
The Spa Breakthrough
An entrepreneurial journey is not easy. It requires immense dedication and a motivated spirit to keep up amidst the failures. Abi knew that her journey is not going to be a cakewalk especially, the idea of starting a luxury product with an in-house call-center focused on premium customer service in a time where the UK market was undergoing recession and the Groupon model of discount buying was at its peak. As Spabreaks.com was established, the idea of growing the business was challenging and seemed farcical going against popular advice. Abi possessed the market knowledge required to pave the way in those difficult times which kept her and her team motivated. What distinguished Spabreaks.com from the lot was their quality of service and within three years, they went from being a small contender to the market leader.
Spabreaks.com is the one of the leading companies of its field in UK. Having started the company in the middle of a recession, they were ranked the second leading company in The Sunday Times Virgin Fast Track 100 in 2012 following revenue growth from £250k in 2009, to £3.9m in 2010, £6.8m in 2011 and £11m in 2012. This year the turnover of the company has exceeded over £26m. Today Spabreaks.com sends more than 6000 people on spa days and breaks each week and has a customer database of more than one million people. The number of venues they work with now exceeds 900 in the UK and overseas, and the strength of the staff is more than 90 employees who moved from offices in London to Brighton in 2017 in order to facilitate a more positive work/life balance.
A Service for All
Spabreaks.com operates on a client centric work culture. Right from the beginning, their goal was to really open the spa industry to everybody, and to show the value of spas, in all their guises, for peoples' health and well-being. Spabreaks.com is UK's largest spa booking agency, providing spa days and breaks for everybody and every occasion. As a part of this, they have worked hard to make spas more accessible and address wellness on a more personal level. They offer low-cost spa days and holidays for singletons, hen parties, groups and everyone in between as well as bootcamps, spa and theatre packages, recovery retreats and many more special services to provide their clients with the best experience.
Spabreaks.com now works with more than 900 spas in the UK and around the world and offer spa packages that are easy to book over the phone or online, whenever and wherever you want to go.
The Distinctive Factors
Spabreaks.com has been able to secure a leading position in the market because of their unique methods of operation. There are three main factors that identifies Spabreaks.com as a leader. Firstly, they listen to their customers and value their feedback. They work on the feedback received and make significant changes accordingly. Secondly, they work closely with their venues to ensure that they are creating packages that are in line with what customers want and showcase the best of what each destination has to offer. Thirdly, Spabreaks.com take every step possible to make booking easy and convenient for their customers. That would include, a wide range of options in terms of price point, geographical spread and package variety, as well as making it easy to book online, over the phone via their sales consultants or through online chat.
These quality services set Spabreaks.com apart from the industry and has earned them a good reputation and concrete name in the market.
A Woman of Visions
As a kid, Abi recollects her fond love for animals and wanted to work with animals – maybe be a vet, but mostly she wanted to be around horses and dogs. She came from a very normal background, growing up in Devon. After completing her education at a local school, she went to Glamorgan University to do Communication and Media Studies, followed by school and then to Cardiff University for a postgraduate qualification in journalism and law. While she was yet exploring her career path she started as a journalist before she realized that she possessed skills that better suited for marketing. After time contract negotiating in Maritime Security following 9/11, she worked with a small collection of hotel spas. This is where Abi realized that there was an opportunity for changing the perception of spas and working with them aware of their commercial potential. She discovered that there were only a couple of companies marketing spas, despite the growing demand. As a result, she launched, Spabreaks.com in 2008 just four months after her first son was born.
Spabreaks.com started as a team of three and are now a team of 90. As the CEO of the company Abi loves to be involved in every operation. She does not see herself as someone who sits in a glass corner office but is on the proverbial shop floor and gets involved in everything from sales to marketing which can be an isolating experience too, as the ultimate weight is that it is eventually your call and decision. "It's a role that has changed and grown as the company has grown, and it's tricky because no one really tells you how to be the boss. I am extremely lucky because I have a wonderful team of people around me who not only provide inspiration and energy to keep me motivated and inspired, but who also offer amazing counsel. I think that's really the key is surrounding yourself with passionate, talented and nice people.", Abi shares.
Abi is an independent strong woman who has overcome umpteen barriers in life and has outshone her potentials in every struggle. She has built a thriving business gaining the respect of not only her family but also her social circle.
The Driving Force
Making the spa industry more accessible has been a huge factor for Spabreaks.com, where there have been a lot of barriers in the past. It is an ongoing battle to improve therapist training, improve product availability, empower guests with information and to get insurance companies on side. Spabreaks.com wish that for it to be possible for therapists to tailor treatments to anyone's stage of personal wellness. In very broad terms that means it is not that you cannot have a specific treatment because you have cancer or you are pregnant or you have had surgery recently, it is that pretty much any treatment can be tailored to accommodate that.
The force that keeps the team motivated is that they love what they do. They work in a nurturing environment with possibilities for career progression, mentoring and lots of wellness experiences in the office such as yoga and massage, great training, and lots of incentives and rewards. "I know spa experiences can make to someone's physical, mental and emotional wellbeing, it's the people around me, and it's the knowledge I am providing for and setting an example for my children." Abi, adds.
The Future of Spabreaks.com
With their strong global presence, they are always expanding their product line and are working to grow the business as it is. Currently, they are about to launch a luxury collection as well. It's called the Elysium Collection and it's designed to showcase the gold standard of spas and spa experiences in the UK and Ireland. Packages are bucket list experiences and the spas have been chosen because they bring something unique and exceptional to the industry. With the increasing value people place on health and wellbeing, it is an exciting time to celebrate the best of the spa industry. The industry has changed over the last decade, and Spabreaks.com is all set to undertake new and innovative ideas that the market demands
Anticipating the market, meeting the needs of the clients and exceeding their expectations has made Spabreaks.com the leaders of the trade. Being able to bring about a change in lifestyle and well-being, Spabreaks.com has established that well-being is not a choice but a way of life and everyone deserves to avail of this service.