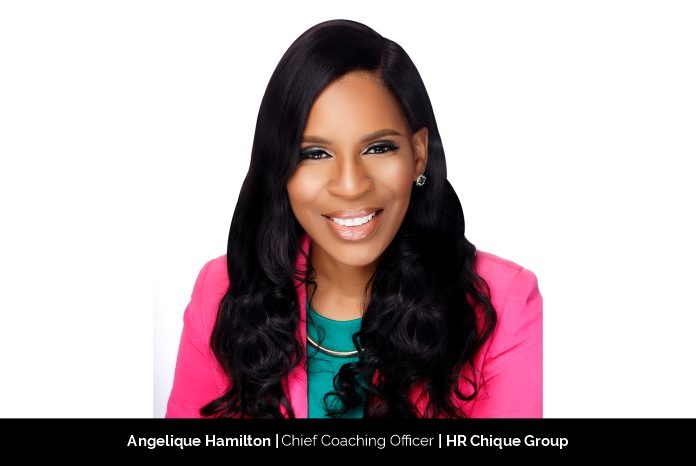 Human Resources has now become so crucial for a company's growth that it may have organizational and social implications if done improperly. "My goal is to assist companies in building brands that value their employees as an integral part of the business equation," quotes Angelique Hamilton.
Angelique Hamilton, Founder and Chief Coaching Officer of HR Chique Group is an agile and highly successful coach in a wide sector of industries, including non-profit, healthcare, tech and supply chain. She is leading the company with the objective of revolutionizing the world of People Operations and Human Resources. She is motivated to reimagine the future of work. She is known for always putting people first to deliver service excellence, "I am dedicated to transforming the world, one person and one company at a time."
For over 20 years, she has worked in a leadership capacity with non-profit organizations and for-profit businesses to improve the Human Resources profession. She has overseen Human Resources functions such as talent management, organizational growth, performance management and the development of people strategies. She says, "My involvement in organizations that promote mission-centric environments and help shape our future has been hugely important to me." Angelique's life has always revolved around giving back to others and advocating for their causes. She is a native of Jacksonville, Florida and currently resides there with her husband and three children. Her commitment to public service has led her to devote time and resources to organizations serving health, education, women, youth and entrepreneurs.
HR Chique Group
The HR Chique Group is a globally recognized, woman-owned digital HR consultancy that partners with entrepreneurs, individuals and businesses to define their strengths and fortify their brands, with a focus on building sustainable and diverse lifestyles and platforms. By facilitating best-in-class practices, the company assists firms in reaching their goals to become employers of choice. Among the services offered are coaching, consulting, professional development, and on-demand HR resources, all designed to help organizations create progressive and engaging cultures.
Working with HR/DEI/coaching for high-growth start-ups and small enterprises is a big part of Angelique's job description. Workdays for Angelique are rarely predictable. Clients of the HR Chique Group come from a variety of industries and have varying needs on a daily basis. She has established a protocol for reviewing and responding to critical and daily messages. She also keeps abreast of what is happening in Human Resources throughout the world, since it could have an impact on her client base. She works on her project planning through project management applications and tools to balance all of the tasks she has on her plate. In order to run her business efficiently, she must maintain organization. She asserts, "As a creative person, my work is a mash-up of multiple influences. Maven is my one-word self-description. By shining light on complex issues, I have gained a reputation for being understanding, insightful and encouraging. I am a voice for those who have no voice and can give them hope and a safe place to be heard."
A Journey of Self Belief
Angelique's career began as an intern with the Inroads program, a national nonprofit organization dedicated to establishing pathways for exceptional minority high school and college students. "This experience gave me the desire to engage with organizations to help them create amazing workplaces where people can contribute and make a difference," Angelique says. That experience taught her how to communicate, build connections, hold herself accountable, and maintain her integrity, all of which are key skills in human resource management. These abilities have served her well throughout her career.
She continued working in human resources for a big financial firm after earning her Bachelor of Business Administration from Jacksonville University's Davis College of Business. She has since worked in a range of Human Resources roles for a number of different organizations. She finds the profession of Human Resources to be especially intriguing and a wonderful fit for her career as a consequence of her interest in servant leadership. Her dedication to human resources has never faltered during her career. After finishing her undergraduate education, she went on to get an MBA from Nova South-eastern University's Wayne Huizenga College of Business. Now, she runs her own business after rising through the corporate ranks. The possibilities are endless if you believe in yourself, work hard and keep your faith," she adds.
The most significant honor she has ever received did not take the form of a trophy or award. She considers leadership to have an impact on others and influences their lives and well-being. Angelique's former employees and co-workers have praised her for guiding them professionally and personally in her leadership roles. Angelique believes that this is what makes her work meaningful and impactful.
Leading with Love and Trust  
Angelique's family, particularly her children, has provided the greatest inspiration for her to pursue entrepreneurship. She desires to leave a legacy for her children and future generations. She founded her human resources and equity consulting firm solely to assist businesses in developing workplace cultures that value diversity, equality, inclusion and a sense of belonging. The world is changing at an unprecedented rate and Angelique aspires to be a force for good, believing she could be the catalyst for that change.
She says, "My role is to help businesses make the necessary changes. In order to thrive, businesses must value the most important part of their operations: their employees. My contributions include serving as a thought leader and sharing my experience to enable others to build extraordinary enterprises and communities for themselves. Your brand is your people. Your people are your brand."
Breaking the Glass Ceiling
"What I've been through has undoubtedly shaped me into the woman I am today. Every time I got close to the finish line, I felt like the bar was being raised even higher. In the workplace, it can be difficult for women of color to establish themselves and be themselves," says Angelique. She further adds that despite being visible, working women's voices are frequently not heard, and their interests are not adequately represented in the corporate world.
Angelique recalls that it was difficult for her to ascend the business ladder without much help. Only her faith, family, and unrelenting drive for success were her sources of strength. She states, "For my career to flourish, I needed to break through the corporate "glass ceiling" and surpass the formidable obstacles. That ceiling is very real and can hinder your success.
Through all I have experienced in my professional career, my mission is to help black women achieve their goals. As a woman of color, it is important that I amplify the visibility of underrepresented groups in business. Great cultures are inclusive of all. As a dependable ally and supporter, I encourage other professionals to do the same". She has distinguished herself admirably in the field of Human Resources, in her profession, and in her community. There is no doubt that she has achieved success.
Following Set Priorities
Even in the midst of a demanding schedule, Angelique makes time to "be"; to just be present and in the moment. In her early career, her managers interpreted working long hours, being always "on," and ignoring vacations as signs of commitment or success. She eventually learned to prioritize her life, personal wellness and self-care in her career. "Taking care of oneself is something that should not be overlooked; it can have an impact on how you work, relate and feel about yourself," she advises.
She adds, "Every day, I set two priorities: one personal priority and one professional priority. My weekends are completely dedicated to my family. A single day should not be wasted worrying about what will happen the next day or what will happen in the future. Make every effort to enjoy your day to the fullest extent possible."
Wants to help more Black Women Entrepreneurs Globally
Angelique's goal for the HR Chique Group is to become the world's leading and most daring HR consultancy. As ambitious as that may seem, she is committed to seeing it through. She is led with the view that if she wants to see the best in the world, she has to come up with the best solutions for managing human resources.
At the HR Chique Group, the team aims to reach 100,000 enterprises in 10 years by establishing best-in-class cultures in each of these organizations. Angelique's professional goals as a female entrepreneur include mentoring other black women business owners and entrepreneurs. She focuses on the following points: "It is critical for me to assist them in building a great company that will benefit our communities and have a long-term impact on the world. My advice to aspiring businesswomen is this: if you have an idea and you want to start your own business someday, don't put it off! The time has come. Yes, you may have second thoughts or not have all of the necessary tools. However, you won't know what you're capable of until you try. I'm rooting for you."
Angelique's long-term goal for the company and herself is to change the world!
Belief is the Key to Success
Angelique finds that success is ultimately a result of realizing personal dreams and goals. She says, "Our goals may appear impossibly lofty at times, but we work tirelessly to achieve them. We are compelled to pause and reflect on what success is and should be as a result of the current global situation."
She believes that there is no one-size-fits-all concept of success. One can attain success in any way he or she desires, regardless of how they define it. Angelique never takes anything for granted. According to her, success is living each day to its fullest potential. She adds, "Setting and reaching your own personal goals is the best way to achieve success. If you fail, praise yourself for trying. Success is not what others think about us. It is what we think of ourselves. We are the only ones who can make a difference. You are unique!"