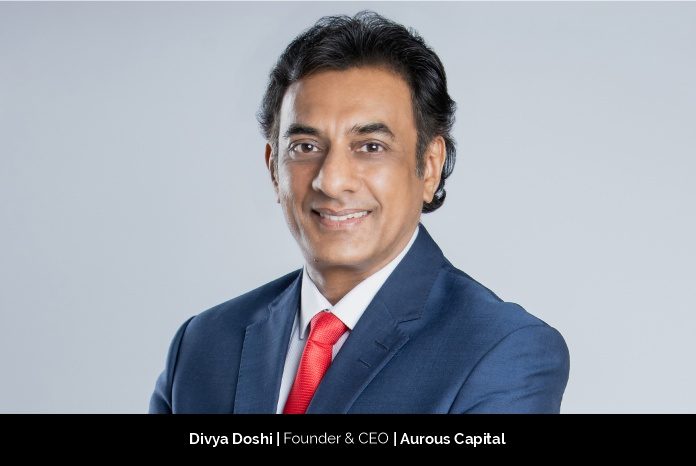 Divya Doshi, CEO, founded Aurous Capital on the fundamental principle that success is not only limited to financial growth and profitability.  It has a broader definition which encompasses the positive contribution that a company can make to its investors and to society in both tangible and intangible ways.  In championing both entrepreneurial and ESG values, he aims to expand Aurous' investor base by establishing and sustaining a relationship of trust with clients and stakeholders that will be durable over the long term.
Journey to Success
Drawing on over 30 years of experience in both Europe and Asia with bulge-bracket investment banks and elite institutions at the forefront of the global financial industry, Divya is now uniquely well-positioned to apply his deep knowledge and expertise in the design and execution of multi-year business transformations to creating sustainable competitive advantage for Aurous.
In the early stage of his career, he joined forces with Rolfe & Nolan Plc, gaining invaluable experience and expanding his skillset as he rose to become the Regional Head of Sales and Operations Director for Asia Pacific.  He adds, "I have held numerous senior management roles including as Executive Director at HSBC, as Managing Director at Morgan Stanley – where I was Head of Exchange-Traded Derivatives for Asia – and as Managing Director at UOB – where I was Head of Trading Solutions – operating primarily from a base in Hong Kong and Singapore."
Divya was also appointed to the Asia Executive Committee of these market-leading financial institutions, in addition to serving on several internal and external boards at regional Exchanges in relation to Listed and OTC Derivatives, and sitting on various Global Markets Fintech committees and ESG organizations.
Man on a Mission   
Aurous Capital was founded in 2019 to deliver robust, diversified investment solutions and to meet its fiduciary responsibilities to investors by adherence to three core guiding principles: Collaboration, Innovation, and Excellence.
Divya explains, "We aim to provide superior products and services which result in a significant contribution not only to our investors' portfolios but also to society at large."
The name Aurous is derived from the Latin "aurum" and means "of, relating to, or containing gold".  Divya interprets this not only as a symbol of his team's ability to produce golden returns, but also as a commitment to upholding the gold standard of organizational and cultural values.
"Crossing the River by Feeling the Stones"
This ancient Chinese proverb, cited by Deng Xiaoping in the context of the transformation and rapid growth of the Chinese economy, could equally well be applied to Divya's own career progression.  Working across a plethora of countries in Europe and Asia, and for banks and financial institutions each with a very different culture, he has had to overcome numerous challenges.  As a result, he is keen to stress the importance of flexibility and resilience in dealing with new environments – especially in relation to compliance with regulatory regimes in multiple jurisdictions.
He has also navigated successfully through political storms and turbulence – both external and internal – as well as crossing organizational, operational, cultural, and linguistic minefields unharmed.  Throughout his journey to becoming a CEO, he has been guided by an unerring moral compass and the pathfinder principles of integrity and transparency, using his multicultural interactions to evolve both professionally and personally at every stage of his career.
He reflects, "These myriad challenges have provided me with the opportunity to appreciate the kaleidoscope of cultures and value systems within which I have operated.  The human dimension is now also being enhanced by the relentless pace of technological change and digital transformation.  These encounters have made me who I am today and contributed to the multi-faceted nature of my achievements – academic, professional, and personal.  I have also striven to set an inspiring example of hard-driving but humane leadership to those who support me."
Aurous Capital: Touchstone to Wealth Creation and Financial Growth
Aurous Capital's primary fund is named Alpha Shield.  It is a Public Markets product structured as a proprietary, systematic, global macro, absolute return fund.  The portfolio managers have developed a variety of techniques to identify investment opportunities which consistently deliver alpha and uncorrelated returns.  They employ a systematic risk management framework to tailor the fund's exposure and modify VaR (value at risk) appropriately, thus ensuring a dynamic, real-time response to ever-changing market environments.
The primary objective of the fund's investment strategy is capital preservation.  This translates to the conceptualization and implementation of investment strategies with superior risk-reward profiles designed to achieve positive returns consistently across market cycles.
Divya adds, "We also offer Private Markets products, with a primary focus in the Real Estate (RE) and Private Equity (PE) sectors.  The second fund which we launched last year, our China Real Estate Distressed Fund, is a securitized debt fund that provides very attractive returns with low-risk parameters.  Individual investors typically have difficulty in accessing the China market, especially in relation to distressed assets and NPLs (non-performing loans), which means that a range of excellent opportunities are restricted and available only to global institutions.  As a global asset management company which has acquired the relevant licenses from the Chinese authorities, Aurous Capital is able to penetrate these barriers and offer regulator-approved products with attractive risk-adjusted returns to a new pool of investors."
The Golden Rule
The Golden Rule is sometimes jokingly described as "He who has the gold makes the rules".  Divya, however, takes a different approach and is firmly of the opinion that rather than fostering a culture of greed and self-advancement, a more enlightened set of values based on integrity, teamwork and innovation will enable Aurous to prosper and differentiate itself from the competition.  In his view, such core values and standards should be set by the CEO and management and can then be inculcated in the rest of the team.  This in turn enables a collaborative culture of excellence to be created and replicated using superior corporate DNA.  Divya reflects, "Our team is our family.  Together we overcome challenges and achieve our goals tenaciously, while maintaining our principles and valuing a diversity of opinions."
Forming a cohesive team is therefore crucial to provide firm foundations and fuel the future growth of the company.  Aurous conducts rigorous recruitment and selection processes to hire the best talent – provided they share the same vision and are committed to the company's collective success.  In place of "prima donnas" and "high-maintenance individuals", team players become the engine of growth.  Building on this position of strength, Divya is confident that Aurous can surmount the inevitable obstacles and bottlenecks faced by start-ups, and that it will benefit from a dynamic team ethos as it grows and evolves.
Golden Mean
As the co-founder of Aurous with Ivan Yeo, they both have a uniquely demanding set of responsibilities.  From managing the company's core operations, to setting ambitious targets and formulating strategies for its impressive growth, he is the key decision-maker and the team look to him for guidance and inspiration.
The Covid-19 pandemic has presented an entirely new set of challenges which have required both flexibility and ingenuity to conduct business online successfully.  Fortunately, these efforts have resulted in an improved safety-assured environment for both clients and team.  Divya observes, "The tenacity and commitment of our management team has enabled us to grow our workforce by 120% during 2020 / 2021; this is indicative of our financial and operational resilience throughout such testing times."
Somewhat paradoxically given his successful career as an investment banker, Divya has always considered work-life balance to be an important goal.  He notes that the principle of the golden mean, laid down by Aristotle 2,500 years ago, is moderation or striving for a balance between extremes.  He believes that maintaining such a balance is the key to avoiding burnout and achieving stellar performance over the longer term. At Aurous, his priority is to create an empowering environment where all team members are respected and work cohesively as a quasi-family unit buoyed up by a spirit of collaboration and innovation.
Golden Future
Dedicated to building wealth for all his investors and to growing his team, Divya is on the fast track in his mission to develop an innovative investment company with ESG values.  Eager to discuss global expansion he adds, "Over the course of the next 24 months, we have committed to set up offices in China, Indonesia, and Vietnam, and then to expand further to establish representative offices in the UK and Europe."  Aurous Capital clearly has ambitious plans to continue to mine golden opportunities all over the world.