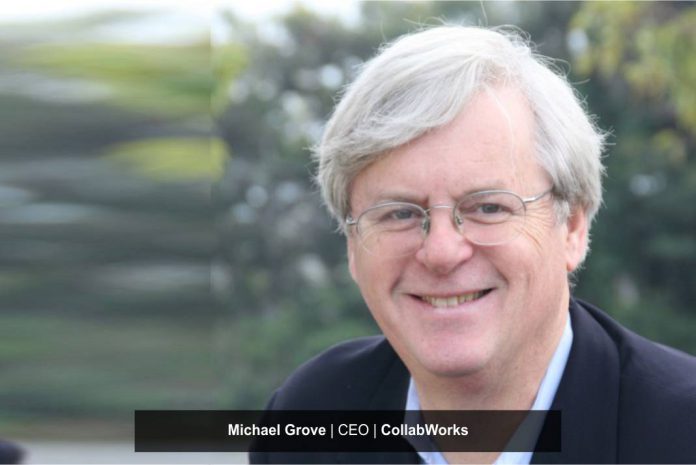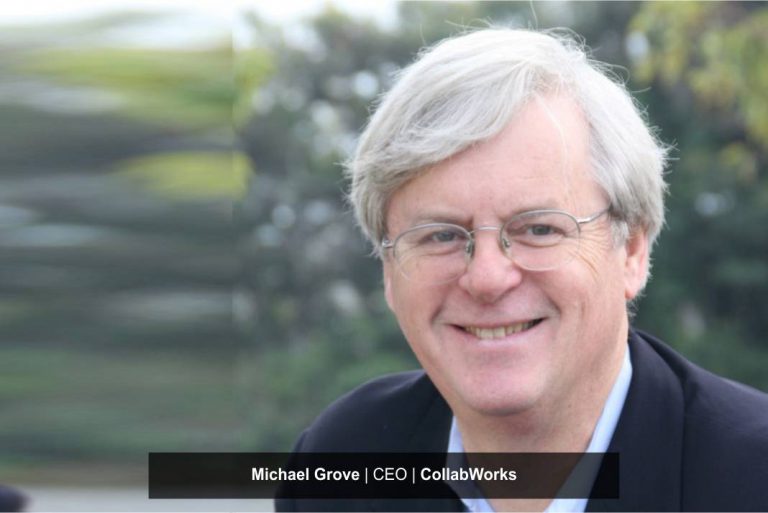 As a notable businessman with an exploring mind, Michael Grove had recognized his potential at the tender age of eight when he assisted his grandfather in the grocery business. He learnt the trade and many important lessons related to business, which were one of the driving factors that led to the foundation of CollabWorks. His hard work and passion have fostered the growth of the company and made it one of the leading companies that provides digital management platforms that helps employees gain new capabilities. Leading in their field of business, CollabWorks has achieved a significant place in the industry under the resourceful guidance of Michael, its CEO and Founder.
The Start of Something New
Prior to CollabWorks, Michael started four successful companies – two venture funded and two self-funded. In his previous companies he had worked with many IT executives and witnessed their adopting similar solutions repeatedly at different corporations. One of the most important new technologies his customers adopted was cloud computing. It seemed to him, that one of the benefits of cloud computing was that software could be run anywhere.  Michael felt that there should be a symmetry with human work. Work should be able to be performed by anyone competent and available, corporations just needed a more streamlined way to manage how the work was done. He realized that the idea could make the adopting corporations more agile and responsive. This led to a fundamental invention of a quantifiable patent-pending digital management system, called FrameWork. The companies that use FrameWork are very happy with its ability to relate the value contribution of the individuals at all levels of the organization to overall business performance.
CollabWorks is challenging the fundamental way people are managed and is introducing a new paradigm. In short, CollabWorks is re-thinking managing. In FrameWork, all individuals are empowered to self-manage the services they provide to their customers. (In FrameWork, every service has a customer – the recipient of the service – who frequently is internal.) Managers still manage, but shift their time from directing and reviewing to coaching and supporting the talent that reports to them.  While most organizations claim this direction is exactly what they want, it has been surprisingly difficult to implement FrameWork in some places because the new approach is so radically different.
The CollabWorks Services
CollabWorks provides a digital management platform that encourages employees to gain new capabilities and grow their careers while helping companies increase the value generated by each employee. For example, they help IT organizations increase the capabilities of their teams beyond typical job functions – such as programmers also providing data analytics. The broader the capabilities per employee, the more versatile they can be in aligning with shifting functional demands. The result is that fewer people are needed to service IT demand and that these more capable employees have increased their individual value.
The Strategic Benefits
CollabWorks is focused on transforming functions such as IT, HR, Engineering, or Sales at companies who want to:
Increase the mobility of talent by increasing individual capabilities where individuals address a broader set of changing demands on the business function
Provide career development and leadership opportunities for employees to develop themselves
Lower labor cost by reducing lower value work, such as excess managing and inefficient communication, and replacing it with higher value services, frequently by developing broader and deeper capabilities of the existing talent
As organizations build out FrameWork across business functions, the quantitative workforce data significantly improves workforce planning. As the talent becomes more agile it can be distributed more efficiently by service thus, reducing talent acquisition costs by 50%. The work, its value, and use of talent are now visible in digital form at all levels of the organization. This workforce data can now be integrated into a digital business, providing management with an improved means of allocating and rewarding talent.
The Insight of a Powerful Leader
Michael graduated from Cal Poly San Luis Obispo with degrees in mathematics and aeronautical engineering.  His first job was as an aeronautical engineer with Lockheed-Martin. He progressed from an entry-level engineer to a director of all advanced commercial airplane programs and completed his career at Lockheed as Director of New Ventures. When he left Lockheed he created an M&A consulting practice specializing in aerospace technologies. This business led Michael to do a venture funded $400M leveraged buyout, whereupon he created the world's number one multi-chip supplier. After selling the corporation, he explored several startups and eventually a venture funded a remote systems management company that was later sold to Microsoft. Each of these successes ultimately led to CollabWorks and the Framework management platform.   In spite of all his professional successes as a grown up, Michael believes that he learned his most important lesson as a child working with his grandfather in the grocery store: the customer really matters. And by extension: a business with happy customers is likely to be a thriving business. This customer focus is perhaps the most defining aspect of FrameWork, where every service must have an identified customer. In a traditional company, the organization is preoccupied with the manager hierarchy. In a FrameWork company, the organization is preoccupied with and totally focused on customers.
As the CEO of CollabWorks, Michael defines his roles as diverse in nature. "At a start-up, you wear many hats as a CEO. I like wearing all these hats because I can be very efficient. The challenge, on the other hand, is to know when to delegate and how to avoid being spread too thin. My management team is very experienced and we each understand our roles well, thus we accomplish a lot in very little time." Michael has been a CEO and Board Member for more than 20 years. In his view, his role as a CEO is a means to express his creativity and vision. "My long-term passion is to help make the world a better place."
The Team Driven by a Vision
The CollabWorks team helps individuals develop and increase their capabilities in line with the interest of the organizations they serve. They uniquely optimize both the work performed and the use of talent using the same process. Individuals use FrameWork to build their careers as well as demonstrate their business value to their managers and their corporations. Organizations use FrameWork to stay lean and agile, while sustaining a highly motivated workforce. FrameWork is a paradigm change that simplifies and reduces managing overhead.
Today's management systems do not scale well. With increased size, the chain of command becomes weaker and more political, and the time spent managing or reacting to challenges bogs down decision making and increases overhead. This often produces employee disengagement and turnover. The CollabWorks team believes it can reverse this trend and is convinced that happier, more capable and more engaged employees are compatible with more competitive and more profitable organizations.
The Path of Success
As a startup CollabWorks faces two challenges. The first is the lack of courses about management frameworks at business schools. The second challenge relates to human nature. Many of us fit into a "job" of daily and weekly processes, communications, and decision making. While our days get consumed, we rarely take the time to understand clearly what, why, and how we create value. Fortunately, CollabWorks' process makes value creation very clear, even though it frequently can be both surprising and unexpected. While CollabWorks can deliver huge benefits, the biggest competition seems to come from the status quo.
CollabWorks, is currently focused on pursuing the domestic market. Their technology applies to any type of business and is particularly valuable to larger businesses. As they approach the global market, they will initially work with global U.S. based companies, and will later expand their global footprint through partners who are already established internationally. Their platform lends itself to a network effect, where the more the process is used, the greater is the value for all the users. Michael Grove is convinced this network effect will be the ultimate driver of growth for the company.
Who would have thought that an eight-year grocery helper would one day revolutionize how organizations are managed? Technology and one innovator's unusual life story made it possible. We are eagerly following what is next for CollabWorks and Michael Grove!