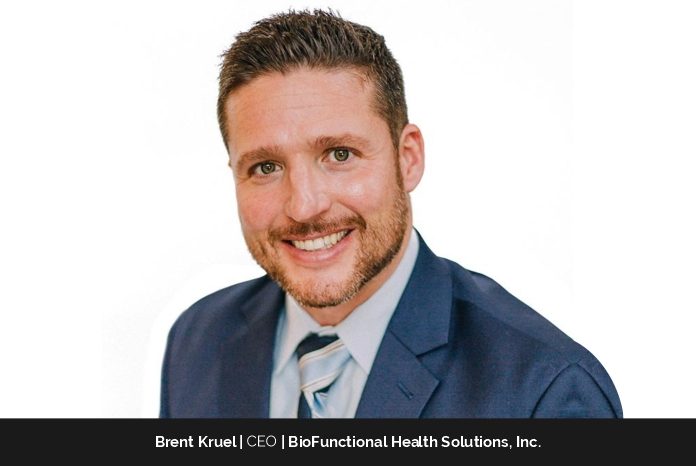 The modern healthcare sector must widely adopt information technology to survive in the current digital era. To prove their mettle, outshine others, and lay a solid foundation for the adoption of contemporary, effective and customized digital technology in the rapidly expanding healthcare sector, leaders must step outside of their comfort zones and grasp the rapidly changing environment.
Brent, the founder, and CEO of BioFunctional Health Solutions, has a passion for technology. His extensive experience over the past three decades has given him a keen understanding of how to operationalize solutions in the lives of just about anyone. Although he performs these roles, he spends most of his time developing and implementing tech-enabled, health and wellness solutions. Brent openly admits that both his formal training and work in healthcare administration have given him a passion and special aptitude for finding the best health and wellness goods and services.
"Legacy is only secured in people that are nurtured by an empathetic leader. All other success is meaningless and temporary."- Brent Kruel
A typical day in Brent's office includes discussions with other executives of big businesses about how to attract and keep the best talent by looking out for all workers. He also devotes a lot of time to looking into the health and wellness sector for new goods and services that can be considered and included in the service offerings of his own business. He has discovered that although there are a staggering number of software-based options available, getting people to use them effectively necessitates a hands-on approach. This is something his company accomplishes by utilizing registered nurses as coaches to increase compliance and help close the gaps that may come from a lack of knowledge and understanding.
In a word, Brent defines himself as loving. He says, "I am empathetic, love people, and am passionate about healing and the possibility of making people the best versions of themselves."
Years of Transformation
Though Brent was a standout wrestler and track athlete in high school, he declined college scholarships to join the Air Force. He served in the military as a combat communications specialist and finished his first combat deployment during Operation Uphold Freedom in Haiti. Thanks to his exposure of the most cutting-edge computer and communications technology while serving in the military, he developed and mastered a foundation for success in leveraging technology to improve health and wellness.
Brent was selected to attend the United States Air Force Academy (USAFA) in Colorado Springs and quickly distinguished himself as a four-time, Western Athletic Conference (WAC), student athlete of the year. While at the academy, he suffered a fractured spine during jump qualification training, which was a formative experience for him and led him to develop a passion for health and wellness.  His injury threatened not only his performance on the track, but also his career in the Air Force.
Brent graduated from the United States Air Force Academy (USAFA), in May 2000. He held the title, Distinguished Graduate, the highest honor bestowed by the Academy. Soon after graduation, Brent began his career as a healthcare administrator. As a young lieutenant in the Air Force, he was privileged to be given a lot of responsibility. He was immediately given the role of managing a $30 million construction project, along with supply and logistics. This was a huge accomplishment and honor for him as he was the youngest chief information officer in the Air Force.
Brent was commissioned in the Air Force as a medical officer. He further distinguished himself by being honored with an Air Force-level award as #1 of 23,000 officers named the Information Systems Officer of the Year. He also was selected as the Air Force's lowest-ranking and youngest Chief Information Officer (CIO) of the largest VA/DoD hospital in Las Vegas, NV. During his second combat tour, Operation Iraqi Freedom, he was chosen to oversee the largest hospital in Iraq. He left the Air Force in 2007 and started working as a corporate executive in a range of healthcare and technology settings to pursue a career in commercial health and wellness.
As a second lieutenant competing against officers with over 20 years of experience, Brent was named the Air Force's top information systems officer of the year for 2001, making him the youngest and most junior officer to ever receive the honor.
Making Every Step towards the Success
There were many small steps leading up to Brent's personal leap into being an entrepreneur. In 2007, when he retired from the Air Force, as a medical service corps officer, he joined the upper management of the nation's largest healthcare payer technology company. He was promoted quickly and as he adjusted to the commercial sector; he became more comfortable with the increasing responsibility of the roles he was entrusted with. He recalls, "Within four years of separating from the Air Force, I had my first 8-figure P&L that I was responsible for."  This grew rapidly, and Brent learned how to grow companies by investing in and trusting quality people. He was always drawn to physical and mental health and made this a passion in every role he was in.
Brent's perspective on success is centered on leaving a lasting legacy, which can only be realized by people. He focuses his energy on helping people become the best versions of themselves through physical and mental well-being. His hope is that the BHS will help others do the same.
BioFunctional Health Solutions, Inc.  
BHS is comprised of seasoned health professionals who are innovators, inventors and personally devoted to their own physical health and mental wellbeing. They are passionate about helping EVERYONE feel and look as good as they do.
BHS uses a tried-and-true, proprietary process to integrate the top health and wellness solutions which enables an individualized (customized) approach to meet each employee where they are. Highly skilled and motivated registered nurses are BHS' secret weapon. The company's nurses are specialists in health and wellness and focus on building relationships with every client, leading to successful lifestyle changes that make people healthier and happier.
Below is a summary of the company's offerings:
Brain Function Optimization– In partnership with Millennium Health and Dr. Mark Gordon, a recognized world-leading neuroscientist, the team uses an AI-supported system with lipotropic supplements that cross the blood-brain barrier to improve cognitive brain function. It is also proven effective in resolving long-term COVID symptoms, including brain fog, insomnia, depression, anxiety and many more.
Lifestyle & Wellness Personalized Programs – Optimize lifestyle, learn how to make the best decisions based on individual biology and create easy-to-implement, life-changing, habits.
The world's best and most caring nurses are specially trained in BHS' technology-enabled solutions to customize a program for anyone, regardless of current lifestyle and conditions.
Pain & Musculoskeletal Health – BHS is the leader in resolving pain and musculoskeletal conditions with the least invasive, least expensive and most effective treatments available anywhere. A combination of patented technology and the most efficacious hands-on treatments enables the best outcomes for employees/patients.
Functional Occupational Massage (FOM) – Evidence-based and technology-enabled, hands-on treatment system to resolve pain associated with musculoskeletal issues/injuries. Effective for common conditions like carpal tunnel syndrome, plantar fasciitis, back pain, migraines, and many more. Considered first-aid by OSHA and nonrecordable.
Patented 3D Mobility Health Assessment: Patented and clinically validated, digital mobility health assessment to identify and prevent musculoskeletal injuries. "The only lab test for mobility health."
Medical Doctor Pain & MSK Specialist Consultations: BHS' medical director is a medical device inventor and recognized world leader in musculoskeletal health and pain resolution. Offering expert 2nd opinions and accurate diagnosis services; surgery consultations; and acute and chronic pain evaluations.
Ergonomics and Biomechanics Analysis: Observe individuals in their work environments to identify and mitigate risk factors at the lowest cost possible.
Customized Mobilization Programs: Stretching can be risky to musculoskeletal health if not designed and performed properly. BHS will develop a program to meet individuals where they are and enable them to safely perform their jobs. This includes and especially, office/desk workers.
Mental Wellbeing and Psychological Strength Building: BHS will guide clients through a transformational process that will change their mindset forever with simple tools and life hacks proven to work for everyone.
Mental Wellbeing & Stress Management RN Consultation – A preventative and restorative process for creating a sound foundation for mental health resulting in lower anxiety and tools to manage stress better.
Psychological Strength Building Program: An exclusive online program developed by BHS' partner, best-selling author, Dr. Tony Kern. The team states, "Be able to manage your life and difficult situations through preparedness and proven, simple, error reduction mechanisms."
Leading with Elite Solutions
BHS' innovation is a result of like-minded, passionate leaders in health and wellness coming together and partnering on how to do the most for as many people as possible. The company stays ahead of the competition by partnering with world leaders in the health and wellness space to bring the most elite set of solutions at the most competitive pricing available. The team shares, "Our secret ingredient is our team of highly trained registered nurses, world leading medical director, and partnerships with other globally recognized physicians and scientists.  Our medical team is able to support anyone in their wellness journey and assure adoption of technology to support ongoing improvements."
At BHS, the team focuses on individual relationships resulting in revolutionary changes in its customers' lives.
Becoming Better to Do Good
Adversity has a lot of positive side effects if one chooses to persevere and grow through it without allowing seeds of resentment or anger to take root. The business world can be challenging to navigate, with many bad players who are willing to compromise their integrity to get their way and/or sell something. Brent reveals that his biggest struggles and obstacles were also crucial in propelling him down an entrepreneurial path where he was driven to build something better, something enduring, and where everyone who interacts with BHS is awestruck by its culture of integrity, respect, and empathy.
Pioneer in Wellness Sector
BHS is a pioneer in their approach to wellness and treats everyone as a unique individual requiring a customized health and wellness plan to meet their goals. In March of this year, BHS is launching its TRANSFORMATIVE WELLBEING INNOVATIONS ™ services specifically directed to individual consumers. The goal of this launch is to reach as many individuals as possible who are not privileged to work for companies that employ their services.  "The more people we can reach, the faster we can heal the world. This is a big goal, but someone must have it if we are ever going to make a difference in the declining health and wellbeing of the population."