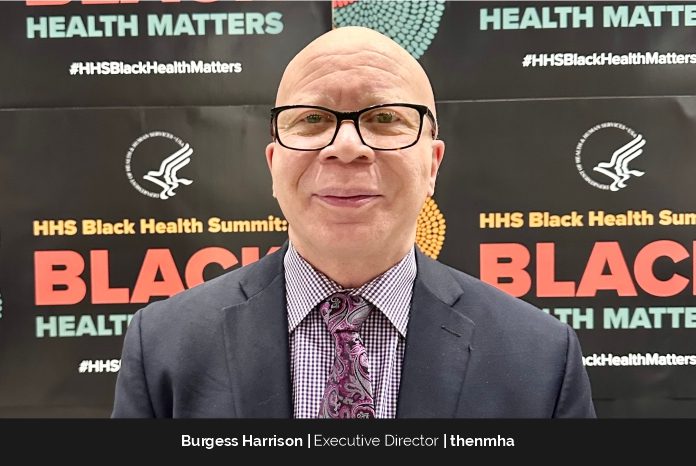 While some may define equity as the absence of unfair, preventable, or redressable differences between groups of people, regardless of how those groups are categorized in terms of geography, demographics, economics, or other aspects of inequality. We define health equity as having access, awareness, and the means to achieve your optimal healthcare and health outcome. A basic human right is the right to health. When everyone has a truly equal opportunity to realize their full potential for health and wellbeing, health equity will have been achieved. Yes, it's a big, audacious goal, but we landed on the moon and finally saw cold fusion—in Burgess' view, this too can be done if we remember the words of the tennis great, Arthur Ashe, "Start where you are, use what you have, do what you can."
Burgess is a highly creative and influential voice for health equity on a national basis in his role, leading the National Minority Health Association (NMHA) as its executive director and as a board member. As such, he brings extensive experience in the homecare technology, telehealth, and telecommunications industries. He co-founded organizations like StatChek, Inc., a pioneer in electronic visit verification (EVV) in healthcare, and Ankota, LLC, a provider of SaaS for homecare automation. Extensive marketing and public relations experience, garnered from leadership positions with major corporations, and a collaboration with PR guru Ms. Terrie Williams at her illustrious New York PR firm, where her first clients were Eddie Murphy and Miles Davis. All this, coupled with his background in education as a former adjunct marketing professor at the New York City College of Technology and former high school business educator, has prepared him for the task of a lifetime: leading the NMHA.
His knowledge of the issues surrounding health equity was crucial in conceptualizing a national PSA campaign for vaccine confidence, securing a $11.1 million HRSA COVID-19 grant, and creating Operation Healthy YouTM. He is also a co-author of a national dementia training and certification program for caregivers. In addition, he writes, participates in panels and conferences, and speaks about health equity on a national level—and to anyone that will listen—because he is passionate.
Burgess holds an MBA from the University of New Haven and a diversity, equity, and inclusion certificate from the University of Southern Florida. He is recognized by Twin Cities Business Magazine as a notable diversity, equity, and inclusion executive, is a chronic care professional, and serves on the board of directors for Tradehome Shoes. Burgess has also shepherded the NMHA to successful support from AWS and their Health Equity Innovation grant, and from the Chan Zuckerberg Initiative to name a few.
Early Working Years
Being an inner-city high school Marketing and Distributive Education instructor helped shape his perspective and belief in mentorship and support for lifelong learning. Following his teaching, Burgess expanded his career horizons in telecommunications, telehealth, SaaS for home care, and public relations, holding positions on boards for both for-profit and nonprofit organizations, including the Shoreline Foundation and the South-Central Connecticut Red Cross.
National Minority Health Association
Founded in 1988 and having successfully advocated for the establishment of offices of minority health in all 50 states, the National Minority Health Association, through s strategic planning effort, redefined its mission in 2020 to focus on health equity.
The NMHA is a 501(c)(3) non-profit organization implementing new programs that use patient-centered, value-based care and innovative, tech-enabled approaches to enhance outcomes for underserved and minority communities.
The new mission was launched with a PSA designed to reduce hesitancy among the minority community for getting the COVID-19 vaccine. The "Not Throwing Away My Shot" PSA was a parody of Lin-Manuel Miranda's "My Shot" song from the Broadway hit "Hamilton." Performed by "Voices of our City Choir," a homeless choir from San Diego, and aired on Cox Communications networks, this impactful, creative campaign drew the attention of high-level government officials, including Dr. Bechara Couchair, National Vaccinations Coordinator for the White House COVID-19 Response Team.
Around this same time, NMHA made a strategic decision to apply for an HRSA grant—the first ever attempt to apply for a federal grant. Harrison believed the grant could be a transformative force for NMHA, enabling it to extend its work and have an even greater impact on health equity by helping to fight COVID-19 within minority and underserved communities. In considering different ways to reach these audiences, Harrison and the team realized that the home health and home care industries were not being used enough as a channel for encouraging COVID-19 vaccinations, even though these groups could be a valuable resource in achieving higher vaccination rates in the targeted groups.
Advancing Health Equity
As executive director of NMHA, Harrison leads the organization's efforts to advocate for health equity and close the health disparity gap—but it's a real team effort. To truly have diversity, equity, and inclusion (DEI), it is important to understand the impact that a lack of health equity has on the equation of public health. And the NMHA is carrying out its mandate to promote health equity in America. NMHA is espousing its guiding principles, and organizations should adopt the following guiding principles in order to A.C.T. on the disparity in minority healthcare that exists.
Acknowledge that, even in the wealthiest of countries worldwide, there are significant disparities, biases, stereotypes, and inequalities in the healthcare of minority communities. These disparities often lead to less-than-optimal outcomes.
Create pathways for equity in healthcare and provide a means for change.
Transform the healthcare system to be more equitable, inclusive, less costly, and more accessible.
In addition to the Guiding Principles, NMHA's Health Equity Action Leaders (HEAL) program is an effort to put these principles into action by mobilizing like-minded companies, organizations, and people in the effort to address health equity in an active manner.
Working to Bring Change
At all levels of corporate America and government, Harrison has actively worked for change in how the country thinks about, and more importantly, does, health equity. The book "Good Trouble" by former Congressman John Lewis comes to mind. Under his leadership, NMHA is about less talk and more action, actively making good trouble to bring about health equity.
Harrison frequently speaks about the issue of health equity in articles, podcasts, and panels. For example, he spoke on "bridging the health equity gap" to an international audience as a featured speaker at the 2021 HIMSS Global Health Equity Symposium. During his remarks, Harrison addressed the inherent and implicit bias that has created an inequitable healthcare system for people of color and the need for awareness, education, new processes, and innovative digital tools to make impactful changes across the entire healthcare continuum. He also shared how organizations can develop a customized plan to recognize and address biases within their own systems.
The Fight Against Inequity
There are no typical days in the fight for health equity; meetings with other likeminded health-related organizations, speaking with physicians, PA's, nurses, and academics on various related issues. For example, the pulse oximeter apparently reads darker skin differently. He states, "As an organization, we are espousing the need to immediately investigate and address the issue, so clinicians are able to use a vital tool in the healthcare system's toolkit for all people, regardless of skin tone." He also spends time with great legal minds who are focusing on issues of health equity. He represents the NMHA on numerous committees and panels, most recently as part of the HLTH Foundation's Techquity Initiative and the Health Equity in Action Summit in Atlanta. Harrison speaks on panels and conferences, helping to bring more awareness to health equity, and works to continually inspire the team.
Never Give Up
Challenges are hard while going through them, but challenges do make you better, stronger, and more resilient. It has been quoted as saying that you don't learn anything from success; you learn from failure. Harrison believes, "As an entrepreneur, you get told no a lot.  You have to learn from it and learn quickly and let it roll off your back." In the early days of the internet, Harrison co-founded a company that was a pioneer in electronic visit verification (EVV) in home care. He recalls, "Back then, we got told "no" a lot. Fast forward to 2016, and EVV was mandated by federal law across the country."
From Humble Beginnings
Born Albino to a black father and Caribbean mother. He was raised by a single mother on limited means. Burgess almost failed the second grade because of undiagnosed low vision (legally blind without glasses). A member of the first black fraternity, Alpha Phi Alpha fraternity, he worked his way through college as a resident advisor, and snack bar student manager but was still fully involved in college activities, including being editor of the minority newspaper and literary magazine and co-chair of the concert committee.
He reflects on those times for strength, inspiration, and gratitude. He says, "I am reminded to always persevere; a small step is still a step forward." Harrison recalls, "When my feedback for not winning a White House Fellowship was a lack of an advanced degree, I went out and got an MBA. During the height of the COVID-19 pandemic, the NMHA applied for and won an $11 million grant from HRSA. We only had 2 weeks to write the grant, but our submission received a 99 score. We didn't know it couldn't be done—so we did it."
Message on Leadership
Harrison sees the role of the executive director as that of a coach, mentor, creative director, fundraiser, collaborator, etc. Known for his innovative ideas, they would be nothing without the input, refinement, and due diligence that the team puts into them. He adds, "Everyone on our team has to play their part, i.e., suggest ideas, the best rise to the top, and the best idea wins."  Collaboration with support from Sage Growth Partners, Gather Voices, Nevvon, and notables like Dr. Ian Smith and Mathew Knowles is an example of leadership.
Harrison's message to other leaders is that they shouldn't take no for an answer and should surround themselves with great people. Seek to inspire and promote creative thinking. He shares, "Treat people with respect—always. Work collaboratively with others and other organizations and operate in a manner that is mutually beneficial."
Success is a Constant Journey
"Success is a journey, not a destination, and like any journey, it starts with taking the first step. Certainly, there are milestones along the way, but we can't get comfortable as we achieve them. When you come from a poor family, you have to work extra hard for everything at every turn, so as you achieve milestones, you savor and appreciate each one. While money, fame, fortune, power, and control are all nice, they do not bring sincere happiness, longevity, or health," Harrison says.
Visionary Leader
Harrison is personally and professionally invested in seeing health equity improve—not years from now but now. The NMHA's operational overhead was less than 10% of revenue last year. They engaged 75,530 community members in all 50 states and mobilized 1,932 home care agencies and 8,913 healthcare workers in less than 12 months to deliver 69,021 COVID-19 shots.
NMHA created a nationwide trusted messenger network of home health workers with an expanded reach of over 800,000 using an innovative educational, incentive, and reward system hosted on the cloud.
Building on that success, NMHA will be launching Health Equity as a Service™, Operation Healthy You™ and Equityville™ in 2023, along with our Health Equity Certification. The company is also working to help increase diversity in clinical trials. The organization has a number of other initiatives to address health equity, including The.art Alliance which uses art to build awareness and also serves as a fundraiser.
Burgess' message to corporate America focused on positive ESG (Environment, Social & Governance) reporting: health equity is good business and good for business, and the NMHA's Health Equity as a Service™ is the path forward. You can be part of solving health equity—but do it now because tomorrow is a day late.
To support the health equity mission of the NMHA please follow www.thenmha.org