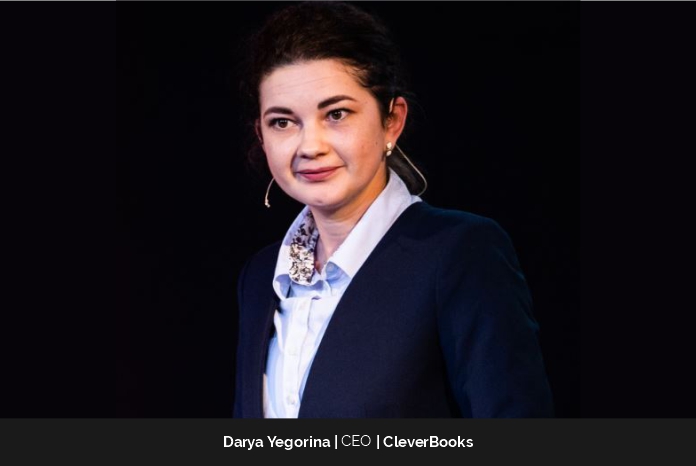 Success has a different meaning for each person: for some, it's a monetary achievement, and for some, it's making a difference. For Darya Yegorina, CEO of CleverBooks, success means making a difference along with the achievements of the company. CleverBooks operates in the education field. "Education has an impact on people's lives in the long run. When CleverBooks makes things happen, it makes a difference within our company's mission and vision, that's the success we want as a team and that's the feeling of winning with the difference we all have in mind," she states.
Leading a company to success is not an easy road to take
The foundation for CleverBooks was Darya's own story of learning at school. She says that when she was at school, she had books around her to learn from and teachers who directed mainly to the books. Then technology kicked in and it took time to learn and adapt. "Today, kids have a lot of learning opportunities, and educators have way more tools for teaching. This is truly inspiring – to deliver technology that can help teach and learn with ease, excitement, and inspiration for lifetime learning," she further adds.
Augmented Reality for education is already a challenge from several perspectives: technology adoption by users and technology application on pedagogy and methodology. These are the main roadblocks that CleverBooks has on the strategic roadmap. They talk to their customers and improve their experience with Augmented classrooms, their flagship product. "Our customers help us a lot to overcome the challenges," exclaims Darya.
CleverBooks – Its Growth & Success While Contributing to Redefining the Educational Industry
CleverBooks, a company based in Dublin, Republic of Ireland, delivers STEM solutions for K12 using Augmented Reality for meta-skills development and future-ready support. Augmented Classroom (ARC) is the only digital platform for K-12 that brings together 3 main pillars in the EdTech space: explore, create and collaborate in the multi-player augmented environment. Their values are equality, responsibility, caring about their planet, and straightforwardness. As stated on their website, CleverBooks empower kids of ages 5 to 12 years in finding a purpose and sustaining motivation in what they're learning through an interactive discovery and fun experience. Since 2016 CleverBooks helps educators and parents to increase kids' engagement in class, inspire learning at home, spark their curiosity and imagination. They have always strived to bridge the gap between digital natives and digital immigrants.
CleverBooks makes a difference by combining Augmented Reality and Artificial Intelligence and marrying them with traditional pedagogy, thanks to the innovative spirit in their team. "Innovation is the DNA we all have at CleverBooks, this is part of our culture – to create an environment where everyone can contribute their ideas to make a difference," states Darya. There is a strong element of R&D and CleverBooks does this continuously from both academic and technological business perspectives. They are creative and collaboration is the key for them even when it comes to like-minded competitors.
Our only plan for the future is to impact the education system, create new possibilities for teaching and learning and support innovation spirit in kids globally, one kid at a time. They are present in different countries around the world and the objective is to continue organic growth.
Augmented Classroom won the GESAwards in 2020, the winning project of European Digital Innovation Challenge 2020, Reimagine Education Gold prize winner 2021, and multiple awards connected to e-learning, curricula application, and pedagogical relevance.
Leadership & Responsibilities
Darya states that her main responsibilities are leadership, inspiration, and empowerment of the team. "Motivation comes from inside," she states. Her team is motivated with the zeal of changing the world of education and that is within their company's mission. That is what motivates the team to serve their customers with their best.
Being a professional speaker of 20+ global events yearly, Darya uses the power of creativity and innovation to inspire future leaders and build fair business advantages through teamwork and state of art strategy for results-driven companies. Her key strengths are Technology and digital transformation, strategic product management, and growth. Her focus areas are people, performance, productivity & profitability.