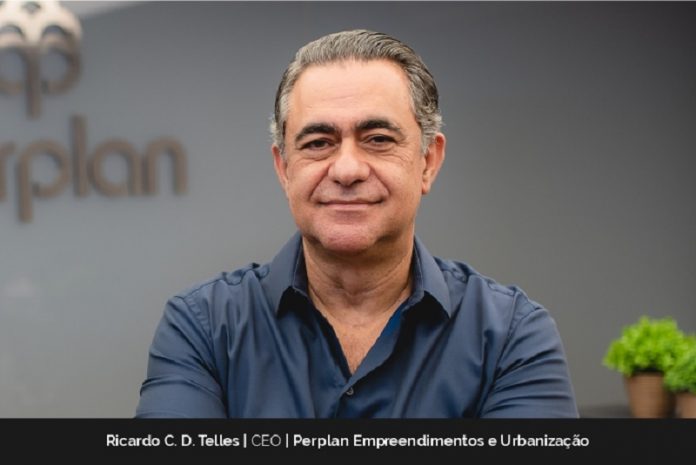 Ricardo Telles serves as the CEO of Perplan Urbanização e Empreendimentos. He took the helm of the company in 2017, and soon after starting his stint, he injected it with new life. His leadership has enhanced PERPLAN's standing in the Brazilian real estate landscape.
When Ricardo joined the company, things were under control but far from perfect. He led from the front and brought in changes that have enabled PERPLAN to perform much above its capabilities. Under his focused leadership, it has also started to achieve all its goals. PERPLAN is now recognized as a very important player in the Brazilian real estate market.
Ricardo has worked for multiple renowned companies, but for him, his current role as the CEO of PERPLAN is the proudest moment in his distinguished career. "I had many important moments in my career as a leader of several groups and teams, but certainly, this team and this moment are the best ones in my career as a leader," says Ricardo.
Producer of Excellent Services and Products
PERPLAN works mainly in three sectors: residential and commercial buildings, urbanism, and civil construction. It may not be a big entity, but it has built a strong reputation as a company that produces excellent products and excellent services. It is also recognized for being an ethical company with very good progress in Corporate Governance and developing new leaders and is known for having a modern relationship with its workers and society.
About five years ago, Ricardo initiated the adoption of Corporate Governance practices. Now, PERPLAN is a very different company for those working in it. It offers higher quality, is more professional, and is bigger in scale. Ricardo has a team of achievers who handle projects from the beginning to the end with zeal and dedication. They follow a series of steps to accomplish their goals.
The team first attains a specific area or land and then develops the technical and architectural design; following that, they get legal approval and complete the process of official registration. The team also crafts the marketing and sales strategy, comes up with the financial strategies, do the civil construction, and offers maintenance and technical assistance for 5 years once they finish the
construction. "This way, we usually stay in a single project for more than ten years," Ricardo says.
The team members are prepared to handle 10 projects per year, from start to finish. "We´re trying to reach this goal in the next two years," says Ricardo, adding, this is not so easy in the Brazilian market where thousands of companies are present. Only about 5 to 10 companies are capable of managing 10 projects a year.
During each project's cycle, PERPLAN establishes a strong relationship with many suppliers, partners, clients, government companies, banks, and others, and it remains in contact with them throughout the project and after that. Ricardo says that their team is very diverse, which includes technical workers from different areas of knowledge, such as architects, engineers, lawyers, economists, and marketing and sales specialists.
PERPLAN's Board provides Ricardo and his team a direction on how to run the company. "We talk about our growth strategies for the future all the time," Ricardo says. They also hold a formal meeting at the end of the year to redefine the business plan for the next five years. The leadership team has the autonomy to deal with the daily operational challenges.
Moving Out of Comfort Work Zone
All through his long career, certain aspects of Ricardo have remained the same. He works a lot and always dedicates himself to the company he works for. He gave his best to all the five renowned companies he served in Brazil. "Life-long learning" is what Ricardo believes in. He tries to study all the time, but he also knows that it is not possible to gain all the work-related knowledge. "It is an impossible goal," Ricardo says. So, as the leader, he feels that the best thing to do is try to develop an ability to find some specialized workers who know much more than he does.
When Ricardo was young, he used to play soccer, swimming, and tennis, and he was a judo player as well. At the time, he believed that sports were an essential part of his life, as they provided him with different skills and taught him how to deal with both success and failure. He also learned how to handle wins and losses as part of winner groups and loser teams. Everyone, according to Ricardo, should understand that life makes one experience both the highest moments and lowest moments as well as peaks and pitfalls. "When someone understands this as a child, they will be prepared to handle different situations of their life in the future," he adds.
For Ricardo, 2007 was an eventful year. He encountered a challenge that made him move out of his comfort zone of work. At the time, he was working as an engineer, specializing in heavy construction. He had expertise in tunnel construction technology, airport construction, and also other kinds of jobs in the heavy-industry sector. In 2007, he received an offer to work for a big company in the real estate industry as Director.
The new opportunity came as a big challenge for Ricardo. He had no prior work experience in the sector, and the company he had to steer was a renowned one in Brazil. Also, Ricardo had to lead a very big project – one of the biggest projects in Brazil at the time.
In the beginning, he took some time to understand the real estate market, which has very different characteristics from the market he served previously. "Luckily, that time the company had excellent other leaders who gave me very good support," Ricardo recalls.
Once he joined the company, Ricardo was tasked with preparing a totally new team – a major challenge for him – who could deal with the new project. "It'll not be wrong to say that, at the end of five years, we had an excellent and focused team," he says. Ricardo overcame all the challenges that the new field posed to him and impressively led that team.
Why Real Estate Industry?
Ricardo believes that a company is "definitively successful" when it provides a very good service and product to its clients. It is also successful when it creates conditions that ensure the commitment of its workers to the company's proposal. Ricardo points out that as the world is becoming more complex, the Government is finding it difficult to provide citizens with a good quality of life, and this responsibility is now being transferred to private companies.
They have to create conditions for their stakeholders, mainly workers and clients, so that they can have a better life. But, while creating such conditions, companies also need to focus on their proposal and the objectives of their shareholders. Ricardo notes that it is going to be impossible to have a sustainable company if it fails to achieve the goals that its shareholders have set for it. It has to be clear that these goals are not only related to financial results but also are related to the proposal of the company.
The real estate industry offers the opportunity to provide a good living to clients and also creates opportunities for workers to develop themselves. This is one of the reasons why Ricardo feels happy to be part of the real estate industry.
As the CEO of PERPLAN, Ricardo tries to ensure that they are providing a very good service to their clients as well as creating conditions for their workers to develop themselves. He points out that some people may think that it is the company's responsibility to offer happiness to their workers. "This is not a correct way of thinking as I see it," he adds. Ricardo believes that the workers' happiness is their own responsibility, but he also believes that the company must take their decisions and work on political strategies thinking about their workers' welfare.
Future of the Company in a Complex Market
PERPLAN is still in the growth phase. It is going to grow until it reaches the target of about R$ 1 billion/year (about US$ 200 MM/year) in annual sales and accomplishes 10 products each year. In a market like Brazil, which is very much polarized, these are significant numbers. Only a few companies have the manpower and resources to achieve them. "We can achieve that in 2 or 3 years," Ricardo says. He, however, does not know whether they are going to grow bigger than that.
Once they reach the current target, Ricardo says that they will have to discuss internally their next move. It is because the Brazilian market is a difficult and complex one and sometimes, becoming very big may attract problems. "If we decide to do that, it is going to be as a consequence of our structure's maturity," Ricardo says. "But this is a subject for the future."
One of Ricardo's personal goals for the company is to prepare young people to deal with the difficulties in their lives, mainly in a world that is stressed, competitive, and strewn with many challenges. He intends to do that by following these strategies: having a very good dialogue with all the people, providing a very good communication system at the company, and removing obstacles that exist between the young generation and other leaders in the company. "This is not an easy job as differences between generations are growing. We have to prepare ourselves to do that and reduce the gap between the two," says Ricardo.
Weekend Is for the Family
Ricardo tries to maintain a work-life balance by booking his weekends for his family. Both in the past as well as in the present, his family has been a big motivating factor in his life. Ricardo has known his wife since he was 17 years old – they have been together for 42 years now. He and his wife are parents to two sons, who are 22 and 29 years old. Ricardo says that his life is dedicated to the three members of his family, more than to himself. So, he usually does not work on Saturdays and Sundays. And, during the weekdays, he dedicates all his time to work.
"I'm not recognized as a workaholic, but I'm certainly recognized as a professional with a strong commitment to the company," says Ricardo.
Traveling is Ricardo's favorite hobby. So, every year, he tries to travel all over the world. He travels whenever he gets an opportunity to stay out of the company and is assured that other leaders are doing a very good job, mainly when he is not there.
When Ricardo is working, the challenge that comes with a new project keeps him motivated. He points out that in the real estate landscape, one cannot rest on past laurels. The success experienced in a previous project does not offer the guarantee that one is going to repeat the same success while doing future projects. "Our market is a very sensitive one, especially if it is a complex and unstable world," Ricardo says. "Companies have to be always prepared for disruptive movements or fast changes.
Happiness Means Success
Many people measure success in terms of money and how well they are known in the world, and they are driven by material values, notes Ricardo. He prefers happiness to money. Ricardo believes that in order to achieve real success, one has to be happy in every social situation or personal circumstance. For example, school teachers who belong to the medium economical class enjoy personal success when they feel a sense of happiness by teaching young people how to deal with their lives.
On the other side, for example, rich people cannot think of their situation in positive terms or see their condition as successful if they suffer from stress or anxiety. So, for Ricardo, the best definition of success should be – "success is to have happiness in the social condition you really are in."
Message to Aspiring Leaders
Ricardo is a life-long learner. In his message to aspiring leaders, he notes that one's life is a "Long Life Journey" based on "Long Life Learning". Some people, mainly the younger ones, are trying to find a fast track to achieve what they believe success is: to earn too much money very rapidly. "Forget it! This is not a success," says Ricardo
"As I said before, success is to be happy with the social condition you are in," he adds. "You need to make an effort to deal with that."