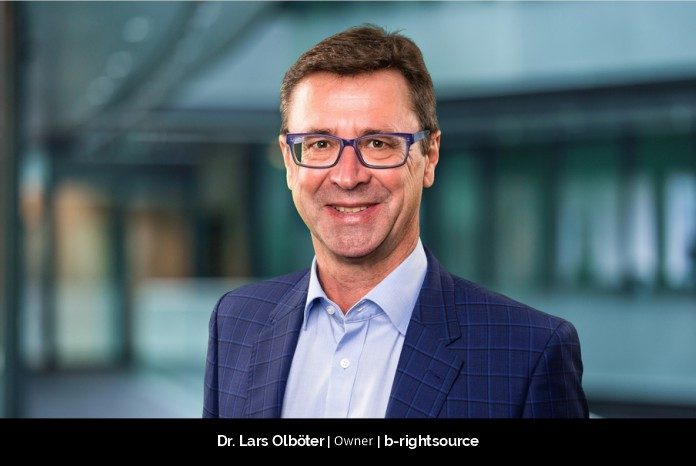 As the firm believer of Johann Wolfgang von Goethe's saying, "Everyone still has enough strength to do what they are convinced of," Dr. Lars, Founder and Managing Owner of b-rightsource, is all set to revamp the IT industry with clean and smart solutions. The fundamental principle for any IT organization to rise from a small-scale company to a big corporate beast is to work as a Formula 1 car engine. Every component holds the right place and works smoothly with each other to give maximum power.
Similar to that premise, in a company, when employees know their role and understand the workflow properly, they complement each other to skyrocket the output. Being passionate about the IT field, Dr. Lars has put his faith in two robust software: SAP and ServiceNow.
SAP provides full support to the business processes while ServiceNow handles the internal management of the work. Dr. Lars aims to digitize the product development process and create a remote network that works smoothly and provides state-of-the-art solutions to the customers for management.
Evolution from IT Head to Change Manager
The road to becoming an IT expert and Change Manager was a long one for Dr. Lars. Starting his journey in the consulting firm, he worked his way up to becoming CIO of different MNCs. During this phase, he successfully achieved better management of internal affairs in the company.
This achievement sparked a kindling in his mind that was the biggest motivator for becoming a successful leader and change manager.
After this, that kindling only got bigger and bigger. Dr. Lars set foot in the IT industry to change the traditional approach of internal workflow and servicing the customers.
Journey to setup B-righthouse
Dr. Lars always had a dream to build a company that works remotely and functions as a single unit with the least discrepancies. He was addicted to cloud services to manage all the work and wanted a smart, clean approach to fill colors to his dream.
He came forth with his brainchild, B-righthouse, a company that was all set to revamp the IT industry's fundamental working. Initially starting out in Barcelona, Spain, the prime mission was to serve the Swiss market.
But due to some circumstances, the company pivoted away from that and headed towards Service Management. With ServiceNow being the sharpest arrow in their quiver and the leadership of Dr. Lars, they became the first Bronze Technology Partner and Company in 2017 to publish a ServiceNow product on the ServiceNow store.
B-righthouse: Servicing the IT industry with an improved clean approach.
As an experienced CIO and business leader, Dr. Lars took his brainchild to become ServiceNow Premier Partner, SAP Technology Partner, and the first Swiss company with a store product.
After the successful launch of the first product, SAP KeyUser Pro, he aimed to develop more store products and target other business process topics to improve internal corporate processes.
Having an immense in-house knowledge base on SAP, they are bridging the gap between IT and SAP organizations. With B-righthouse, Dr. Lars wants to achieve more automation in internal corporate processes. He is providing better systems integration to allow seamless and fully digitized processes and better support for remote work through automation and digitization.
SAP KeyUser Pro was the benchmark for Dr. Lars and his team from where they started targeting the automation of internal workflows.
With the unique product SAP KeyUser Pro, they aim to position the company with solutions integrating ERP systems with software dedicated to improving internal workflows. They visualize to focus on product development with respect to process digitization.
Dr. Lars wants a company that works remotely, removing the need to travel to brick and mortar office. He wants to work closely with partners to complete our service offering without building up competencies in every area, making them fast and flexible in delivering all the unique solutions.
A peek into the day of B-righthouse founder and MD
Being the MD and founder of B-righthouse, Dr. Lars has to constantly review and develop the strategy to allow employees to work remotely, manage sales, partner management, business development, and think of new business solutions for customers.
He understands the point that working remotely poses new challenges every day in the team. Nevertheless, he keeps everything under control with regular sets of online meetings.
He states, "My main motivation comes from good ideas that we can implement in customer projects. This is a good satisfaction for my employees when they see that our customers like our ideas."
By working remotely, he uses the extra 3 hours of the day with finesse. Being an early bird, he follows a strict regime for the full day. He likes to live a disciplined life where he dedicates proper time to every segment. He likes to work out and set proper lunch breaks for himself and his whole team.
He enjoys cultural activities like going to the opera or visiting an event. Other than that, he loves to travel and participate in scuba diving and sailing. However, with COVID disrupting everything, he enjoys light reading of a new book or watching a new movie.
Focusing on leading a healthy lifestyle, he never misses indulging in proper planning and plotting new strategies for his company.
Climbing The Ladder of Success to A Globalized Business
Presently, product development, consultation, and sales via ServiceNow are their key revenue generators, and they will focus on creating more products in the future as well to stir up more sales.
B-rightsource's product roadmap is all set to be implemented in the upcoming years. They are even planning to bring in more partners as per the company's success.
2020 turned out to be an awakening for more remote work, and they are planning to lay out in the same fashion.
"Our strategy contains globalization. We started with the German-speaking regions but will soon expand globally. This is more a sales and marketing-oriented initiative because our products are already globally available. Due to our cloud strategy, our products can be installed within 10 minutes globally, and customer projects can be run remotely.", He adds.