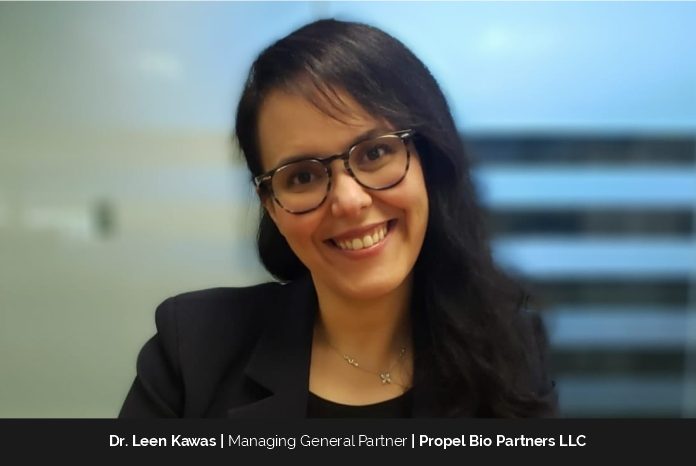 Dr. Leen Kawas is one of just 22 female founders and CEOs who have led their firms to an IPO as of February 2021, and she is the first woman to lead a company to an IPO in Washington State in more than 20 years. She is presently the co-founder and Managing General Partner of Propel Bio Partners. Prior to Propel, she was the co-founder and CEO of Athira Pharma; she co-invented the lead candidate fosgonimeton (ATH-1017) for the treatment of Alzheimer's disease and numerous novel drug candidates in Athira's pipeline From January 2014 until Oct. 2021, Dr. Kawas served as Athira's chief executive officer and president, as well as a member of its board of directors. In this capacity, she oversaw Athira's innovative technological and financial growth, raising over $400 million and guiding the firm through its first public offering. According to Business Insider and GeekWire, as of February 2021, Dr. Kawas was one of just 22 female founders and CEOs to take their firm to an IPO, and she was the first woman to steer a company to an IPO in Washington State in over 20 years (at the time of Athira's IPO in September 2020).
Dr. Kawas serves on many boards, including Persephone Biosciences, the Alzheimer's Drug Discovery Foundation's Scientific Review Board, the Alzheimer's Association's Washington Chapter Board, and the Inherent Biosciences board. She is also an advisor to the leadership team of Nucleate-Seattle.
Dr. Kawas is a strong advocate for scientific entrepreneurs, particularly women. She loves to travel, learn about various cultures, and cook! Dr. Kawas and her husband have two children and live in Los Angeles, CA.
Success for Dr. Kawas
Dr. Kawas enjoys helping individuals reach their full potential and performing work that helps people live healthier and more fulfilling lives. That is why she considers herself privileged to work in a sector where she and her colleagues may have a substantial influence on human health. She says, "The work we are doing will help people now and for many years to come. Eradicating diseases is something that impacts individuals, families, societies, and the world."
On a personal level, Dr. Kawas describes success as having love, respect, trust, commitment, and collaboration as essential principles in one's own family; being able to recognize and honour the effort of one's partner (her spouse). She also believes that those who can successfully convey their needs while simultaneously responding to other requests or criticism are more likely to succeed.
Commitment to Follow Dreams
Dr. Kawas has a special fondness for the United States and its business entrepreneurial culture. She considers the potential to establish and create a firm with a technology that can assist millions around the world to be incredible. She worked hard, took chances, and thought outside the box, but it would have been nearly impossible without an atmosphere that encouraged innovation, supported entrepreneurship, and invested in future leaders. She arrived in this country with less than $100 and was able to pursue her dreams and long-held ambitions. She states, "As women, we do face additional challenges, and I always had the attitude that as individuals in society we must acknowledge it and work hard to achieve success and help promote gender equity. Allowing it to stop us from pursuing our goals is not the path I decided to take." Dr. Kawas decided to work hard, believe in herself, and not allow others to determine what she could or should do.
One of her advisors gave her a magnet with the quote "Whatever women do they must do twice as well as men to be thought half as good. Luckily, this is not difficult." She remembers that they both laughed, but she was sad that this is the reality we are living, and Dr. Kawas wants to change it. "I was labelled as the first woman to get this or do that, and I always thought I wanted my daughter to be the first person to accomplish something. The gap is real, but there are enough people out there that don't see gender and only see talent," says Dr. Kawas. Her message for young women out there is to believe in yourself, surround yourself with people that believe in you, and go do it.
Defining Strength by Facing Challenges
Dr. Kawas considers hardships to be life lessons. She believes that there is always a hidden opportunity and a silver lining that you cannot recognize when first faced with a challenge. Every hurdle she faced aided her personal, professional, and interpersonal growth. She had a difficult experience when she left her previous firm, Athira. She recalls, "It was very hard to visualize myself doing something else. A lot of people told me when I left that we always thought of you and your company as one. I very quickly decided to take that experience as a growth opportunity. I reviewed everything I did at Athira, the impact I had on the growth of my team and the advancement of the company. The skills that I developed as a leader, scientist, and entrepreneur and the knowledge I captured in drug and product development, in finance, clinical, regulatory, and legal!" Dr. Kawas has done it all at various phases of company growth and understands this is a one-of-a-kind experience, which she delivers from the perspective of a female immigrant. Dr. Kawas chose to utilize all of her expertise, success, and experience to help aspiring entrepreneurs accomplish their vision and the common objective of positively impacting human health and improving the quality of life.
Propel Bio Partners, LLC
Propel Bio is a global investment firm that is focused on the life sciences industry. Propel Bio provides an entire ecosystem of experts to support entrepreneurs in achieving their vision. The firm primarily focuses on early-stage and small-cap public companies and private companies with comparable valuation metrics, where it is expected to have the greatest potential for growth. Dr. Kawas describes what they do, "We evaluate the company's financial position, management team, corporate and product development strategy, governance, shareholder constituency, and potential catalysts for growth in identifying those companies best suited to be part of our portfolio."
The strong operational, financial, and scientific experience of the Propel Bio team adds a unique value to its enterprises. The team at Propel in past experiences implemented many tactics to de-risk and speed the development of life science products in a cost-efficient manner. Supporting firms in adopting comparable techniques has the potential to boost their chances of success.
Dr. Kawas feels that her operational and entrepreneurial expertise allows her to see things differently than conventional investors who primarily focused on finance. In addition to financing, the business offers a large network of industry specialists. She says, "If a company needs our input on an operational or regulatory strategy, we provide experienced advice but more importantly are able to bring the right expert to support our portfolio companies."
Sharing Views on Women's Empowerment
Dr. Kawas believes that it is critical to be intentional in promoting gender equity until it becomes an organic part of your organization's culture, structure, and personal conduct. She is proud to say that she has been successful in making it an organic behaviour in her firm; the majority of the firm's investments to date have been in women entrepreneurs; this was not part of the decision-making process, and she only recognized it when discussing management teams of the firm's portfolio companies. That was a gratifying moment for her because she works with a team and a company that values gender equity. She says, "It has been more challenging as a woman, but not impossible." Sometimes looking different helps with people remember you. I always tried to see the bright side in things and use it to my advantage."  Her view for young women is to learn about themselves, what they want to do, and just do it. It will not be easy, but it is not impossible.  "Learn how to promote yourself and focus on the end goal. If you fall, dust yourself off and keep propelling forward."
The recognition Dr. Kawas admires the most is when she became a mother leader and was acknowledged and celebrated for it in a Biospace article.
Perseverance in Personal and Professional Life
Dr. Kawas leads the team at Propel, and supports defining its investment strategy, due diligence process, and portfolio companies' selection. She also supports the firm's portfolio companies. She says, "As a managing general partner, you do everything."
For her, individuals should decide on a lifestyle that fulfils them and makes them happy. She always tells her team members "it is a lifestyle; our industry's mission really keeps us motivated." She tells her team that if they are successful with their investments, they will have the financial ability to continue to do well in the world while they do well.
Investing in the future
Dr. Kawas intends to develop an investing platform that offers more than simply funds to firms. She commented that "at Propel Bio we invest methodically and support thoughtfully".  "If we invest in companies with successful products, and capable teams, the financial return will follow". That was her compass as an entrepreneur, and it is her guide as an investor. "Grow the fund; continue to invest in companies with significant potential," says Dr. Kawas. She goes on to say that Propel Bio would continue to foster its culture of diversity and inclusion across the board.
Dr. Kawas wants to foster increased diversity in the finance and life science industries in a variety of ways today. She hopes to revolutionize the way clinical trials are done and products are developed with a primary emphasis on patients, and to promote patient-centric discovery and development strategies. She sees big opportunities to leverage many technological advances to change the life science and healthcare industries.