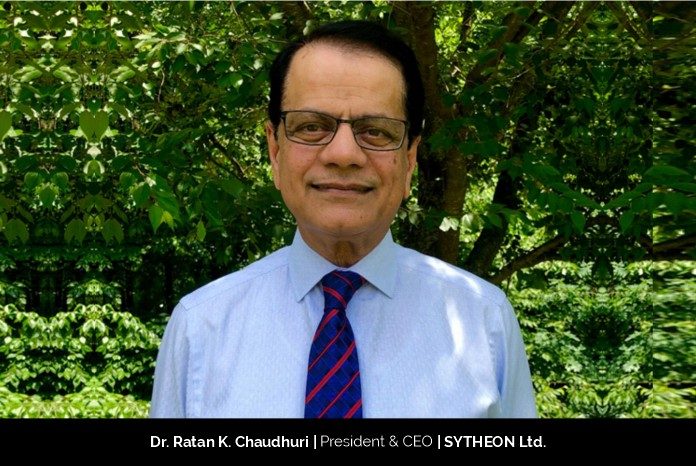 Ratan Chaudhuri, Founder, President and CEO of Sytheon Ltd., is all set to revamp the cosmetic industry with effective and eco-friendly products.
Climbing the ladder of success
Ratan was born and brought up in India. In 1974, Ratan left India for higher education to join University of Bonn (Germany) and then Swiss Federal Institute of Technology (Switzerland). In 1980, he moved to the US and was at University of Wisconsin, Madison. His first industrial carrier began in 1985 when he joined ISP Chemicals.
In 1996, he joined EMD Chemicals, Merck KGaA, Germany as Technical Director – Personal Care. He worked at the company for eleven years, where he gained valuable experience.  During this time, he also gained insights into the market, which allowed him to structure his future path.
In 2006, following his passion for becoming an entrepreneur with his extensive experience and valuable skills, he founded Sytheon to serve clients with better cosmetic products.
He adds, "I have always believed in myself and learned to focus on solutions to solve any situation.  I may not always have the answers, so counting on others is another way that I continue to grow the company and gain others' trust."
Crossing the hurdles along the way
Being the founder of the company, Ratan faced several challenges in the early phase of development. He states, "The challenge has been to focus on continually generating new ideas and translating these into the execution of business growth."
The first decade witnessed slow growth, so the company focused on expanding its workforce by hiring appropriate employees. As the company was rising and a new entrant in the industry, it was not easy to gain the clients' trust.
However, Ratan and his team worked hard and achieved credibility by on-time delivery and high-quality effective products.
He states, "The way we overcame these challenges was to focus on science-based products that brought quality ingredients to large companies that returned ten years later. By having unique products that are effective, we gained trust and credibility with our customers."
At the time COVID-19 pandemic, when most of the companies were failing to stand their ground, Ratan and his team refocused the strategy to develop the brand further online. With this strategy, they saw a 50% growth in 2020 and trending to keep this growth into 2021.
Revamping cosmetic industry with Sytheon Products
Founded in 2006, Sytheon is a research-based company committed to developing high-performance active ingredients for the personal care industry. The company is headquartered in the US, with offices in France and Singapore (2022). All active ingredients are scientifically and clinically validated to improve the health and beauty of the skin. Sytheon has always been focused on science-based products that appeal to customers in the cosmetic industry.
Ratan states, "Sytheon has contributed safe and effective science-based products in the cosmetic industry. Our focus has been on multifunctional ingredients that provide transparency to the consumer.  We have developed a new website dedicated to one of our products Sytenol®A, Bakuchiol (bakuchiol.net), to educate on the origin and efficacy of the products."
There has been a trend for cleaner and greener products in the market. The company is producing innovative products to create a reputable brand in the market. The innovation process of the company is driven by four core conditions for qualifying for a potential blockbuster.
Safety: Toxicological dossiers, REACH registration, and close collaboration with toxicological experts
Stability: Manufacturing stable ingredients with ease of formulation
Differentiation: Branded products with unique properties that provide quality for the consumer
Performance: Offering scientifically and clinically validated products to improve the health and beauty of the skin.
Ratan states, "Every active ingredient in the Sytheon portfolio is inspired by nature: either they are directly derived from Mother Nature, or they are inspired by natural chemistry and made through organic synthesis. Sytheon's goal is to supply ingredients with proven performances for unique and superior end-products."
All active ingredients are multifunctional and can be used in all major skincare categories as anti-aging, brightening, even skin tonner, SPF boosting, hydration, barrier building, pollution/blue-light and anti-acne.  Use of multifunctional ingredient is the smart way to increase performance and sustainability and reduce complexity of formulations.
Life as the Founder, President, and CEO of the company
Ratan takes pride in overseeing all aspects of the company.  He states, "My roles and responsibilities as the CEO are for the overall growth and success of the company. For me, work is my hobby.  I love what I do and find great joy and satisfaction working and growing the company further. I feel I am a successful leader because I constantly challenge myself and other employees to grow."
Being a passionate entrepreneur and business leader, he always strives for excellence. He thrives to continue to bring the company to the next level. Being the founder of the company, he knows the value of a solid team in the company. He values every team member and believes in collective growth.
He gets his motivation from encompassing new innovative ideas at his business. To keep his team motivated he provides them opportunities to participate in key decision-making in product and business developments. He believes that this strategy allows the employees to feel that they are valued assets of the company so that they deliver exceptional services to the customers.
Ratan understands innovation is the key to growing a company. His advice to new entrepreneurs is to "Stay positive, hold on to your goals, be open-minded and believe in yourself".  He started Sytheon with that in mind and has grown the company.
Future plans for the company
Sytheon will be growing into the Asian market further in 2022 with a branch in Singapore. A new team will focus on Symbionyx, a sister company in the pharmaceutical area.
Company website: www.sytheonltd.com