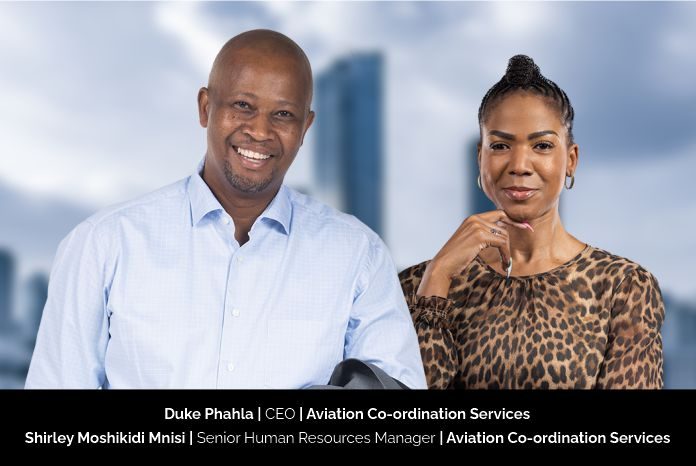 Being accomplished executives in their fields and having vast experience in mining and manufacturing industries, both Duke Phahla CEO of Aviation Co-ordination Services and Shirley Moshikidi Mnisi, Senior Human Resources Manager at Aviation Co-ordination Services, pivoted towards the aviation industry to take on the ongoing challenges and bring change in the industry.
Duke expresses, "After 20 years in mining, I felt that I had reached the ceiling, and it was time to go for new challenges in a completely different industry. I have always admired the industry and wanted to explore more to build on my understanding of the industry. And to contribute my experience as a leader to ensure continuous improvement and transformation."
Shirley states, "I had been in the manufacturing and mining sectors for about 15 years, and I felt I had done my part, and it was time to move on to a new challenge. Aviation was particularly interesting, given how it looks simple on the surface but yet very complex when one contextualizes the "safe traveling customer experience" aspect of it and the amount of responsibility that each company in the industry contributes to making all those interesting journeys memorable."
Learning crucial lessons on the way to success
Both Duke and Shirley believe that challenges are the golden opportunities where a person learns and evolves into a better version. While moving forward in his career, Duke learned to improvise according to a given set of circumstances and stay resilient. Shirley also appreciates facing the challenges as the tough situation pushes her to get out of her comfort zone and excel. She adds, "Tenacity, Integrity, Consistency, Intensity, and Continuous improvement are the five roadblocks that helped me to pause and think deeper as I navigated my professional journey and contributed to my dynamic style of work!"
Taking ACS to the next level
ACS is a not-for-profit that provides support services to international, regional, and domestic airlines that operate to, from, and within Southern Africa. They provide 100% hold baggage screening, baggage reconciliation, cargo screening services, and maintenance of self-service check-in kiosks.
Integrity and honesty, transparency and openness, mutual respect, social responsibility, and service excellence are the core values that run deep into the roots of the company. These core values serve as a guiding light not only for the frontline staff but also for the administration of the business.
Driving the wheel of the company on its core value, Duke states, "We not only make sure our core values are an everyday staple, but we stay ahead of the curve by ensuring that we are open to improvement, we are agile especially in these uncertain times in aviation but most of all we do not compromise on the quality of the service that we offer."
Shirley backs Duke by supporting his vision and constantly indulges her team in listening to their customers and exploring new ideas and better solutions for their stakeholders.
She believes that transformation and technological advancements are the key values that stay at the heart of ACS and getting the basics right and creating an environment where everyone can contribute at their optimum levels of performance will bring wonders for the company.
Fueling the growth of the company
Wearing the hat of the CEO, Duke oversees the company's strategy and executes the business plan as set out in the mandate directed by the Board. Being the firm believer of the quote by Simon Sinek, "The job of a leader is not about being in charge but taking care of those in our charge," Duke leads a brilliant team to achieve the best service for the company's clients while making sure that everyone feels their value to the company while fostering a culture of transformation.
Even Shirley follows a similar approach. Being a dynamic leader, she believes in leading a team while not bossing it and pushing everyone to attain excellence in HR service delivery. Taking the onus of her role at ACS, she attracts new talent to the company, develops their skills, and retains the talented people, making it conducive for ACS to deliver on its mandate and contribute to the overall transformation and creation of sustainable, meaningful jobs for their people.
When it comes to boosting the morale of the employees, Shirley likes to remind everyone, including herself, about the core values of ACS. Further, she keeps everyone informed about the industry developments and grabs new opportunities for the development of ACS before people lose interest in them. She aims to look after the employees and not run behind the "all-day grind" approach. Rather she follows an empathetic approach to create a conducive work environment and keep everyone happy.
Thoughts on work-life balance
Both Duke and Shirley aim to create a balance between the personal and professional front. Shirley targets it by being conscious and realistic of time and clarifying expectations with those that are accountable to her or those who she accounts too. This includes everyone from work colleagues to her family and friends.
Even taking the work-life balance as a conundrum, Duke spends time with his family, enjoys me time to shed the regular stress while fueling the growth of the company with his full might. Knowing the importance of a positive work-life balance, Duke encourages his colleagues to cultivate it in one way or another.
Future prospects
Duke aims to navigate the company out of these unchartered waters or uncertain times by increasing its service offering and footprint in and outside aviation while remaining relevant as a service provider to the company's clients.
Resonating with her pragmatic CEO, Shirley wants to see ACS play a key role in the technological advancements of the aviation industry and taking the airports that the company serves to world-class service & customer experience level. She states, "We cannot do all this alone, so enhancing our stakeholder relationships and the transformation agenda become key enablers for the future of ACS as the leader in world-class Aviation services."