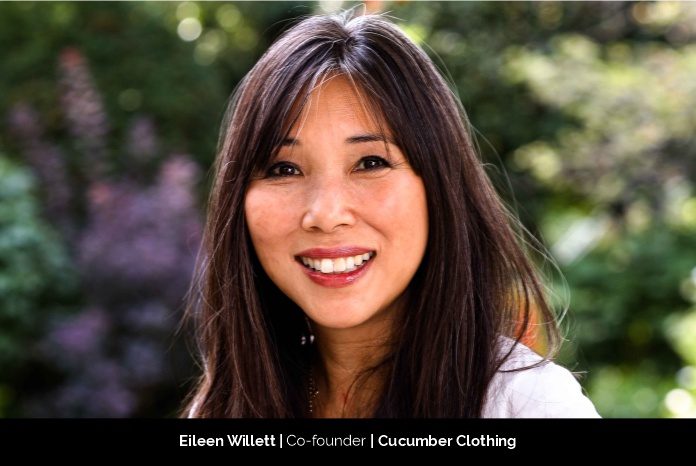 With a passion for creating something innovative and unique, Eileen Willett, Co-founder of Cucumber Clothing, is steering the company with her partner in the business in the right direction.
She adds, "We believe our ethical, sustainable, and locally made clothing empowers women using cutting-edge technical fabrics that feel gorgeous on but require the simplest care."
Rising to success
Eileen's career has remained firmly rooted in the creative industries. Born in Vancouver to Japanese parents, she trained in Paris in fashion design and started work as a fashion illustrator in San Francisco. She then spent a brief but formative time in Japan working at Billboard Magazine and finally settled in London, where she joined the then-fledgling Nicole Farhi Menswear brand.
She met her co-founder at the school gate almost twenty years ago and launched Cucumber Clothing in 2017 with a mission to create the clothing and sleepwear they could never find. They wanted to make collections that give women confidence and help them to feel good.
The inspiration for the company came from the gym-wear. The clothing was comfortable to wear and keeps people cool and dry as the day progresses.
She adds, "Our light bulb moment came when we realized there must be a way to reproduce this, but with a material that looked as gorgeous as it felt. We wanted to replicate all the qualities of our gym kit, but in more stylish, everyday luxury pieces that we would want to reach for time and time again."
It took about two years from having the idea to reaching the market. This time was spent researching the market, materials and making up samples (and testing them), fine-tuning the designs, photography, setting up the website, and tons of different things.
Learning lessons from the mistakes
Eileen states, "We have had to learn some hard lessons along the way." In the early phase of the company development, Eileen and her partner decided to outsource their fulfillment (picking, packing, and shipping to the customer). Fielding out this part of the business was nerve-wracking as this was the first time they had no control over this part of their customers' experience with them.
As they pride their customer experience, they were horrified when they began receiving complaints of wrong garments received, double orders sent, and boxes marked 'shoes' (they only make clothing).
She adds, "It was a month-long, very expensive experiment with endless firefighting, but it underlined to us the value we place on customer service."
Revamping the clothing sector with Cucumber Clothing 
They make luxurious clothes for everyday use. Their clothes empower women by using the latest ultra-modern performance fabrics that work to dissipate sweat and odors away from the body to leave the wearer feeling cool, uncrushed, and confident to get on with their day. They marry technical, high-performance fabrics to cleverly cut-to-flatter designs that function optimally and always feel amazing next to the skin.
Eileen states, "We are very proud of our 5-mile radius. Once our fabrics are in the UK, everything we sample, grade, manufacture, store, and send out is done within a five-mile radius of our London base. This means less waste and lower transport emissions – we believe in the power of local!"
They use minimal packaging and have taken plastics out of their chain. Their packaging is 100% compostable and biodegradable film using vegetable starch and is made in Lancashire, as are their recyclable packing tape and recycled and recyclable postal sacks.
She mentions, "We know our supply chain inside out and will only ever use companies that have good working conditions and pay fair wages. It's not perfect, but it's a start and one we aim to continue improving on.  In many ways, it is so much simpler for a small brand to make sure they are creating something that they feel proud of. "
Taking Cucumber Clothing To the Next Level
As the Co-founder and a full-time entrepreneur, Eileen has to manage a plethora of work aspects, including sales, manufacturing, customer service, social media, content creation, PR, etc. Further, she also prioritizes self-care and socializing and never gives up on that.
She is fully excited to create something brand new and transform the company's vision into life. She is also motivating employees and helping them to communicate confidently and share the same vision and passion with them.
Owing to her contribution, There have been many proud moments for Eileen, such as seeing their 1st collection fly out the door after a piece on Cucumber was published in the Daily Telegraph and appearing on Dragons' Den.
In addition to this, she says, "We have been asked to talk on everything from female entrepreneurship to launching a sustainable brand; been selected to take part in Cambridge University's Institute of Sustainable Leadership's Accelerator; been shortlisted for the Asian Women of Achievement of Awards to name just a few."
The two quotes, 'Believe in yourself' and 'The more you do, the more you do' from her father, have always stood the test of time and helped her attain several things in life.
Sharing her message with the aspiring businesswomen, she also adds, "Self-belief is difficult to achieve, we can all suffer from imposter syndrome, and it is so important to take a breath and understand that you can do it.  Once you've taken that first step, it is then crucial to throw your whole self into whatever it is you are doing. Every action you take triggers new ideas, acquaintances, and opportunities."
Keeping a good personal and private life definition is quite crucial, and she feels that launching a start-up without spending time with family and her partner would be detrimental to both her mental and emotional. Having a personal life enables one to have ample 'mental health breaks' so that one can recalibrate, reenergize and think more creatively at work. Such breaks for Eileen include cold water swimming and spending quiet moments in the garden with a book.
Future roadmap of Cucumber Clothing
With the pandemic, all retail sectors have witnessed uncertainty, and women's fashion has been no exception. She explains, "We've spent the last 14 months pivoting to ensure we capitalized on the online rush for leisurewear and our roadmap, which includes expanding into luxury spas around the UK."
As things are slowly coming back to normal, they are planning a plethora of pop-up events, which proved to be a game-changer for them in the past. Moreover, with the overseas expansion, they need to constantly review and upgrade the website to keep having a superb online shopping experience.
In the future, they are planning to be established as the premier fabric-led fashion brand for women in the UK as well as establishing a firm foothold in countries where they have already started to make in-roads, namely the US, Australia, Asia, South Africa, and the Middle East.