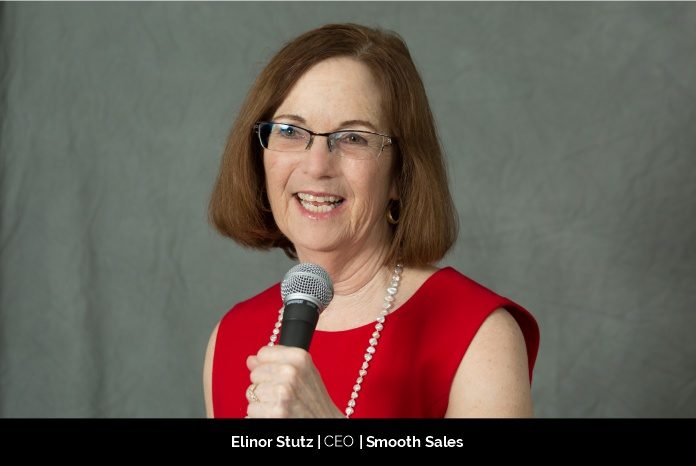 As the adage says, "Success comes to those who will and dare." Many successful business leaders had burnt the midnight oil and fought all odds to reach the zenith of their absolute success. Elinor Stutz, Author, Motivational Speaker, Sales Trainer, and CEO of Smooth Sale has also defeated many battles to reach the prestigious position of being a "Remarkable Sales Leader" in a fully male-dominated industry.
Sharing her unique 3-step success determinant in her 11-year sales career, she adds, "The first is whether I achieve the goals that I set for myself. The following measurement is to assess whether my work is helping other people achieve their goals. Last are the milestones in progress fulfilling my purpose and mission in life that will have me looking back with a smile to realize that I am successful."
Ladder to success
Elinor expresses that while climbing the ladder to success, she faced several hurdles, the first being a woman and thinking of a business. She focuses on the point by saying, "My life was not pleasant being a female as I was maturing. The sole expectancy was to get married, but I wanted more. I wanted a business career, but that wasn't possible either."
At that time the only job present was for a secretary, but she was not interested in that. However, she didn't lose her will to pursue a business career and firmly believed that Perseverance is the ultimate strategy for achievement. Thus, she created a business with her college friend, which progressed smoothly. However, the lady luck was not in their favor, and they went down as the market fell drastically. Traveling came as a lifesaver as she loved meeting people globally and exchanging insights.
At that time, she met her husband on a blind date, and their connection just clicked. She adds, "Our love for travel was in sync, and we took many wonderful trips together and later on with our family."
Restructuring the Sales Industry with her unique tactics
As a stay-at-home Mom, she grew a word processing business at home for professionals. But then came the phase where they needed more money to support their kid's education. Her husband then motivated her to pursue a career in sales, which marked the advent of her journey to create Smooth Sale.
When she commenced her sales journey, she recalls, "On the first sales job, management did not permit me any training. They judged me as a stupid female destined to fail. So instead, I chose to ask prospects how they preferred to buy and the type of vendor they like. Deemed 'a breath of fresh air,' by the fourth month, I became the top producer, not knowing a thing about what I was to be selling!"
Elinor reveals that it was her unique style with prospects that helped her convert them into clients.  She states, "The art of asking questions to gain the prospective client's viewpoint first is the better route for knowing how to conduct an insightful conversation and present one's offerings according to interests." Her first experience taught her to be authentic, curious, and open to building trust and clientele.
Her first book, "Nice Girls DO Get the Sale: Relationship Building That Gets Results," got her a contract from the first publisher approached, Sourcebooks, after which it was featured in TIME Magazine and soon became an International Best-Seller.
She adds, "After the publication of the book, I created an entire product line, and I began instructing students at Junior and State Colleges, groups of entrepreneurs, and teams in Silicon Valley on how to sell well. All the while, I kept my near-death experience to myself until one day, Les Brown heard the remarkable story. Upon his suggestions, the story became my inspirational delivery on stage at conferences that receives standing ovations every time."
Now she shares her pearls of wisdom via her blog that executives, salespeople, entrepreneurs, and media enjoy. Moreover, she showcases leaders from varying industries to inspire readers to take necessary actions to achieve success more quickly.
Adding feathers to her cap, she states, "Kred made the global announcement that I am among the Top 1% Influencers.  Next, they created a page on my behalf that features my work, https://elinorstutz.kred/ that includes my blog, books, and online courses."
She ultimately wants to connect with the leaders of organizations that she admires and wants to bring balance in the industry, including sales leaders from diverse races and ethnicities. She states, "On a personal note, I hope to encourage females to speak up and take a strategic stance when an occasion requires doing so." It is because she believes that "You hold the key for creating an improved future."
Life as a professional trainer and motivational speaker
Elinor states, "I write and connect online with leaders who hold similar priorities. Before taking a client, I ask many questions to understand their motivation, goals, and what may be holding them back.  The upfront conversations allow me to deliver what is needed plus help set them apart in their field."
As a motivational speaker, she inquiries about the intended audience and how she is seen as a fit to deliver the audience's needs and desires. Connecting the dots, she can put together motivational and insightful insights in a perfect manner.
She expresses, "Story-sharing is at the helm of my talks and training for the lessons and experiences to be easily understood and memorable."
Achieving work-life balance
Balance plays a crucial role in Elinor's life. She has a dedicated system which she calls a Laser Goal-Setting system for her lifestyle that allows her to work and take out ample time for her family.
In this system, she always has a running task list that eliminates the wastage of time in recalling what comes next. For corporate sales, she uses a CRM system essential for remaining on top of all the client requests.
Every evening she first reviews what she did well and what needs improvement. She then charts out a prioritized task list for the next day. The following day, she faithfully completes everything she set out to do. She then devotes time to the long-term projects that will help her achieve her long-term vision.
She likes to take breaks during work and indulge in creative projects. These projects keep her motivated to tackle the upcoming challenges and stay focused on her vision.
Future plans
Elinor adds, "My fondest hope is that we overcome the pandemic and can once again participate at conferences. In particular, I greatly enjoy speaking on stage as I seek to inspire the audience to achieve more than they deem possible. Additionally, I will always contribute insights for job seekers so they may interview well and become the candidate of choice."
She expresses that with a well-designed plan, every dream can be pursued and achieved smoothly. The aspiring leaders should not be afraid of errors and setbacks as they provide better lessons for moving forward. The most important thing is to stay away from negative people and bury them with success.
She also shares some unique insights for people desiring to become successful in the sales profession:
"Always research each company and the industry it represents upfront. Admit what you don't know and gain clarification to move forward on an equal footing. The steady building of credibility, trust, and consistency in building relationships are the essential ingredients in everything we do for achieving success. One more insight is to enjoy having a heart-to-heart plus mind-to-mind conversation upfront with clientele."