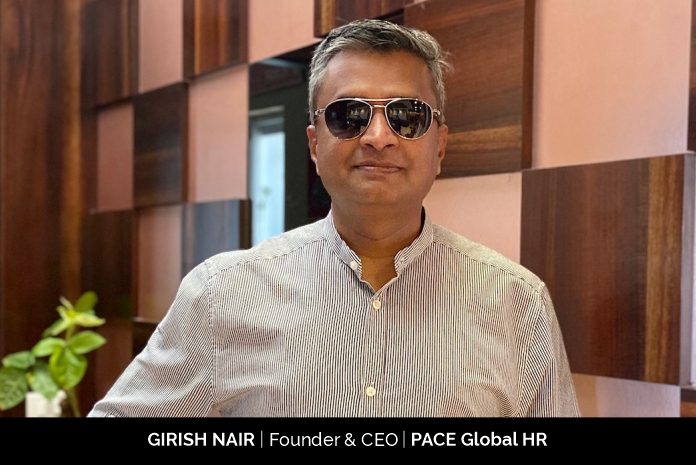 PACE is an innovative HR consulting firm, providing end to end customized HR solutions across the globe. The Company specializes in People Acquisition, Culture, Engagement and HR virtual delivery through their e-Hr product which is being extensively used during these COVID lockdown times. Founded with the aim of partnering with Corporations and helping them achieve their Business and HR objectives, PACE has come a long way in creating and nurturing an innovative model that provides end to end HR solutions. The firm also operates SI (Systems Integration) HR solutions in working with the top HR brands on making HR service available from a single window. As growth partners, PACE helps organizations drive innovation by implementing the unique ACE (Accelerate, Capable and Enduring) model to help realize significant and sustainable performance improvement from an HR framework.
The Company model is both creative and unique and is based on experiential learning, global benchmarks & exclusivity. At PACE, Client organizations are mapped into this model to assess their existing maturity levels in every people process and slowly and steadily they are enabled to enhance their HR process maturity. With more than a decade's presence in the field, PACE now has over 100 + customers to whom they have offered their HR services, and this includes both Indian and Global organizations. However, the company's primary business revolves around HR as an outsourced model which includes HR Outsourcing – Virtual model, HR Consulting, HR Legal, Talent Acquisition, Training, e- HR implementation and CHRO services.
The entire HR life cycle under one roof
The company facilitates alignment of the HR strategy to the overall organization strategy. At PACE, the team believes that the role of Human Resources (HR) has evolved from being a support function to a business enabler and a catalyst over a period of time. With the aid of service providers and latest technology, HR has moved from being a cost center to a profit center and has become an essential component in achieving corporate objectives. Drawing from these lines, PACE offers pioneering consulting expertise for organizations in all stages of growth and is thereby partnering with Corporations for HR excellence across various industry verticals using the HR Framework. Using this strategy, they have already offered their HR solutions to around 20 industry verticals.
The company offers proven methods for transforming the HR function through their unique CHRO services, by focusing on improved efficiency and effectiveness in order to deliver better business results to internal clients. Additionally, PACE helps organizations maximize the potential of every employee thereby aiding business growth. It helps companies effectively manage the ever-growing complexities in the HR domain by utilizing their own resources in the best possible way. Having worked in different domains and industry verticals, the PACE team brings to the table an innovative HR approach based on experiential learning. The organization has several experienced HR specialists in all facets of HR, thereby providing the clients an added advantage as their requirements is understood better.  To sum it all, PACE offers the entire HR life cycle services under one roof.
Combining strategy, expertise, efficiency, and support from thought leaders
PACE combines strategy, expertise, efficiency, and support from the industry's thought leaders covering all aspects of talent acquisition. Customized solutions are integrated with talent acquisition strategy, global recruiting resources, competency-based methodologies and a flexible service delivery model thereby enabling clients to identify, attract and retain talents. PACE offers HRMIS products on Cloud and on a SaaS model by partnering with HR product companies which covers all aspects of HR. e-HR brings about consistency, improves quality and employee satisfaction, maximizes technology potential, and brings about effective cost cutting. The Company also offers other HR products to enhance operational efficiency.
PACE also offers an exclusive Outbound training experience where people can take a break from their routine jobs, spend time in the lap of nature and experience team building activities that are blended with fun and learning. https://www.facebook.com/paceoutbound/
A visionary leader spearheading an innovative firm
Spearheaded by a visionary leader Girish Nair, who has close to 3 decades of experience in the entire HR lifecycle, PACE has come a long way in becoming one of the most preferred partners.  Girish's areas of influence include defining HR strategies and aligning it to individual organizations. He has been directly responsible for formulation and implementation of various HR strategies and policies for organizations both locally and globally. Girish is credited with building organizations from scratch and helping them become strong HR brands to be reckoned with. He has also been proactively involved with numerous mergers and acquisitions. He has led various IT Organizations as their Global head of HR. He is associated with organizations like Satyam now Tech Mahindra and Aztecsoft now Mind tree consulting. In his last assignment, he was the Corporate VP and CHRO for Aircel, India. He played an important role in launching and building up their presence in India. Girish has been a speaker on topics of HR interests, both in Indian and International forums. He has also contributed to various newspapers and periodicals. He has been a guest lecturer in various Management schools and has also been on the panel of various HR forums.
Under his able leadership, the corporations he worked for have won a string of HR accolades and awards. PACE has also been a recipient of various HR awards, the latest being the APAC HR leaders award in Feb 2020. Girish started his career by serving the Indian Army as a short service commissioned officer. He has done his Masters in Business Administration (HR) and is a Graduate in Law. He has been accredited with a no. of HR certifications including an Executive Education program from the Harvard Business School. His entrepreneurship stint has taught him to look at HR business models from a different perspective given the life cycle of HR and providing an innovative end-to-end solution to corporations across various Industry verticals. The wide variety and depth of HR procedures followed in different industry segments have been his Greenfields for learning.
On the way to become the most preferred HR outsourcing partner and Paving the way for a futuristic HR cultural dimension post COVID:
Based on the futuristic HR landscape, Girish and his team have defined a creative and unique growth model. He believes in creating a culture where every member knows their assigned task, their job responsibilities, accountabilities thereby institutionalizing the Self-Managed Team concepts. As a result, everyone works responsibly and diligently. Having said that, the culture at PACE is Non hierarchal and conducive to learning, open & transparent, and at the same time team oriented. Every employee working at PACE comes in with experience from various domains. Furthermore, having worked with a wide range of clients, they are adept at understanding specific client requirements and thought processes better. The company's code of business ethics believes in working together with its customers, business partners and associate communities in close collaboration and harmonizing relationships.
Going ahead, the company aims to focus on Innovations in HR that will facilitate HR processes and bring about a new dimension in the post-Covid era, specific to Company Culture and processes, HR Delivery models, Performance evaluations, Skill and competency building, Employee job security and other critical HR parameters that are the need of the hour.