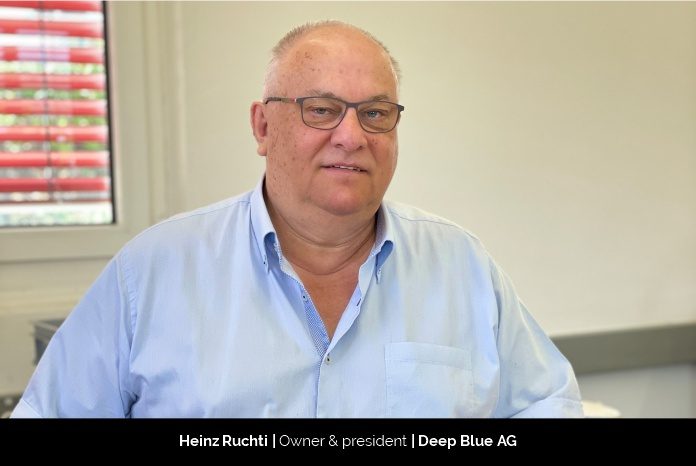 Every budding entrepreneur starts with a profit-earning mindset which soon transforms as the career progresses ahead. Further in life, as experience expands, so does the mindset and personal goals start holding more importance. One such leader is Heinz Ruchti, CEO & President of Deep Blue AG – Switzerland is a passionate inventor and entrepreneur who aims to gain recognition and satisfaction to find that the products he creates are saving and protecting the lives of children and adults.
Having faith in his ideas and dreams, he follows the life philosophy of George Bernard Shaw,
"Some people see things as they are and say why, I dream things that never were and ask why not."
Conquering challenges along the way
Like every other business, Heinz also wanted to stay on top of all the competitors. This called for constantly looking for developing new and useful products and introduce them to the market. Thus, he was well aware since the beginning that setbacks as a developer are normal. The only lesson to learn here is to 'Never give up.'
Recently even the pandemic paused their operations and affected everything heavily. With the swimming pools closed all around the world, their customers were on hold too. However, without shirking, Heinz took instant actions and formulated future plans accordingly, which included purchasing lesser goods and saving costs tremendously.
Comprehensive services of Deep Blue AG
For the last 14 years, Deep Blue AG is a top-notch global market leader for pressure-based safety systems for swimmers. They are specialists in developing and producing electronic systems and wrist computers under the brand name "BlueFox," which sends the alarm early before someone is drowning.
He shares, "We produce different drowning alarm systems adapted to the different applications such as public pools, hotel, and private pools and devices for personal protection when swimming in the lake, rivers, waterways, or by the sea."
Emerging as a top leader in the Manufacturing Industry
As people have become cautious about health safety nowadays than a decade before, it has become highly important to create excellent solutions that will help in tackling it more seriously. He states, "In children, drowning is the second leading cause of accidental death. Drowning is silent and invisible! Thus, we have developed high-tech electronic devices that take this into account and warn early if there is a risk of drowning."
Since drowning can take place both in private pools, public pools, lakes, beaches, and all waters, Heinz devised a system that has the potential to prevent most drowning accidents. These cater well to avoid the risk of injuries or deaths in the water during high-risk leisure activities. Thus, all water sports enthusiasts must add additional safety options and thus drastically reduce.
He knew that till now, the only modern options for protection for swimmers and bathers are the developments in drowning detection using high-tech electronic systems; however, the development of early warning systems can change the whole scenario and save lives.
He adds, "BlueFox ST1, our latest development for people's individual protection in the water, does not require any installations. The entire alarm system is integrated into a watch-sized wristband device and supports parents, lifeguards, and people in the vicinity in ensuring that they are completely supervised. These BlueFox-Systems have a tremendous and significant impact on efforts to reduce preventable drowning."
He is happy to turn this seemingly impossible task quite achievable now and proud to share that these developed technologies impart maximum swimmers' safety.
He plans to boggle down the number of drowning victims by at least 30% in the coming five years. With this amazing dream, they are spreading their wings and growing relentlessly so that they can lead the world through their impeccable technology.
Life before and after Deep Blue AG
Having an eclectic mix of interests, Heinz enjoyed different career paths at different times. He says," My professional career began with scuba diving. Together with partners, we have developed Underwater Instruments for sport, professional and military divers and sold them worldwide. Our dive computer had achieved fame with a world market share of 80%."
Other than that, he got several patents and developments throughout his professional life, such as Tire Pressure Measuring System (Automotive sector), a Warning system for commercial pilots (used in Helicopters), Anchor Monitoring System (Ship and Yachting), Anti-Drowning Systems (Pool Safety), Personal Drowning Alarm (Swimmer Safety).
He also adds, "As a former licensed helicopter pilot, I was also 20 years Independent Representative in Switzerland, Austria, and Croatia of BELL HELICOPTER TEXTRON USA, which was a memorable phase of my life."
As CEO and owner of Deep Blue AG, he has to wear multiple hats. He loves manufacturing and Owing to this reason; he enjoys his professional life.  From development to production, he and his proficient team finish all the chores easily and never leave him alone. The reason for this is that my work is also my hobby.
A part of his job has also been to keep the team's motivation always high as their motivation is not always easy to maintain. Thus, he feels that the best way to keep them motivated is to be motivated yourself to the tip of the hair and to showcase the same to the outside world.
Upcoming future of Deep Blue AG
Heinz looks forward to witnessing a bright future ahead for the company as personal safety is gaining utmost attention. Also, they are using the power of social media to make their products more renowned. To take their products all over the world, they are searching for reliable distribution partners to market their innovative systems all around the world as a good distribution network is a key to a successful expansion.
Although he is still on his path to reach his goals, he feels if he was younger, he would want to share a crucial message with himself, saying," Take your professional life into your own hands and try to realize your ideas, even if it will be tough at first."