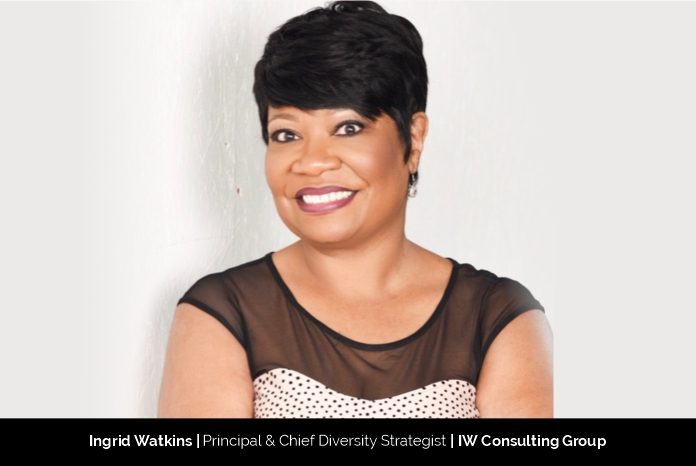 Diverse and inclusive workplaces have not only proven to be beneficial to society but have also profited many businesses. "Inclusion is not a matter of political correctness. It is the key to growth." Ingrid Watkins, the passionately driven Principal and Chief Diversity Strategist at IW Consulting Group, agrees with these words of Jesse Jackson and has been promoting a culture of diversity and inclusion throughout her life and aims to keep supporting the underserved communities while helping businesses reap the benefits of embracing diversity and inclusion. Today, we share aspects of her journey that are sure to inspire you to take the leap of faith.
Success is Self-defined and Goal-oriented.
As a professional diversity practitioner for nearly twenty years, Ingrid worked long hours and traveled a lot. She loved her work and enjoyed supporting diverse suppliers however, it was the politics and demands of the corporate environment that didn't quite appeal to Ingrid and when her corporate position was impacted, instead of moving to another corporate position, she decided to take a plunge and start her consulting firm in her area of expertise.
According to Ingrid, "It had always been my desire to start a business, and it just made sense to start a consulting firm offering services in the area where I had spent so much time developing skills. Diversity had become my personal brand inside the company and externally as well. It is my passion and I'm very good at it, and I can't imagine doing anything else."
For Ingrid, success is what you define yourself. Whether big or small, when you establish and achieve a goal, that decides how successful you are.
Ingrid has also shared her fair share of challenges, running a company isn't an easy affair but there is a famous saying, 'Challenges can either make or break you'. Ingrid learned the same early on in her career. She realized that no man or woman is an island, and you can find value in a strong network. To be successful in business, it is crucial to build a network of talented and capable people to help you to do all the things that are required to grow and sustain a business.
It is Not About Rewards and Recognitions All the Time
Early in her career at The Coca-Cola Company, Ingrid attended a diversity training class and soon developed a passion for the work. She had a background in communications, so, when the supplier diversity team posted a communications position, she applied for the job and got selected. Ingrid realized her work had far-reaching consequences for diverse communities and worked hard to make an impact. She was never interested in rewards and recognitions. She drew satisfaction and motivation when the suppliers she introduced to the system won a contract.  "I never sought awards or accolades; my reward was seeing diverse suppliers be successful at winning contracts. In my business, my reward is helping companies that did not previously have supplier diversity programs to implement initiatives and include diverse suppliers in their supply chains", Ingrid said.
About IW Consulting Group
IW Consulting Group provides diversity and inclusion, workforce and procurement strategic planning and program solutions to corporations. Their team of professional practitioners carries years of academic and practical experience in creating and growing successful and sustainable diversity initiatives. IW Consulting Group understands fully well that no two organizations are alike. As such, they offer customized solutions that align with a client's culture, priorities, and objectives. Their list of clientele includes some of the top U.S. and global brands.
Diversity Breeds Unity and Success
At IW Consulting Group, diversity and inclusion is the key to success. While Ingrid is a Southern Baptist who loves her barbeque, her partner is a New-Jersey-based Jewish vegetarian. An unlikely combination, one might say, but they complement each other well professionally, and are the best of friends. Even the team is uniquely diverse, with a mix of experience and youth belonging to all ethnicities, ages, cultures, regions and religions. She adds, "I hire talent and passion, including retired or displaced diversity practitioners as consultants and millennials as analysts and interns. It is the diversity of thought, the different experiences and vantage points that fuels this amazing team of creative, innovative and hard-working professionals. We are a perfect example of the diversity that we teach, and the value of diverse teams."
This diversity is not just restricted to people but also reflected on the organizational front. IW Consulting Group started as a supplier diversity consulting firm but continues to add multiple capabilities. In 2020, the business was impacted by Covid like many others. As principal consultant, Ingrid decided to expand their services to include DEI and invested in the resources needed to grow that part of the business. During Covid social distancing, the firm pivoted from in-person facilitator training and invested in e-training tools and technology to offer virtual training solutions. Both the segments are now performing exceptionally well.
A Jack of all Trades
If ever there was one word to describe Ingrid, it would have to be 'passionately driven'. As a business owner, she dons several hats. Her typical day at work includes managing client relations, business development and sales, strategy development, human resources and until recently, accounting. However, as the business grows and the team expands, she plans to divert all her attention and energy towards client relations and strategy development. According to Ingrid, "I don't work to win accolades or awards. For me, it is all about supporting underserved communities. When done right, diversity and inclusion initiatives can have a long term and substantial impact on diverse businesses, communities and families."
Her Take on Work-Life Balance
Being someone who clocks up most of her time working, Ingrid does not consider herself good at maintaining a work-life balance. She considers herself fortunate enough to have a unique team with a passion for excelling. "As a leader, I am accommodating and try to keep things simple. Our work model is non-traditional. Everyone in my team works flexible and remote hours. We only have one weekly meeting and keep abreast of projects and work status through our technology and project management tools. It works well for us", she says.
Plans for the Future and Her Message for Aspiring Businesswomen
Ingrid plans to continue growing the company by expanding its capabilities. She has a wish list of clients she wants to work with. Ingrid is also exploring the possibility of entering into a strategic partnership with a larger consulting firm. She reflects, "So far, we have been growing slowly and steadily. It is time we pressed the accelerator and grow a little faster so we can make an even bigger impact in the diverse business communities."
IW Consulting Group is launching a new marketing campaign to let the world know they are ready to help companies with their diversity and inclusion programs irrespective of whether they are starting a new initiative or wish to optimize an existing one. She adds, "We bring years of experience building world-class programs and are the best at what we do. It is time the world knew about it too".
Ingrid's message to aspiring businesswomen is loud and clear. "Start building your network of supporters. Don't wait until you hang your shingle to start pulling things together, pre-plan and prepare for everything that you will need. When your doors open, be ready to provide those goods and services without delay. Do your due diligence, make sure you understand your marketplace, your competitors and your potential customers and how to connect with them. And finally, stay the course. Most new businesses don't blossom until year three, so it takes patience, persistence and funding."