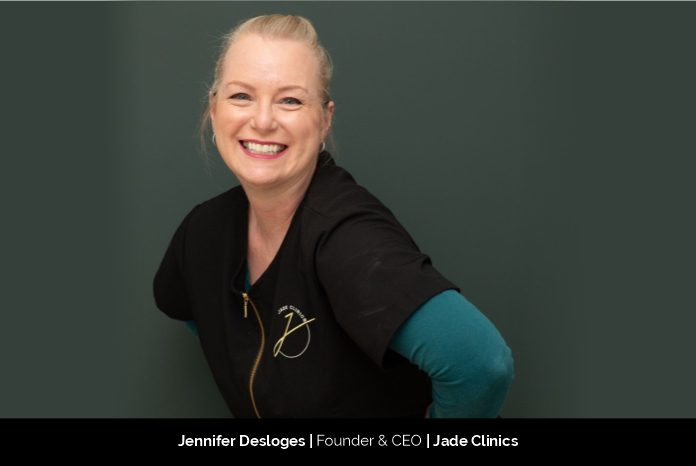 Experience is a great teacher and perhaps the best prerequisite to influence change. When your own life experience becomes the driving factor to start something amazing, change is just the result of it. Jennifer Desloges, Founder and President of Jade Clinics was led by a similar vision that was born out of her own life experience. Jade Clinics mainly operates in permanent hair removal through electrolysis. She received phenomenal response within a few years of the business starting and decided to expand the business by franchising. Stepping into a new industry was challenging but Jennifer was determined to keep going and she achieved success in the franchising industry too. Her journey is an inspiration for us, and we are honored to feature her as a successful businesswoman of a new era.
Starting a New Journey
As a child she recalls her desire to own the corner store down the street from her childhood home. As a teen she wanted to help animals and become a vet, however destiny had other plans for her when she met her husband and her plans changed, slightly. After getting married and giving birth to her first child at 19 years old, Jennifer started developing a male-type beard and body hair. This awkward phase of her life made Jennifer very depressed. She lost confidence in her feminine side. Although, depressed, Jennifer decided to find a way out of this. She was determined to lead a better life despite the challenges that befell her. And that was when electrolysis came to her rescue. Jennifer regained her confidence and she decided to help others too and Jade Clinics was born. "What started out as my curse became my blessing.", she states.
Eventually, in 2010, after working for 12-14 hours a day for 20 years, Jennifer decided to do something to make sure that her knowledge about Electrolysis was passed on. That day the idea of franchising electrolysis emerged. The timing was perfect, consumers were becoming more educated about hair removal. Although the fad of laser hair removal was passing, it brought an awareness wherein no longer were people ashamed about having unwanted hair.
The Hurdles and Benefits of Franchising
The first initial challenge in franchising and still the highest on the totem pole that Jennifer faces is taking all the knowledge and skill she developed through years of practice and transferring it to another to replicate her success with electrolysis. As equally important is understanding the franchise world, it isn't for the weak at heart and takes a lot of persistence and regimented dedication. However, Jennifer is confident that she will overcome these obstacles as she has great people around her.
Electrolysis is a woman dominant field, which was an advantage for Jennifer as it made her very comfortable dealing with the 1-on-1 interactions created through her work. However, the franchising side does have a more male dominant participant ratio. "I feel being a woman gives me a different perspective but also in many ways a competitive advantage. The idea of woman in the labor force has changed drastically in the last 50 years and our franchise model is catered to the women entrepreneur.", Jennifer shares.
To sum it up, if the franchisor has the proper systems laid out, it matters less if you are a male or female but if you fit into the mold of the person needed to execute the business plan. Women in the franchise industry are becoming more and more common today and they are excelling in this competitive field.
The Products of Jade Clinics
Electrolysis was invented in 1869 and is the only FDA approved method for permanent hair removal. Many people who have unwanted hair have tried some or all the temporary removal methods including waxing, shaving, and laser which often lead to skin irritation, ingrown hair, scarring and always, the return of the problem hair. Consumers are frustrated with constant appointments, false promises, expensive treatments, and negative effects. They are seeking a better way and they find it at Jade Clinics.
Jade Clinics is also excited to offer new services to their clients. The truSculpt® 3D offers clients seeking to sculpt areas resistant to diet and exercise giving excellent results in just one treatment without any downtime or side effects. truSculpt® 3D utilizes a controlled, monopolar radio frequency (RF) technology to deliver targeted, uniform heating of the subcutaneous adipose tissue to achieve the highest clinical efficacy in the shortest possible treatment time. Focusing on three specific characteristics – dimension, definition, and depth – truSculpt® 3D offers an optimized and customizable approach to body sculpting for most size areas, large or small.
Additionally, Jade Clinics is offering Secret Rf micro-needling treatments delivering fractional radio frequency (RF) energy to all layers of the skin with minimal damage to the skin's surface. Secret RF uses microneedles to deliver radio frequency energy into varying levels of the skin including the deeper layers where treatment is most beneficial. Unlike other devices which only deposit energy in upper layer of the skin, Secret RF delivers RF energy below the surface where it's needed most to help revitalize and regenerate the tissue. This unique delivery of energy allows us to achieve optimal results with little to no downtime on all skin types. The multi-layered treatment improves signs of aging skin, fine lines, wrinkles, scars, stretch marks and sun damage with little to no downtime. Secret RF is an easy, safe and effective procedure that can be performed in a quick, 20-minute treatment session.
The Intellectual Mind Behind the Plan
Jade Clinics is Jennifer's first venture as an entrepreneur. Her previous experience was in the banking industry, followed by working for a manufacturing company as an assistant controller. She started her entrepreneurial journey with a view to help people and that noble thought was the seed to her success as a businesswoman.
As the President of Jade Clinics, Jennifer still shoulders a lot of the responsibilities as the company is still in the infancy phase. She is supported by her small but strong management team. Currently, the company is leaning heavily on technology to fill the loopholes, until they reach royalty sufficiency and can start growing the administrative team. "Until that time, I am on the clock 24/7.", Jennifer, asserts.
Jennifer regards the 11 successfully running clinics and the growth of the company as her proud achievements, however the greatest achievements of her life are her two precious and amazing children. Although it is a challenge for Jennifer to strike a balance between her personal and professional life at this growing phase, she has managed to handle both in an extraordinary way. "Thanks to my industry giving me the freedom to set my schedule, I had the pleasure of raising them and seeing them grow more than other parents. And I now have the pleasure of seeing them all time as adults because they work with me at Jade Clinics.", she proudly says.
The Vision and Growth of Jade Clinics
"Jade Clinic's vision is that one day we will be known as the COKE, NIKE, APPLE of the hair removal industry.", says Jennifer. Driven by this vision, Jennifer and her team are focused to widespread growth of the business through franchising. Every industry is competitive, and franchising is no exception hence Jade Clinics is a unique brand that offers a premium skill service, and this is their differentiator in the franchising industry.
Franchising has facilitated a rapid growth of Jade Clinics to a great extent, without needing to make capital investments for each clinic location. Franchising has also allowed the company to partner with motivated people that feel they own a business but are not alone and are a part of a proven system. In the future, Jade Clinics believe that franchising is the best opportunity to grow faster.
To expedite the growth, they have also implemented new services and are in the process of rebranding. Additionally, Jade Clinics is also looking at technology to help improve the areas of the business they feel need help, with a plan to grow to 20 clinics by the end of 2022. For now, Jade Clinics is widening their horizons through the Canadian market, once they are done exploring, global widespread will begin.
Jennifer is a tenacious personality who knows how to thrive in the industry. She and the whole team of Jade Clinics is proud of what they do. So long as they are helping people and changing lives, the team of Jade Clinics will stay motivated and will continue their incredible work with passion and perseverance. "I am inspired to help all those people out there that are suffering from unwanted hair growth.", Jennifer affirms.