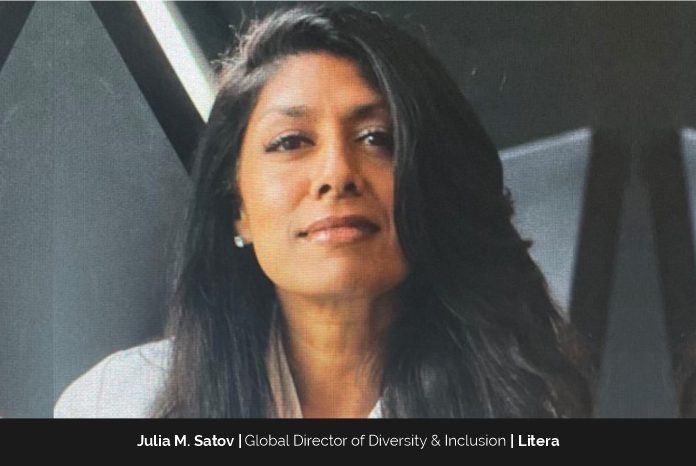 "Within both the margins and the privileges of my identity, I am the revolution." As a diversity and inclusion leader, Julia has been trailblazing how companies mobilize inclusion for over 15+ years in both in private and public sectors, spanning the industries of academia, legal, finance, and tech.
She is an internationally published author in the International Journal of Diversity in Education[1], a contributor to the Huffington Post on Social Impact Education and Social Impact Investing[2], National Award Winner for Outstanding Achievement in Organizational Development, and was a finalist for Ally of the Year 2020 Women Tech Network. Julia taught business executives at the University of the West Indies on Leadership Agility, was the Keynote for Insights U.S. National Diversity Sophomore Summit on Diversity as Competitive Intelligence in 2021 and was a Judge and speaker for Women in IT Summit, Canada 2022. Julia sits on the Board of Directors for Ernestine's Women Shelter, and as Co-Chair & Strategic Advisor to UNITAR CIFAL York, EDI Committee.
She has a degree in Philosophy, a Master of Education, a Law Clerk Diploma, a Certificate in Professional Ethics, and a Certificate in Data-Driven Decision Making. "I am proud to walk this path as an immigrant, of mixed-race heritage, and with lived experiences of an equity-seeking community" says Julia.
Championing Equity from the Inside
Although always a social justice warrior, Julia's formal Diversity, Equity & Inclusion (DEI) career began when offered a contract role in academia as Global Citizenship & Equity Lead. She, with a team, was responsible for leading the internationalization of curriculum with equity learning outcomes and supporting the education of faculty in their pedagogy of it. "It was an incredible opportunity to be part of equity integrated into education, that was applied and forwarding thinking. We were igniting a workforce as active global citizens."
When asked what made you choose the path of DEI and taking the leap of faith at Litera, Satov says "It is with hope and passion that DEI leaders choose this path. The opportunity to champion the under-served, unseen, unheard, and equity-seeking communities is an honour." She goes on to share 'It was fundamental to be connected to the CEO, to be able to have a hand in building the strategy, access to data, and importantly, have the freedom and safety to lead that strategy with leadership sponsorship. Signing on to do DEI work at a company is not a solo mission. These were the lines in the sand that were the terms of faith, shall we say."
Understanding Critical Challenges That Impact Human Capital
Julia notes that DEI resides inherently in the margins of the corporate space, so a passion for the work is not enough. The pandemic, post pandemic, the surgency of the Black Lives Matter movement continuing to bring light to systemic racial injustice, the metoo movement, political figures becoming global actors of interest, technological innovations and A.I ethics, revolutions, anti-revolutions and the continued war on talent, has fundamentally changed the game for every industry and its need for DEI. DEI has become a reckoning, and talent its revolutionaries'.
Julia advises, DEI leaders have become more strategic, intimately understanding a company's business priorities – and most importantly, their critical challenges that impact human capital. "I learned how DEI must take root to that one priority that remedies a company's struggle," she shares.
Litera is a growing global legal tech company that is the result of bringing together several different organizations to become an industry-leading, end-to-end provider of document lifecycle solutions. Julia points out that Litera's M&A culture is dynamic, evolving, and fast-paced, so establishing DEI as a consistent, influential, and reliable pillar within the employee experience is incredibly valuable to talent, and retaining them. She also observes that retaining talent and DEI work are becoming conceptually inseparable.
"How essential is water? We know it is important but only until we realized its scarcity do we go to lengths to ensure its sustainability. Did you know water joined gold and oil for the first time as a traded commodity in 2006? Why now? Because of its scarcity. I am in the business of people, and like water, it is essential to function" she insists.
Success is Leveraging the Margins and the Centre for Others.
For Julia, success is being seen to have a story that has the potential to empower others. "Within the margins and the privilege of my identity, I feel honoured in my professional career to be able to create and give opportunities to others.' Vulnerably and openly sharing experiences from those margins: as an immigrant, a woman, a woman of colour, at times the only woman, is to be able to understand certain struggles, challenges and even losses in my life, and is a powerful connector. With the privileges I have: education, networks, experience, paths, and humbly, a brand of integrity in the work I do, that has allows me to create opportunities for others – this is defining success to me" she states.
Recently Julia was invited to speak at York University's Mid-Career Conversation on Diversity as Competitive Intelligence, where she states "It was one of those moments that, to me, defined that success – where I was being asked to share how I leverage my layers, differences, experiences, challenges, and privileges, as strengths, courage, influence, and competitive advantage." It is what I am proud to bring to the table in high visibility roles such as Strategic Advisor and Co-Chair of UNITAR CIFAL York EDI Committee.
What you Awaken, You Must Feed
Julia shares what it takes to establish a culture of integrity. It takes building and nurturing both psychological safety and organizational courage; They are symbiotic ideals that need to work in tandem. Creating the safety to feel heard, be recognized, to fail, to dissent, to be valued for your strengths, assessed fairly is equity work. When that is asked of employees, it takes organizational courage to stand in the fire of that reality, to respond, to mitigate, to seek to make it right. "What a company awakens, they must feed.' Talent and customers are watching and listening. And this takes consistency, courage, leadership sponsorship and a seasoned DEI leader" she insists.
Pay attention to revolutions. They are what your talent cares about, is impacted by, and is looking to see if their organization takes up those responsibilities to address. Julia notes that social issues are relational to the employee-to-organizational value relationship and maintains that talent is looking for companies to know, care and respond through its leadership, brand, social presence, and even in company townhalls or one on one's what your talent cares about. In a global company, what impacts a nation and its people, is expected to be responded to or addressed, from the civil war to racial injustice, to employee feedback on psychological safety and inclusion insights.
So, "nurture the collectives' concerns, build organizational courage, and be deliberate and intentional on actions and initiatives. Leadership integrity, psychological safety, and trust are built when DEI spoken alongside the business priorities, the financials, and strategic priorities," she recommends.
The Elixer to Thrive as a Woman in Leadership
On the subject of representing women in leadership, Julia has often been quoted or heard in speaking events that a folding chair will not cut it anymore. Following the respected advocate Shirley Chilsom's famous quote 'When they do not give you a seat at the table, bring a folding chair'. Julia's evolution to that is DEI leaders should have a standing invitation, a director's chair if you will, at the decision table. "The reality is there still remains invisible and visible hurdles as a woman in leadership. Being a woman DEI leader adds another layer to this. My advice: Become obsessed with your company's business strategies and people priorities, understand intimately talent's struggles, treat HR and Talent as important allies, align your work to what is being spoken about in boardrooms, collaborate to elevate function leaders' deliverables, and build the trust of the collective. And, if you are lucky enough, seek out an executive sponsor that believes in you, this work and has your back – everyone needs a sponsor.' " she advises.
Influencing Culture, Experience, Retention, & Engagement
Julia shares that her day-to-day responsibilities are the hard and heart work alongside many committed and passionate leaders and employees, that drives Litera's robust DEI strategies. In January 2022, the firm launched, to executives and the company, a DEI multi-year strategy operationalized globally within 4 pillars: People & Culture, Leadership & Talent, Process & Operations & Brand, and Customer & Community.
Within that year, it formalized four Employee Resource Groups with structure, governance, and development of the Strategic Collective Mandate that advances DEI strategic priorities. DEI leads a company-wide Inclusion & Psychological Safety Survey in partnership with Talent, that measures employee sentiment on research-based indicators to engagement and retention – and most notably, we didn't leave it there. We followed with Leadership Action Plans in our commitment to action what we've learnt.
"I aim to continue to be a strategic partner to all tiers of leadership and and a servant leader to employees in building, addressing, and elevating initiatives that influence culture, experience, retention, and engagement."
Work hard, Play Hard is the Balance
Defining herself as "tenacious," Julia notes that her life's work is a mosaic of precious pieces. Her family and her sons, Marek & Mayan, are the next generation of allies and advocates that she is raising with her warrior partner, Brahm. Continuing to be an advocate, speaker and thought leader in external engagements, partnerships with organizations, and mentoring is incredibly satisfying. And having a solid social game that includes new restaurants, travel, salsa dancing, and time with friends… that balances it all. A work hard, play hard approach," she shares.
Share Passion, Build Rungs
Like every company, Litera's vision is to grow and lead ambitiously in offering professionals products with user-centricity, so that they can focus on their craft. Within this vision and mission, there is also a strong focus on our talent and culture. 'This is the sweet spot for me and where the plans for the future are most exciting," she declares.
In conclusion, Julia shares these inspiring words of wisdom for aspiring women leaders: You are the revolution. There is power in having experience and understanding the struggle that is felt in the margins – connect to the collective's struggle, pay attention to revolutions, understand predictions in human behaviour across the global economy, build trust and integrity with your influence and brand, share your privilege, empower others, allies, and alike to see themselves as revolutionaries.
"This last idea was shared with me over coffee about 10 years ago by Dr. Rumeet Billan, now the CEO of Women of Influence: Share freely and intentionally your work, and what gives you energy," Julia remarks. This has been a capstone to my brand and with hope, my legacy: To not only reach out to lift others up, but to build the rungs on that ladder for others to step up on."