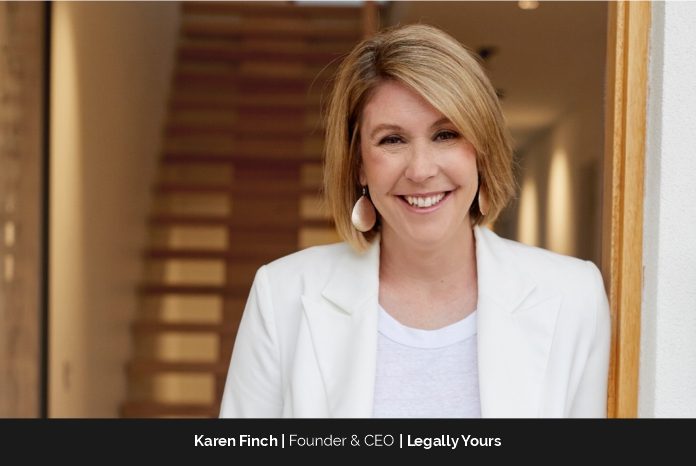 Lawyers typically bill by the hour, frequently delivering the bill after their services are complete or, worse, sending you a "surprise" invoice you weren't expecting since they weren't forthright about the fees they were charging. In a society that is constantly evolving, Karen Finch thinks there is a more progressive way to do things. She founded Legally Yours to provide access to a variety of lawyers that offer agreed-upon upfront pricing and deliver their services in a fashion that is simple, easy, and convenient for their clients.
Karen is the CEO of Legally Yours, a Board Member of the Australian Legal Technology Association (ALTA), and the Committee Chair of the Women of ALTA (WALTA) Another ALTA legal technology member, Pro Help Legal Australia, also counts Karen as a co-director.
Karen has committed her career to enabling quicker, easier, and more transparent access to fixed-fee lawyers throughout Australia by fusing together her legal training, recruitment expertise, and her passion for shaking up the legal industry and the way they deliver their services.
Legally Yours
Legally Yours was created to fill the gap between those in need of transparent and fixed priced legal services and the reputable, knowledgeable fixed-fee lawyers who want to provide them with legal services. The "fixed fee" revolution evolved from there as more and more lawyers began to see the advantages of progressive pricing and cutting-edge business strategies. The demand for a network where like-minded professionals interacts and share knowledge has grown as its lawyer membership has grown, culminating in Legally Yours' launch of their online member community portal, the LY Hub in 2021.
Today, Legally Yours is a leading online legal marketplace that connects clients (both individuals and businesses) to fixed-fee lawyers across Australia, combined with a thriving online member portal where legal professionals, law students, law graduates, legal technologists and businesses who support the progressive legal industry, can connect, support, and educate each other in a secure and private members-only online community.
Services that make Legally Yours an exception:
When one connects with a lawyer through Legally Yours, the lawyer will provide the client with an upfront quote detailing exactly what the client will receive for the money he or she spends. This will be a "fixed-fee" quote, which means the lawyer will deliver the agreed services for a set price.
Legally Yours lets clients choose from a range of lawyers and law firms so they can select the right lawyer for their needs. Its online marketplace makes it easy to browse, select, and connect with a lawyer wherever clients are; no travelling, no waiting in the foyer, it's simple, fast, and convenient.
When it comes to the lawyer-client relationship, trust is paramount. All the lawyers in the Legally Yours marketplace have a minimum of five years' experience and have been personally vetted to ensure they meet the firm's high standard of client care.
Enabling Growth of Legally Yours
Originally manual "legal matchmakers," Legally Yours, under Karen's direction, has grown into a preeminent online provider of legal connections between clients and fixed-fee lawyers.  She says, "We have also created an online member community that enables legal professionals (including law students and law graduates) to connect with each other, to ask questions and seek support from businesses and experts to help them build, grow and scale their firms and their legal expertise, and provides professional development education as part of their membership fee too."  Legally Yours is now a thriving online legal marketplace and online member community that is known for its progressive lawyer members and service delivery, creating greater access to justice for all Australians and enabling more lawyers and law firms to transition away from the billable hour model towards a progressive, transparent, fixed pricing model.
The Passion for Legal Sector
Since she was a teenager, Karen has been passionate about access to justice. She had first-hand experience with the highs and lows of beginning a business through her father, who in Karen's words is a 'serial entrepreneur'.  However, when she was 16 years old, her father became involved in a commercial litigation matter. It was from this experience that she saw the devastating impact that hiring legal counsel who fail to disclose charges or instruct their clients on the procedure can have on families and businesses. Karen made the decision to pursue a career in law after her father lost his business and the family home so she could assist clients in avoiding circumstances like the one her family had gone through. Karen rapidly learned, however, that the legal profession's billable hour model makes it exceedingly challenging for lawyers to have honest, open relationships with their clients since they are "on the clock" every minute they interact with them. Her interest in assisting lawyers in transforming their law firms to ones that promote trust, openness, and certainty was sparked by this.
Recognition for Being the Best
The best recognition Legally Yours has received so far was a finalist nomination in the recent Victorian iAwards. This nomination was noteworthy because the team was recognised for its platform outside of the legal/legal technology industry.  Karen shares, "To be nominated alongside a huge Australian corporation and a MedTech company was amazing recognition for how far Legally Yours has come"
However, the best recognition Karen has received personally as a leader are the numerous testimonials and feedback, she receives every day from Australians who have used the Legally Yours platform to connect with a lawyer and build a trusted and valuable relationship with them in their time of need.
Bring into Line Work and Life Responsibilities
Karen, who describes herself as a determined individual, is in charge of strategy, expansion, and partnerships at Legally Yours. In order to accomplish this, it is necessary to forge solid relationships with organisations and business groups that require legal content and information for their networks, promote Legally Yours in the media, and offer thought leadership in the area of innovative legal service delivery and legal technology within the Australian legal sector.
Instead of focusing on a work-life balance, Karen aims for a "total balance." This implies that she doesn't work the typical daytime hours; instead, she prioritises family responsibilities each week and fits her business obligations around them. Karen largely works remotely, so as to cut out travel time to and from an office space, and sometimes she spends a couple of hours on the weekend setting up her week ahead. She always tries to fit in exercise at least 4 times a week too.
Seeing Challenges as a Career Booster
Karen totally concurred that the biggest business lessons are often learned through problems rather than accomplishments. When Legally Yours was first introduced, the Australian legal sector wasn't nearly ready to accept a new method of providing legal services. In the early years of Legally Yours, they invested a lot of time in educating the legal community about why moving away from billable hours was a better economic model for their clients and their law firms, as well as how doing so would foster a healthier and happier law firm culture. The company's objective and vision, as well as how the team might assist clients and law firms in developing dependable partnerships, had to be made very obvious throughout this educational phase.
What Success 'Means'
Karen's definition of success is the ability to be able to pursue a career based on one's passion, vision, and values and be able to generate revenue and profit from it at the same time. She feels very lucky and privileged that her career and source of income are derived from her passion to enable greater access to justice for all Australians, and she is able to live her personal mission, vision, and values through her business, Legally Yours. She asserts, "I'm so fulfilled in my role at Legally Yours, but we are only part way through our mission of creating access to justice for all Australians!"
Plans for the Future
The BHAG (big hairy audacious goal) of Legally Yours aims to take its platform global and increase the availability of other professional services in both its marketplace and online member community. In the future, Karen envisions a single online marketplace where customers will be able to easily and conveniently get all the professional services they need.
There has never been a better moment to work in the legal field, Karen tells aspiring lawyers. She believes that the current state of the industry is one of innovation, technology, and collaboration, and that if one is considering a non-traditional legal career, this is the time to be inventive and curious. She also thinks that there are a lot of unique and varied ways to practise law, and that the legal profession is just now beginning to recognise the value it provides clients—value that doesn't require selling time—and is looking into creative delivery methods.